AMD reports another record quarter as the company boosts its full year outlook again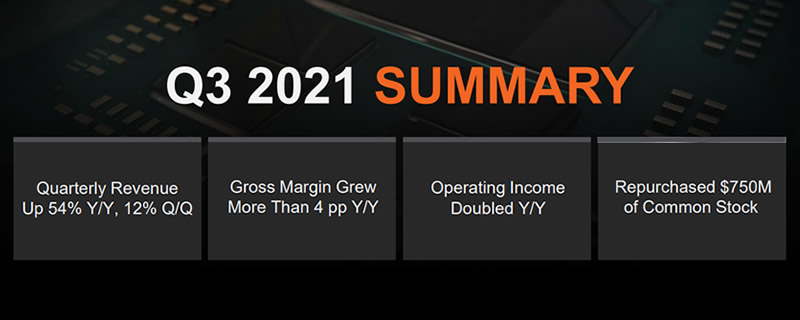 AMD's continues to exceed its 2021 sales expectations
AMD has just reported on its Q3 2021 earnings, revealing that they have once again exceeded expectations. Compared to last year, AMD generated revenues of $4.3 billion, exceeding the company's Q3 earnings projection of $4.1 billion. Additionally, AMD's Full Year 2021 revenue growth is now expected to be 65%, which is much higher than their 37% growth expectations from early 2021.Â
Right now, the only thing that is limiting AMD's growth is the global chip shortage. AMD can seemingly sell every piece of silicon that they can currently produce, leaving manufacturing capacity as one of AMD's primary concerns as the end of 2021 approaches.Â
In Q3, AMD's Gross Margin has remained steady at 48%. However, compared to Q3 2020, AMD's Gross Margins have increased from 44% to 48%. This means that AMD's revenues have increased, and their margins have increased. This means that AMD's profits have increased at a higher rate than their revenue growth. Â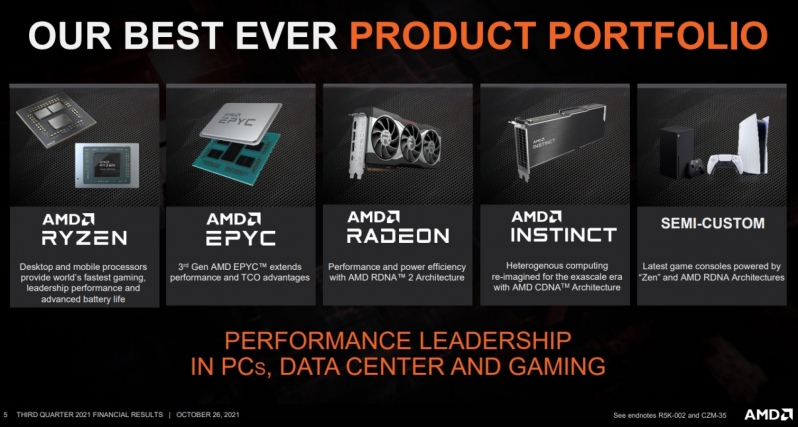 Â
AMD's growth comes from all areas of the business, with CPU sales growing within both the consumer and enterprise markets, GPU sales growth within the gaming and enterprise segments, and semi-custom sales growing thanks to the popularity of Xbox Series X/S and PlayStation 5.Â
AMD's client ASPs have grown year-over-year and quarter-over-quarter thanks to the high demand for AMD's high-end products. The same is true for AMD's GPU ASPs, thanks to the popularity of their Radeon RX 6000 series and growing Radeon Instinct Datacenter sales.Â
AMD's Enterprise, Embedded and Semi-Custom segment revenues were $1.9 billion, up 69% year-over-year and 20% quarter-over-quarter. This growth was due to growing EPYC processor sales and high demand for AMD's Semi-Custom products.Â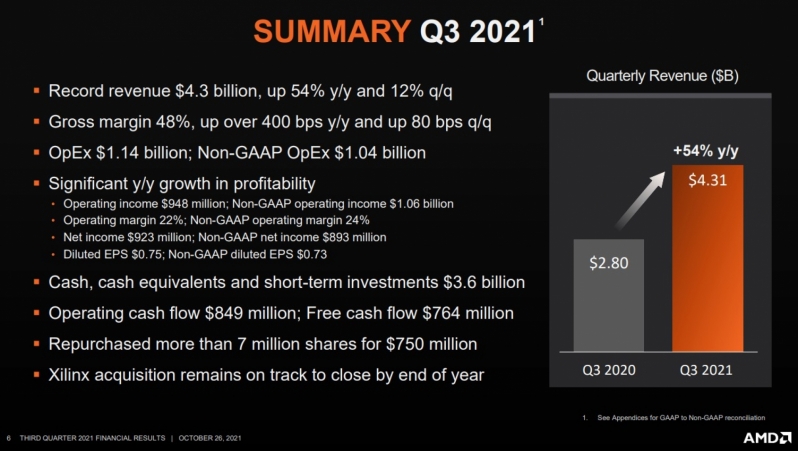 Â
AMD's now in a strong financial position, a staggering turnaround given the company's finances five years ago. Back then, AMD was at risk of going bankrupt, and now, AMD's finances have never been stronger. Today, AMD now has almost $3.6 billion in the bank and $313 million in debt.
During the remainder of 2021, AMD is expected to launch new additions to its Radeon RX 6000 series product line, new Zen 3 powered Ryzen Threadripper processors, and showcase their planned V-Cache enhanced Ryzen processors in more detail. Valve plans to launch its Zen 2/RDNA 2 powered Steam Deck handheld gaming system this December, creating a new AMD-powered segment of the PC gaming market.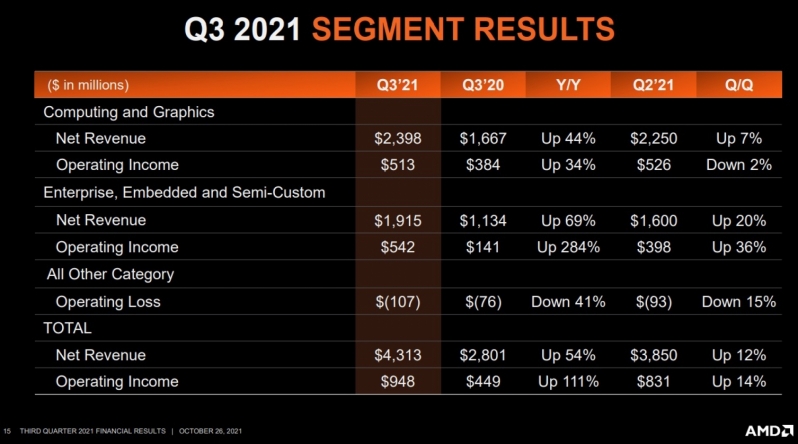 Â
AMD's acquisition of Xilinx is expected to be approved by the end of 2021, a move that should cement further growth over the coming years. Things are looking good for AMD, and that outlook isn't going to change anytime soon. That said, Intel's Alder Lake CPU launch could take the wind out of AMD's sails, should Intel's 12th Generation products revitalise the CPU giant.Â
In Q4, AMD plans to generate $4.5 billion one revenue with a gross margin of 49.5%, finishing 2021 with revenue growth of 65% when compared to 2020. Â
You can join the discussion on AMD's record-breaking Q3 performance on the OC3D Forums.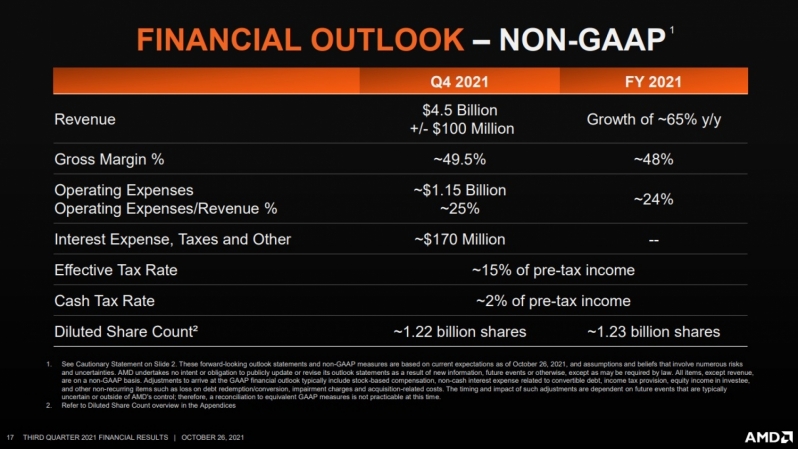 Â
 Â