AMD's Ryzen 7 5700G and Ryzen 5 5600G are coming to market on August 5th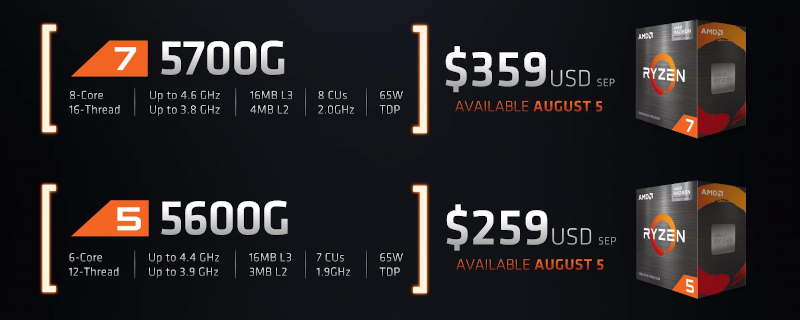 AMD's Ryzen 7 5700G and Ryzen 5 5600G are coming to market on August 5th
This August, AMD's Ryzen 7 5700G and Ryzen 5 5600G will be coming to the DIY market, finally replacing AMD's Zen + Ryzen 5 3400G and Ryzen 3 3200G as the company's top-tier APUs. 
AMD's APUs are processors that feature both Ryzen CPU cores and Radeon Integrated graphics, with the Ryzen 5000G series offering users up to 8 cores and sixteen threads and up to eight enhanced Vega Compute Units. (CUs). 
At $359, AMD's Ryzen 7 5700G will not be cheap. That said, this processor is cheaper than AMD's flagship 8-core, the $449 Ryzen 7 5800X. In the same vein, the Ryzen 5 5600G will cost less than AMD's Ryzen 5 5600X, with the 5600G costing $259 while the Ryzen 5 5600X costs $299. 
The beauty of AMD's Ryzen 5X00G series is that it offers lower pricing than AMD's X-series equivalents and features integrated graphics, which means that DIY PC builders will not need a graphics card to create a fully working system. AMD also boasts significantly more performance than Intel's comparable 11th Generation Rocket Lake processors.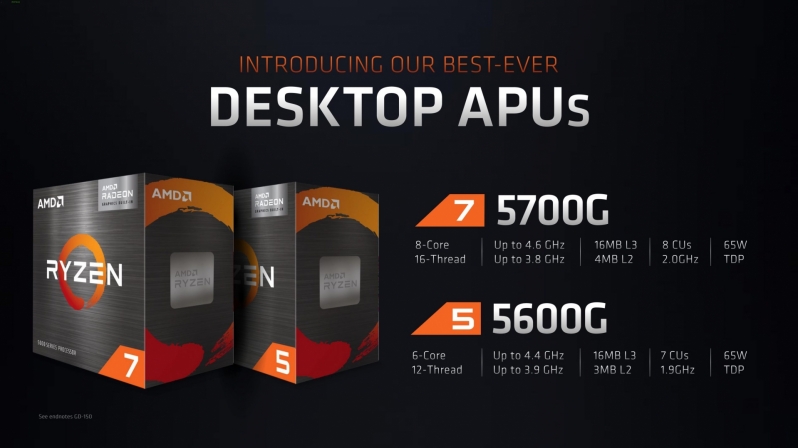 When compared to Intel's i7-11700, AMD's Ryzen 7 5700G is said to deliver a 38% performance advantage in content creation, 35% faster productivity and a 2.17X increase in iGPU gaming performance. If these data points are accurate, AMD's latest Ryzen processor smashes its competition within the DIY segment.
With gaming GPUs being scarce, the Ryzen 5X00G series will allow PC gamers to create a gaming capable system without a discrete graphics card, allowing DIY builders to assemble a working PC and wait for today's GPU supply situation to resolve itself. 
 

Cores/
Threads
Zen Arch
Base Clock
Boost Clock
L2 + L3 Cache
PCIe 4.0 Lanes
iGPU
TDP
Launch Pricing
Thermal Solution
Ryzen 9 5950X
16/32
Zen 3
3.4 GHz
4.9 GHz
8 + 64 MB
16+4+4
N/A
105W
$799
Not Supplied
Ryzen 9 5900X
12/24
Zen 3
3.7 GHz
4.8 GHz
6 + 64 MB
16+4+4
N/A
105W
$549
Not Supplied
Ryzen 7 5800X
8/16
Zen 3
3.8 GHz
4.7 GHz
4 + 32 MB
16+4+4
N/A
105W
$449
Not Supplied
Ryzen 7
5700G
8/16
Zen 3
3.8 GHz
4.5 GHz
4+16MB
?
Vega 8
65W
$349
?
Ryzen 5 5600X
6/12
Zen 3
3.7 GHz
4.6 GHz
3 + 32 MB
16+4+4
N/A
65W
$299
Supplied 
Ryzen 5 5600X
6/12
Zen 3
3.9 GHz
4.4 GHz
3+16MB
?
Vega 6
65W
$259
?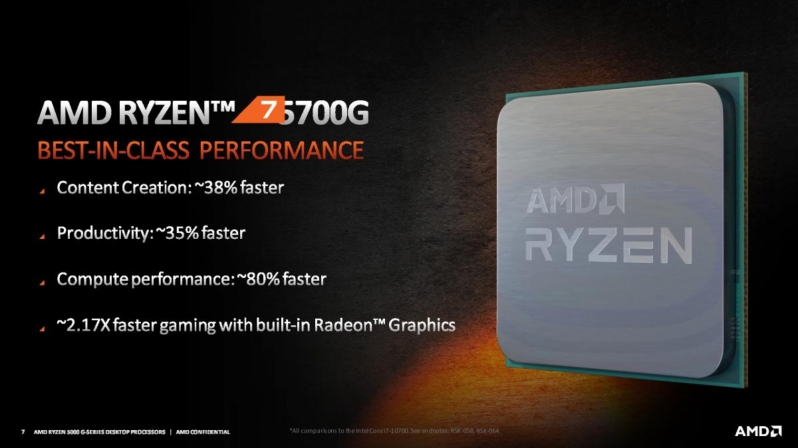 AMD's boasting some excellent performance data when compared to their Intel competitor, though it remains to be seen how these processors will compare in 3rd party reviews.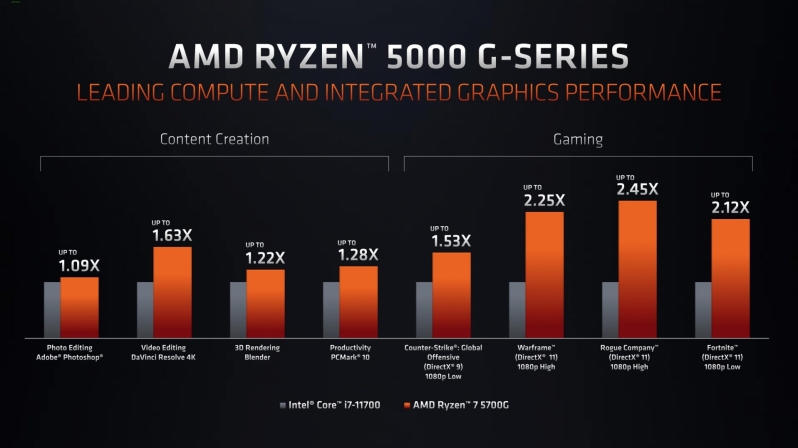 You can join the discussion on AMD's Cezanne Desktop APUs coming to the DIY market on the OC3D Forums.