Intel reveals their 14th Gen Core Desktop Processors – Meet the i9-14900K, i7-14700K, and i5-14600K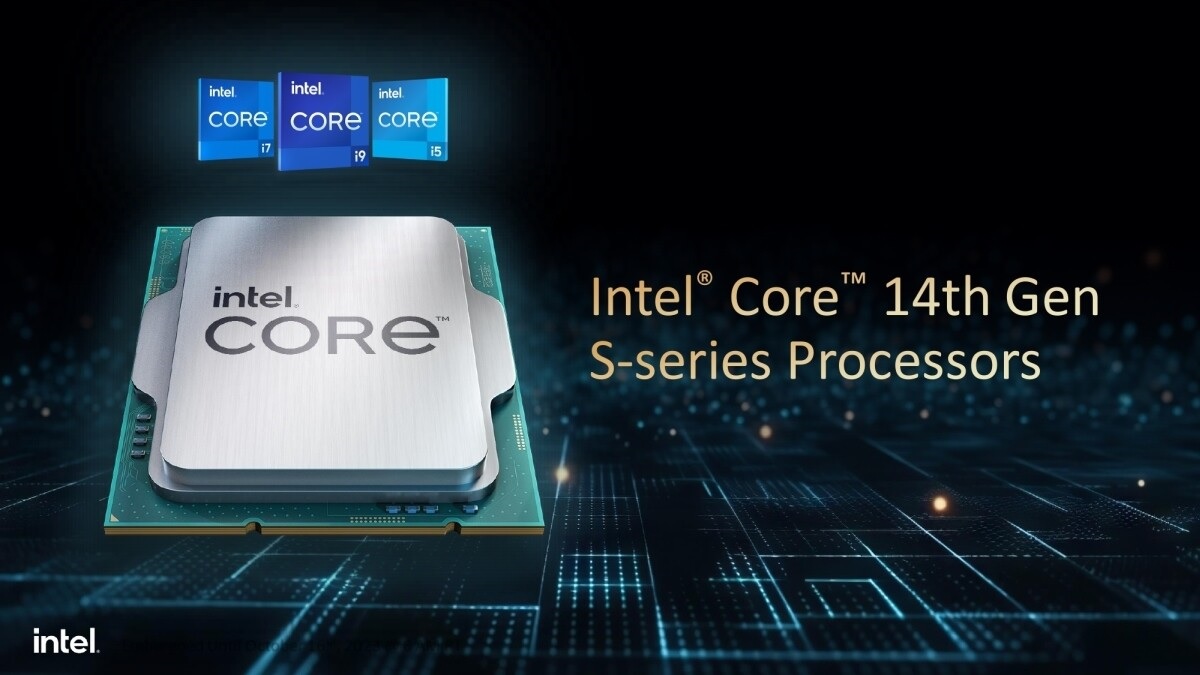 Intel launches their 14th generation of Enthusiast-Class Desktop CPUs – Meet Intel's Raptor Lake Refresh
Intel has revealed what could be their last generation of "Core" branded desktop processors, offering users up to 24 cores of processing power and turbo clock speeds as high as 6 GHz. If you are thinking, hasn't Intel already done this with their 13th gen i9-13900KS, yes, you are right. Intel's 14th generation of core processors is the company's "Raptor Lake Refresh". This means that Intel's "new" CPUs are effectively the same as their existing 13th generation Raptor Lake models, albeit with a little more polish.
With this generation, Intel are delivering higher clock speeds, support for higher memory overclocks, and new features like AI-assisted overclocking and Application Optimisation. With these changes, Intel has made Raptor Lake new again.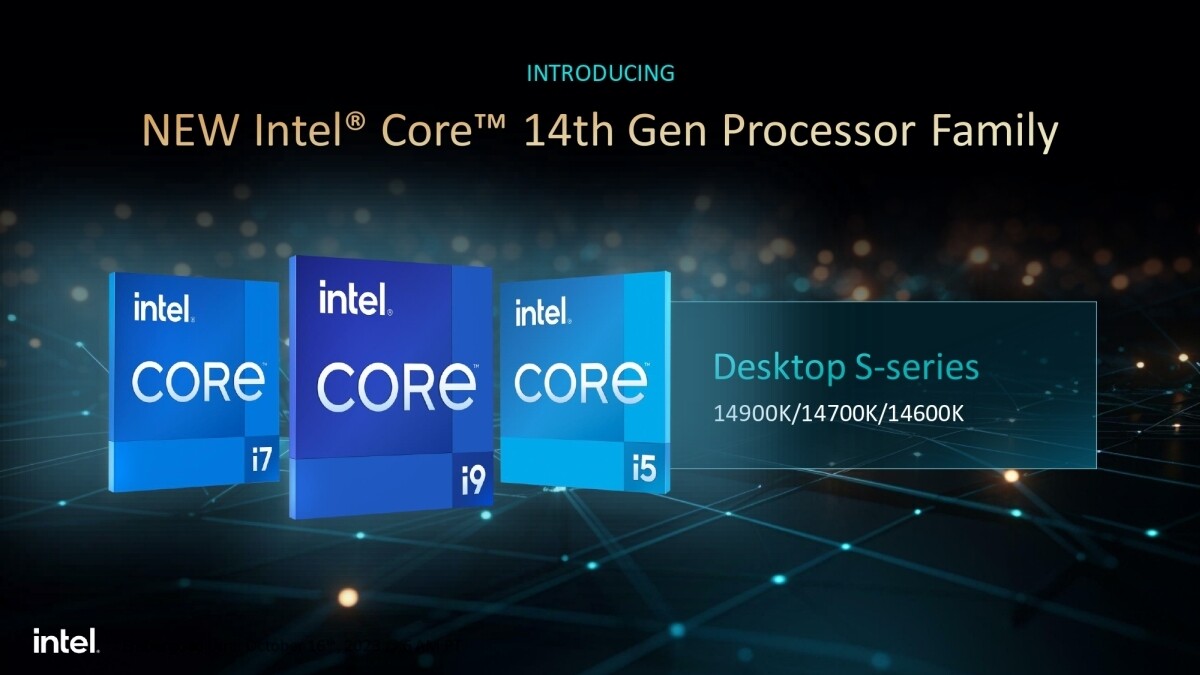 Intel's 14th Generation CPUs work on existing LGA1700 motherboards
Intel's new 14th generation Core desktop processors are designed to work on Intel motherboards with 600 or 700 series chipsets. With a simple BIOS update, all LGA1700 motherboards can support Intel's new processors. Like both Raptor Lake and Alder Lake, Intel's 14th generation "Raptor Lake Refresh" CPUs support both DDR4 and DDR5 memory modules. This will likely be the last CPU generation from Intel to support both memory standards. This generation's flagship is Intel's i9 14900K.
Alongside Intel's new 14th generation CPU lineup will come a new generation of Intel 700 series motherboards. These motherboards may feature advanced features like WIFI 7, or boast support for faster DDR5 memory overclocking.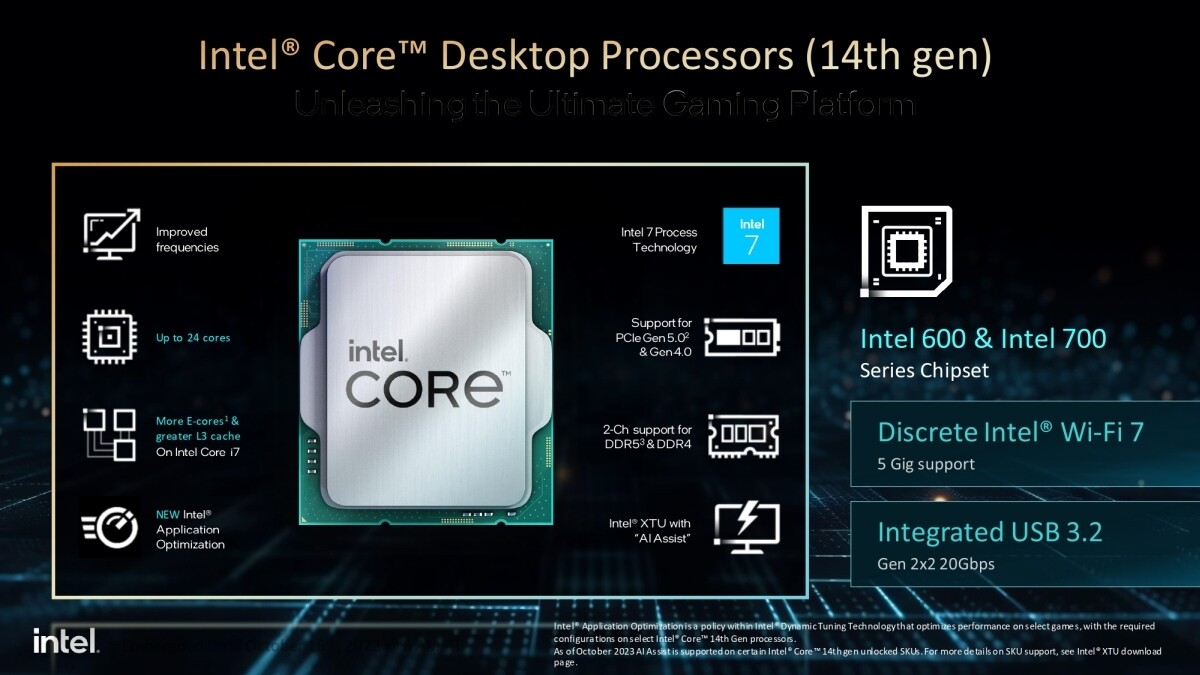 Intel's i7-14700K, presenting Intel's largest 14th generation upgrade
Intel's i5 14600K and i9 14900K both feature the same core/thread counts as their 13th generation predecessors. At best, Intel's new i5 and i9 models give users a moderate boost in performance thanks to increased core clock speeds. The same is not true for the i7 14700K.
With Intel's Core i7 14700K, the company has added four additional E-cores into the mix. Alongside Intel's 14th generation CPU clock speed enhancements, this increase in core count delivers a additional multi-threaded heft. On top of that, these E-cores also add more L3 cache into the mix, which is great news for cache-sensitive workloads. Intel's i7 14700K is a lot more capable than their i7 13700K, with the chart below showing notable generational performance advantages.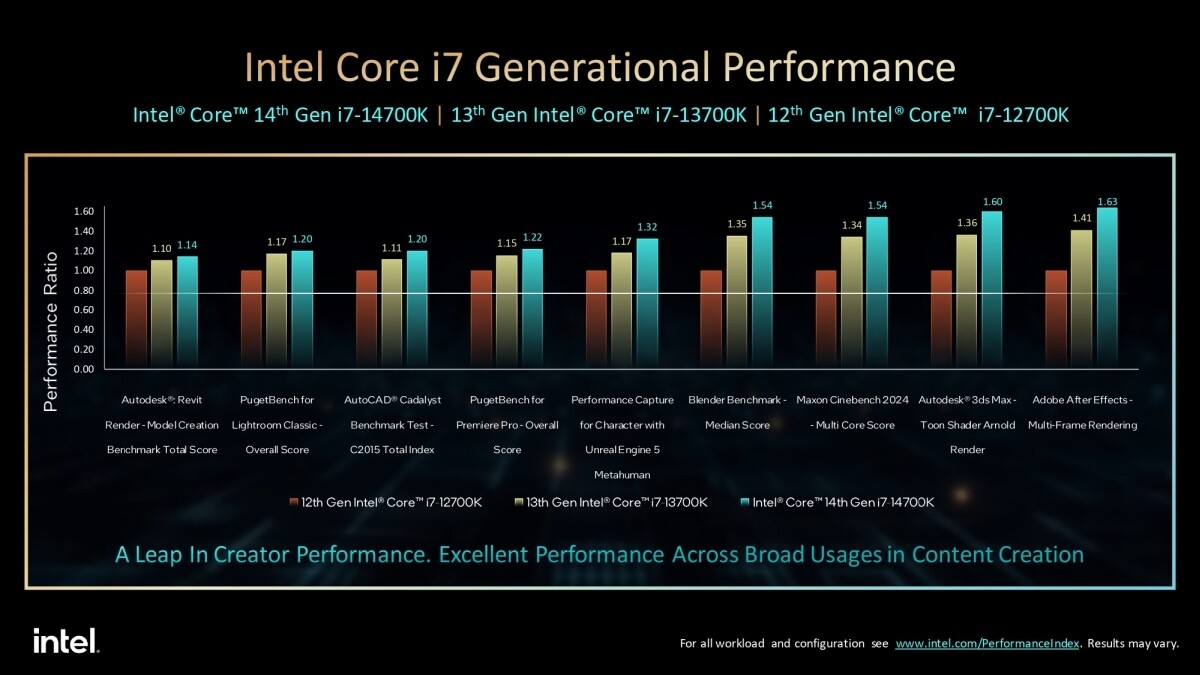 Presenting Intel Application Optimization
With their 14th generation of Core desktop processors, Intel has introduced a new feature called "Application Optimization", which is a new policy within the company's Dynamic Tuning technology framework that can enable increased performance in some applications.
Below, Intel shows 13% and 16% performance boosts for Tom Clancy's Rainbow Six: Siege, and Metro Exodus. These performance gains are only possible in selected 14th generation S-series processors, which means that not all 14th generation Intel CPUs will support this feature.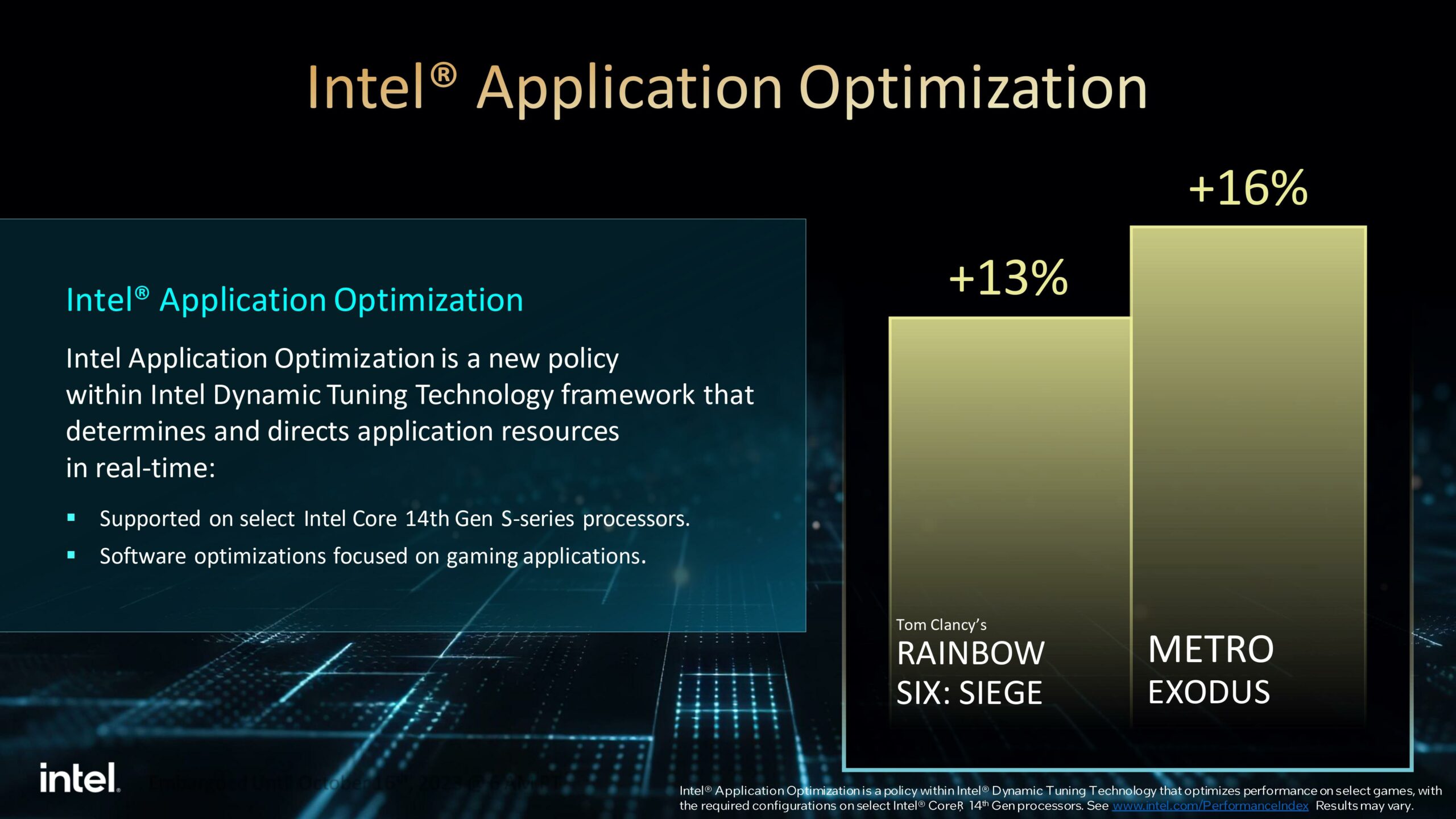 Intel 14th Generation CPU Pricing and Specifications
At launch, Intel's 14th generation family of CPUs will feature six models, all of which are unlocked for overclocking. Below are the specifications and US pricing for these new CPUs. These prices line up with Intel's 14th Generation pricing leak from last week. The i9 14900K features the highest boost clock speeds (6GHz), and the highest core count.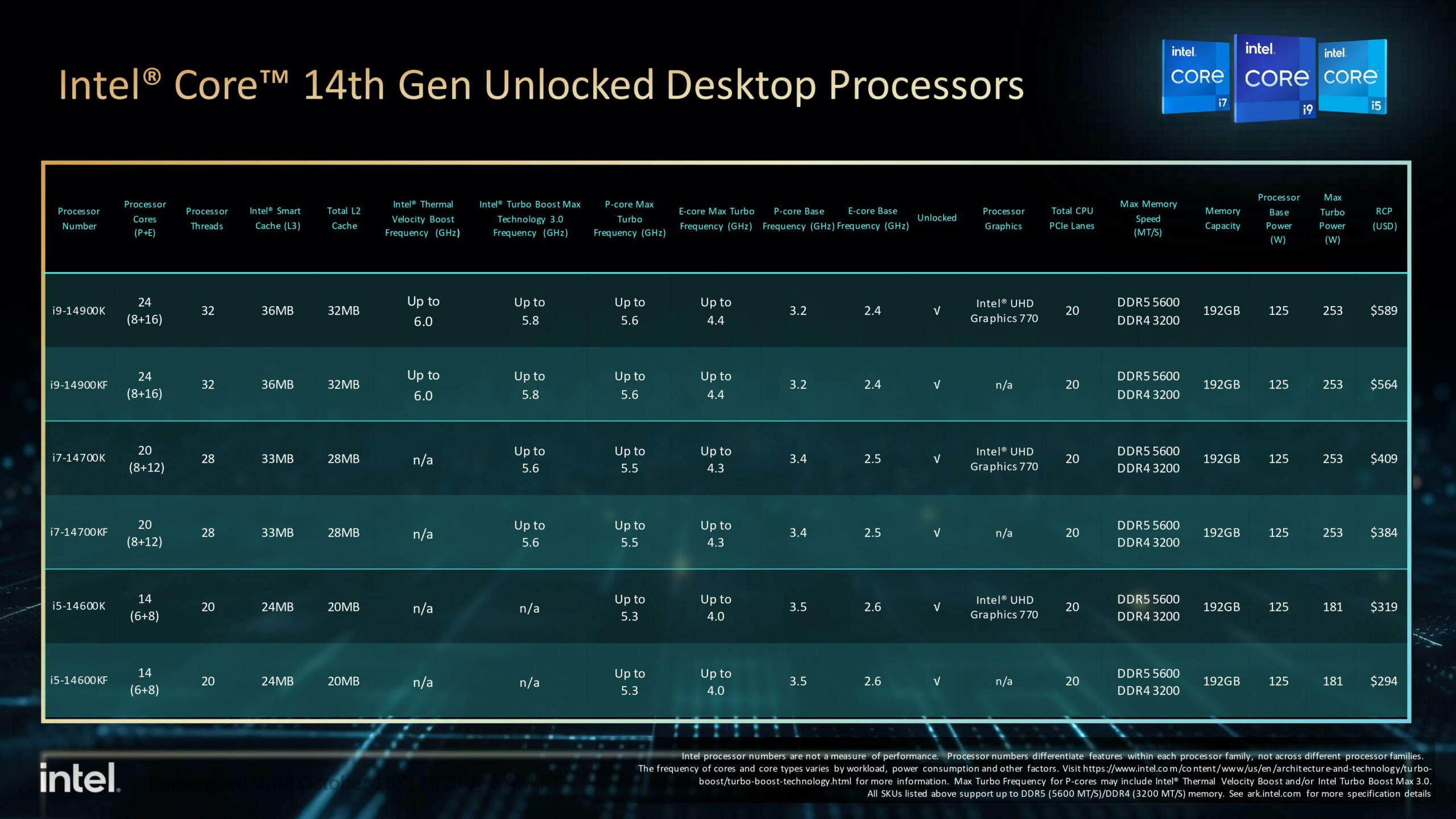 You can join the discussion on Intel's 14th Generation "Raptor Lake Refresh" CPUs on the OC3D Forums.