AMD claims that "Big Navi" will be their "halo product"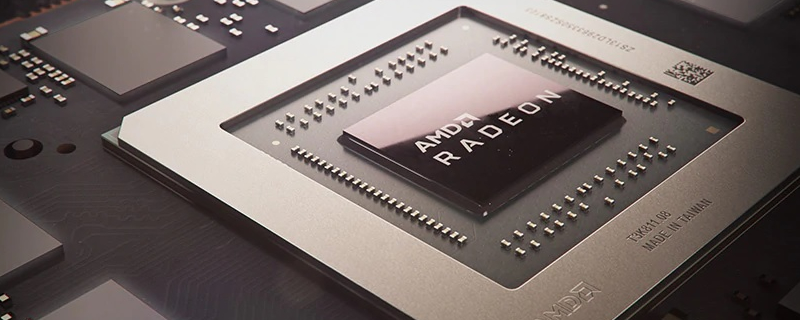 AMD claims that "Big Navi" will be their "halo product"
At the Bank of America 2020 Securities Global Technology Conference, AMD's Devinder Kumar, the company's Chief Financial Officer, has confirmed that Navi 2 will be AMD's "first RDNA 2 base product". This statement suggests that their RDNA 2 architecture will arrive on PC before it becomes available on next-generation consoles.Â
Both the PlayStation 4 and Xbox Series X are due to release within the "Holiday 2020" timeframe, which means that PC gamers should expect to see RDNA 2 before November 2020.Â
AMD's RDNA 2 architecture promises an incredible 50% boost in performance/watt over today's RDNA-based products, highlighting the efficiency advantage offered by AMD's next-generation Radeon architecture. These gains are possible on a 7nm node, which means that AMD has achieved these gains without a major process node shift, making these efficiency gains all the more incredible.Â
RDNA 2 is also due to deliver support for new features like Mesh Shaders, Variable Rate Shading, Hardware Accelerated Raytracing and more to Radeon graphics hardware, representing a great leap in AMD's graphics feature set as well as in Radeon's power efficiency.
In another statement, Kumar revealed that "the RDNA 2 architecture goes through the entire stack", saying that  "it will go from mainstream GPUs all the way up to the enthusiasts and then the architecture also goes into the game console products, … as well as our integrated APU products." That's right, RDNA 2 is coming to AMD's entire product stack, and that will include APUs (AMD CPUs with integrated graphics), and that's a big deal for AMD's future mobile processors.  Â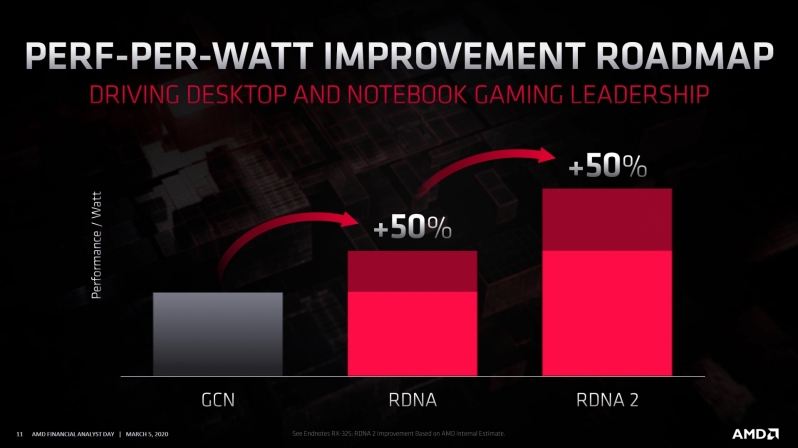 After discussing RDNA 2, AMD's CFO then talked about CDNA, AMD's compute-focused graphics architecture. Kumar stated the following;Â
"There are some gaming features that are not needed in compute. And then there are some compute features that are not needed in gaming. So to gain efficiency and performance, we have decided to bifurcate the architecture.
We see this area as a tremendous growth opportunity for both gaming and data center GPUs over the next five years, and the bifurcation of our roadmap will allow us to optimise for the workload and for the used cases that we see so that we can grow revenue in the GPU space."
Â
The slide below highlights AMD's beautification of its graphics architectures, with gaming and datacenter graphics hardware requiring different feature and unique optimisations. This could be part of the reason why RDNA 2 is so power-efficient, as AMD has the freedom to cut away any unnecessary fat from their gaming-focused designs. In a similar way, CDNA will cut away any unnecessary gaming-focused features from AMD's compute-focused lineup, resulting in its own set of efficiency gains. Â

AMD is on track to release RDNA 2 series graphics cards in 2020 alongside new Zen 3 series products. AMD has called "Big Navi" a "Halo Product", stating that "enthusiasts love to buy the best and we are certainly working on giving them the best."
Â
 Â
Rumour has its that both AMD and Nvidia have plans to release new graphics cards as soon as September 2020, something which will completely shake up the PC gaming market, especially as the launch of next-generation consoles approaches.Â
These next-generation hardware launches will likely cause a significant change to CPU pricing, as both manufacturers work to compete with each other and with both the PlayStation 5 and Xbox Series X in the gaming space. PC gamers are expected to get a lot more performance from their graphics cards purchases in late 2020.Â
You can join the discussion on AMD's claims that  "Big Navi" is a "Halo product" on the OC3D Forums.Â