Intel showcases the power of Meteor Lake's graphics in Dying Light 2 with XeSS

Intel showcases impressive performance gains with XeSS on their Meteor Lake integrated graphics chip
Meteor Lake is the first CPU to launch with the company's new "Core Ultra" branding. This branding shift signals Intel's move from monolithic CPUs to new tile-based future, where Intel uses their latest lithography and interconnect technologies to deliver cutting edge performance.
While Meteor Lake will not be launching in the form of socketed desktop CPUs, Intel has showcased impressive performance levels from their new mobile processors. This week, Intel showcased a new tech demo that highlight's the performance of their new Core Ultra 100 series CPUs. This demo showcases the graphical performance of their Meteor Lake laptops, and the benefits of the company's XeSS AI upscaling technology.
Note that Intel's XeSS technology is allowing Intel to increase the performance of Dying Light 2 by 60-70% in most instances. These performance gains come from using XeSS to upscale Dying Light 2 from 720p to 1080p. Note that power draw does not increase when using XeSS. This is great news for Intel given their focus on laptops with Meteor Lake.
Intel's impressive Meteor Lake iGPU
With Meteor Lake, Intel claims to have delivered a 2x increase in performance/watt over their last-generation iGPUs. This was achieved by using a new Xe graphics tile that features more additional hardware capabilities. This includes a 2x increase in geometry pipelines, a higher sampler count, more vector engines, and more pixel backends. Meteor Lake's new graphics component also features ray tracing units, a first of Intel's integrated graphics solutions.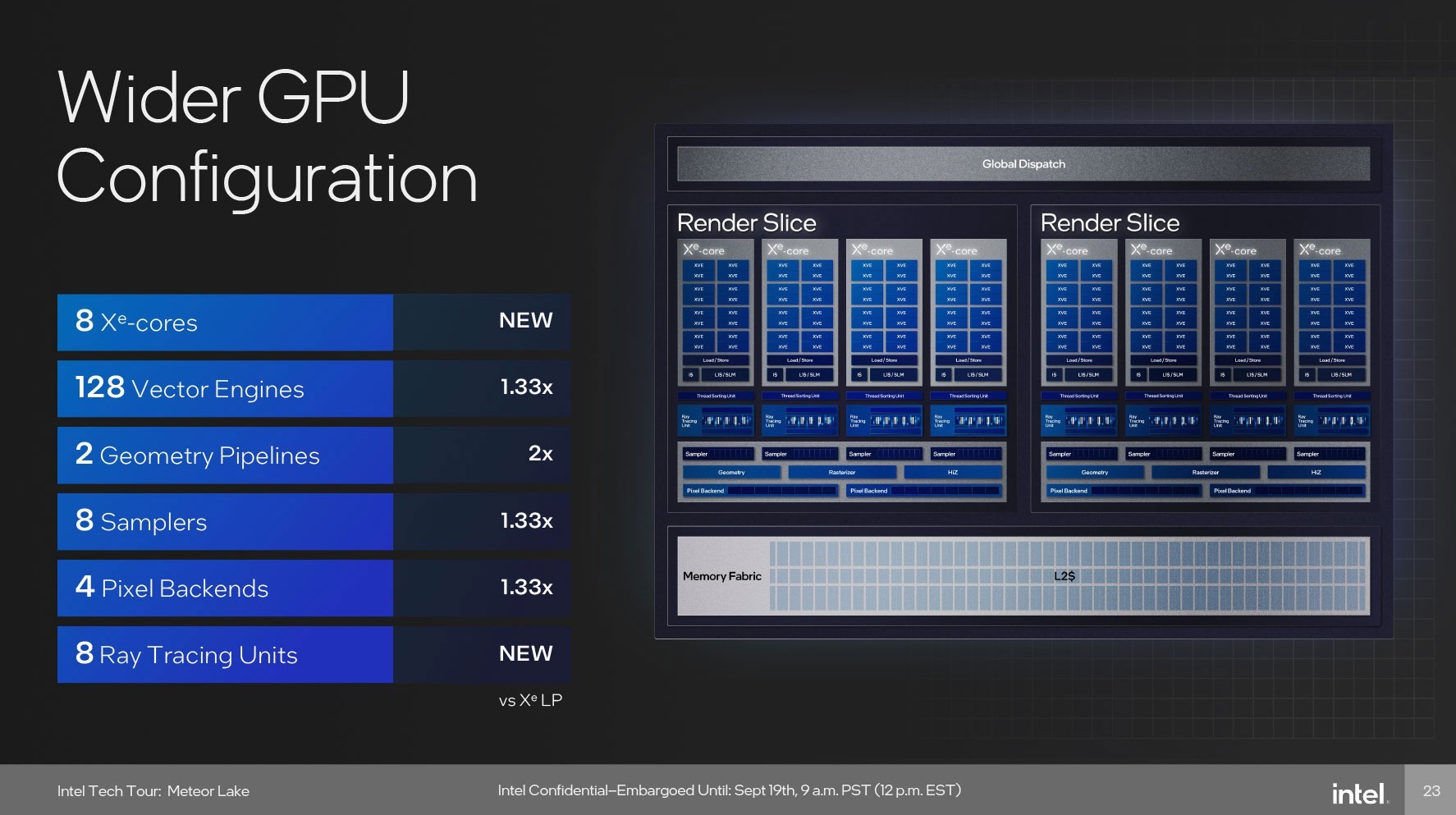 It is great to see Intel offering integrated graphics solutions that are capable of playing modern PC games. Yes, this graphics solution remains weak when compared to discrete GPUs. Even so, this represents a huge step forward for Intel, and places the company on a competitive footing against AMD when it comes to low-power graphics.
You can join the discussion on Intel's Meteor Lake graphics performance on the OC3D Forums.