Samsung to ship the world's first 8K TV on October 28th with AI Upscaling tech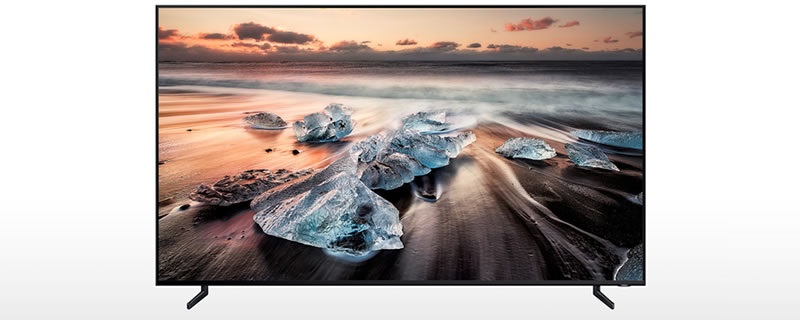 Samsung to ship the world's first 8K TV on October 28th with AI Upscaling tech
You think 4K is cutting edge? Nah, 8K is where the bleeding edge of technology lies, at least if you believe Samsung. Display technology is racing forward at a rate where other areas of the market are having difficulty catching up, both on the media and gaming fronts. 4K is slowly becoming the norm on mid-range televisions, but higher resolution panels are coming sooner than you may expect.Â
On October 28th, Samsung plans to release their 85-inch Q900 QLED Smart TV, an 8K TV which ships with a 4x increase in pixel count over today's 4K TVs while also offering support for HDR with a maximum brightness of 4,000 Nits, a full-array local dimming backlight and Samsung's new 8K AI Quantum processor.Â
To sit on the bleeding edge of TV tech, purchasers of Samsung's Q900 TV will need to pay $14,999.99, for which they will receive a television which, when said bluntly, has no future. For starters, this TV lacks support for inputs outside of HDMI. With HDMI 2.1 being in its infancy as a standard, making this displays 4 HDMI ports almost certainly HDMI 2.0b, which hits its limit at 4K 60, leaving Samsung in a strange position. Samsung's product page (link) details no support for 8K compliant connectivity standards.Â
To support 8K, Samsung is relying on their "Quantum Processor 8K", which can remaster today's content into 8K, adding detail to images while removing visual noise. This technology uses artificial intelligence to create 8K images, a feature which wowed attendees of CES 2018. At this time it remains to be seen how effective this technology is outside of showroom conditions.Â
Today, there are no 8K media players or streaming services, forcing Samsung to fill the gap with AI-upscaled content. If this technology proves effective, it should apply to future4K displays, a feature that could be useful when streaming media or playing older DVDs or 1080p Blu-rays, assuming that there are no major visual shortcomings.Â
  Â
 Â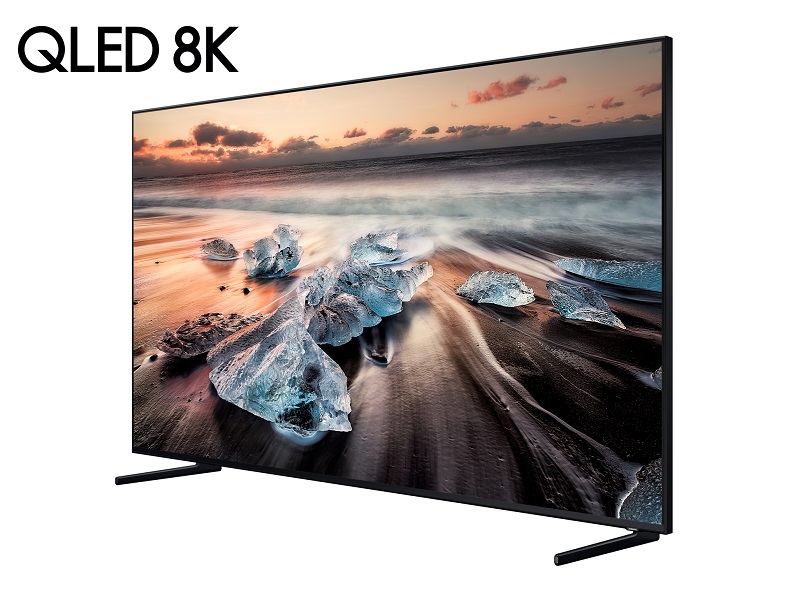 Samsung's solution to this problem is Artificial Intelligence, developing a new upscaling technology that can upscale SD, FHD and UHD/4K content to a full 8K resolution, by adding additional detail, reducing noise and restoring edges.Â
Early reports on this upscaling technology from CES 2018 were positive, showcasing significant levels of improvement when compared to the upscaling technology of early 4K and 1080p televisions, accomplishing more accurate results than the oversharpening upscalers of yesteryear. Â


  Samsung is the first manufacturer to implement artficial intelligence (AI) technology into a QLED TV. Adding machine learning to the TV's repertoire of immersion-enhancing features has made it easy for users to enjoy a wide range of content in crystal clear 8K.

Samsung's exclusive machine-learning technology automatically upscales lower-resolution videos into 8K picture quality, regardless of the video's native resolution or method of transmission. The technology is powered by the Quantum Processor 8K, which, according to product planner BeomKyun Rha, was enhanced to better process details and lighting.
Â

 Â
Â
Do we recommend that anyone buys this insane 8K television? of course we don't, but it does confirm that the television industry plans to move beyond 4K over the next few years, presenting a challenge to future consoles and a demand for more potent graphics cards in the coming years. It also begs the question, will AI become commonplace in future graphics card pipelines, with features like Nvidia's DLSS technology and Samsung's "Quantum Processor 8K" upscaling techniques will supplant native resolution rendering as display resolutions creep upwards.
You can join the discussion on Samsung's plans to release the world's first 8K TV later this month on the OC3D Forums. Â