Patriot Unveils Six G Series Kits
Patriot Unveils Six G Series Kits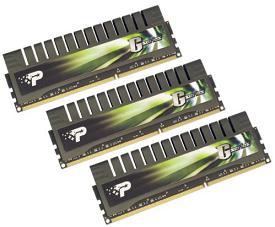 Patriot Memory today unveiled its new Gaming Series memory kits targeted at high-end gamers. The new line-up comes with both DDR2 and DDR3 memories and a total of six kits.
The DDR3 kits come in 3GB and 6GB versions. While the 3GB kit is clocked at 1600MHz, the 6GB kit works at 1333MHz, both with 9-9-9-24 latencies at 1.65V. Among the dual channel kits, the first are the twin 4GB kits that have the same specifications as the DDR3 kits but require 1.8V power supply.
Rounding up the DDR2 line-up are two more 4GB kits that are clocked at 1066MHz and 800MHz respectively. While the 1066MHz kit comes with 7-7-7-20 latencies and requires 2.1V to work, the 800MHz kit has 5-5-5-12 latencies and consumes 1.9V power.
According to Patriot, the Enhanced Latencies line yet advantageous pricing of all six G Series kits make these good memories for high-end gamers. However, the company has revealed neither the so-called "advantageous" pricing nor the availability details for the kits.