Huge Bandwidth! – QNAP delivers dual 10GbE connectivity with their QXG-10G2T networking card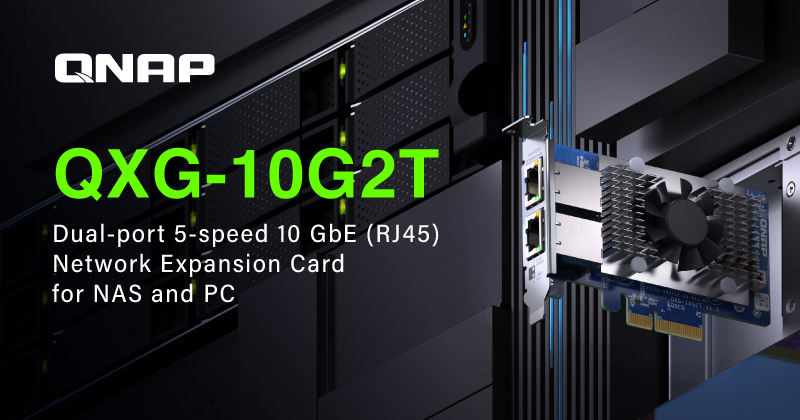 QNAP delivers up to 20 Gbps of networking bandwidth with their dual 10GbE QXG-10G2T networking card
Let's face it, file sizes are getting bigger and the speed of your home network is becoming increasingly important. Faster and faster WIFI technologies are launching at a rapid pace, and the demand for faster wired networking is growing. Knowing this, QNAP has launched a new networking card called the QXG-10G2T. The QXG-10G2T is a dual 10GbE expansion card that offers users 20 Gbps of combined bandwidth.
QNAP's QXG-10G2T is designed for use with both PCs and QNAP's NAS solutions. OS-wise the dual 10GbE QXG-10G2T supports both Window and Linux. All this card needs to operate is a PCIe 3.0 x4 expansion slot. QNAP's QXG-10G2T also supports full-height and half-height PCIe slots.
Do you utilise your network to transfer large files frequently? If so, moving from a standard 1GbE wired connection to 10GbE will dramatically speed up your workflow. This makes networking upgrades a big deal for photographers, videographers, and teams who collaborate on large projects. That said, you will need 10GbE support across your network to make use of these high transfer speeds. That said, we have looked at a lot of networking products that include 10GbE, including ASUS' ROG Rapture GT-AXE16000 router.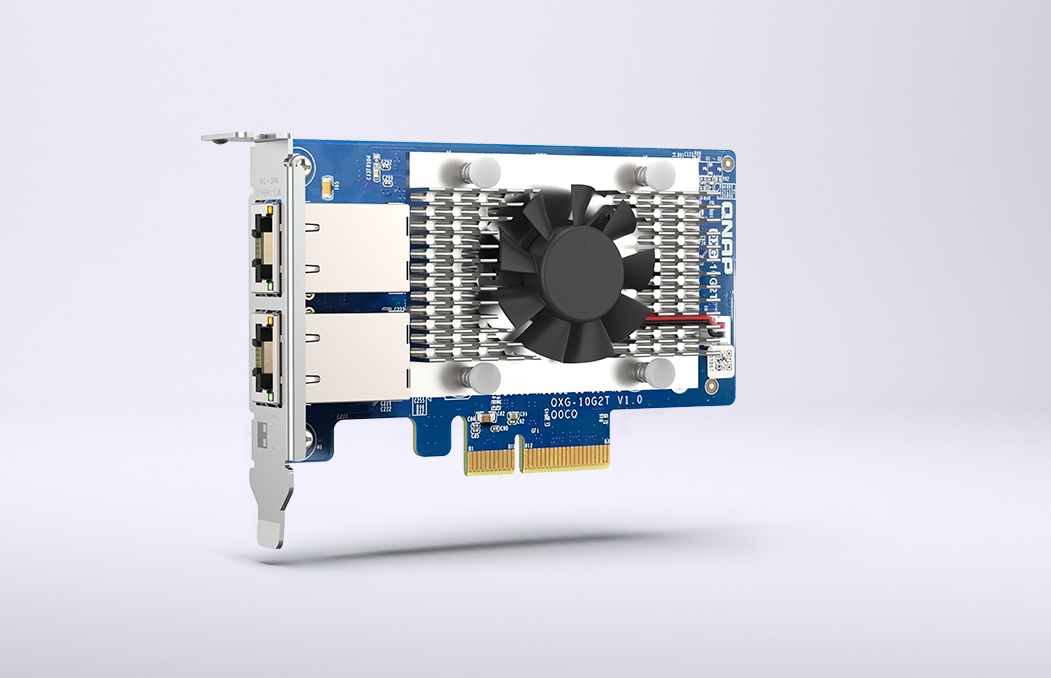 Key features:
5-speed support: The QXG-10G2T supports five different speeds, including 10 GbE, 5 GbE, 2.5 GbE, 1 GbE, and earlier Ethernet standards, ensuring compatibility with various networking scenarios.
NAS and PC compatibility: The QXG-10G2T is compatible with QNAP NAS operating systems (QTS and QuTS hero), Windows 10, and Linux.
Marvell AQtion Controller AQC107: Featuring the Marvell AQtion Controller AQC107, the QXG-10G2T delivers excellent energy efficiency and cost-effectiveness without compromising performance.
PCIe 3.0 interface: The PCIe Gen 3 x4 interface offers transfer speeds of up to 32 Gbps, enabling swift data transmission for demanding tasks.
Gain up to 20 Gbps connectivity: By leveraging the QXG-10G2T's dual 10 GbE ports, users can achieve up to 20 Gbps connectivity through SMB multichannel or port trunking.
Like all 10GbE products, the QNAP QXG-10G2T supports slower networking standards. This included 5GbE, 2.5Gbe, and 1GbE. This make the QNAP QXG-10G2T compatible with both old and new networking setups. This is good news for those who want to make a gradual transition to a faster home network, as a full network 10GbE upgrade can be an expensive prospect.

More information about QNAP's QXG-10G2T networking card is available here.
You can join the discussion on QNAP's Dual-Port 10GbE networking card on the OC3D Forums.