noblechairs releases all-new "Black Edition" chairs with cutting-edge hybrid materials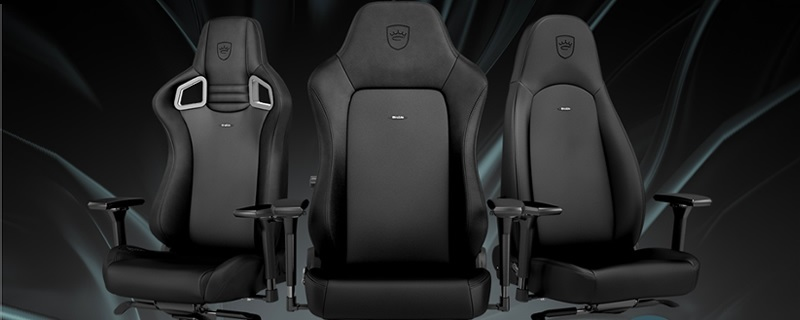 noblechairs releases all-new "Black Edition" chairs with cutting-edge hybrid materials
When it comes to engineering, materials matter, especially when it comes to the field of ergonomics. A chair is designed to be sat in, and if your working, or gaming, long hours, you will know why premium chairs justify their price tag.Â
Today, noblechairs has announced its all-new "Black Edition" series of product, encompassing the company's EPIC, HERO and ICON lineups. The innovation with this release is in materials, with noblechairs using a new German man-made hybrid material to offer a real-leather feel and superior properties to both PU and PVC leather alternatives.Â
noblechairs have launched their "Black Edition" lineup under the phrase "always breathing". Their Black Edition materials deliver better airflow and water vapour permeability qualities, allowing users to remain comfortable for longer.Â
Why does this matter? These qualities will help users of these chairs sweat less and remain cool, eliminating that sticky feeling that many cheaper chairs provide. This is done without the need for a perforated surface, delivering a stylish, professional look, as befits such a noble chair. Â
noblechairs has quickly grown to become one of the world's most respected manufacturers in the field of "gaming" chairs. They have done this by producing products with superior build quality and using the right materials for the job. These aren't your bargain basement recycled foam gaming seats; these are noblechairs. Â
Â
With the "Black Edition" series, noblechairs has taken a risk on new materials, and it has paid off. As a trained engineer, I cannot understate how important material design is when creating quality products. A material change can have as large of an impact as new features, and you can bet that other premium chairmakers will follow noblechair's lead in time.Â
When speaking with noblechairs, the company gave us a list of features which help to differentiate noblechairs from its peers, citing its high-quality material design, its german manufacturing and moreÂ
The Features of the noblechairs Black Edition
– Unique breathable vinyl upholstery
– Manufactured in Germany
– Brushed aluminium front
– Combines the comfort of real leather with the durability of PU leather
– new stainless steel grips
– Improved armrests with metallic belt pass-throughs
– Permeable to air and water vapour
– Extremely Durable Material

Â
Additional Features:
– Hybrid material featuring a premium matt finish.
– Minimalistic stitching characteristic of the Black Edition.
– Bundled noblechairs head and lumbar pillow.
– New 4D armrests enhanced with metal buttons and soft padding.
– Stainless steel reclining lever.
– High quality rocking mechanism.
– Certified ergonomic comfort.
– Quiet 60mm casters for hard and carpet flooring.
– Even easier to clean.
– Exquisite metallic harness holes (EPIC Series only).
– Adjustable lumbar support and memory foam headrest built inside the chair (HERO Series only).
 Â
Â
In the UK, noblechair's Black Edition products will be available through Overclockers UK, while Europe and the USA will be serviced by Caseking and NewEgg respectively. Â
In the UK, noblechair's Black Edition EPIC and ICON series chairs will cost £374.99, while the Black Edition HERO will cost £399.95. UK buyers can find out more at Overclockers UK.
You can join the discussion on noblechair's all-new "Black Edition" chairs with German hybrid materials on the OC3D Forums.Â