FSP showcases a crazy powerful 2500W ATX 3.0 power supply at Computex 2023
FSP are ready to power even the most power-hungry of PCs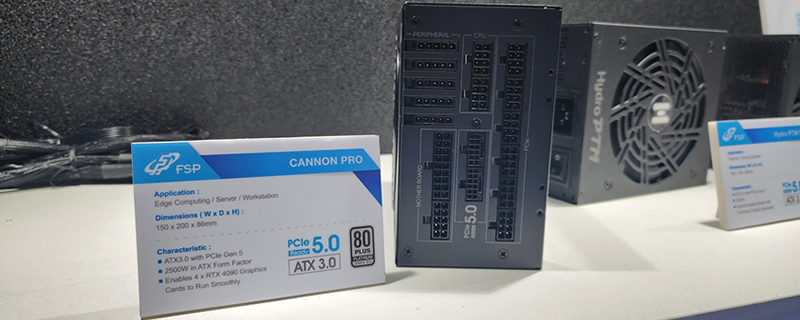 FSP reveals a power supply that can fuel systems with up to four RTX 4090 graphics cards
At Computex 2023, FSP has showcased a new power supply called the Cannon Pro, an ATX 3.0 power supply that is PCIe Gen 5 certified and features a colossal power delivery capacity of 2500W. This power supply was revealed by WccfTech's Hassan Mujtaba on Twitter, giving the world a look at this PSU's extensive suite of power delivery options. 
While the PSU only features two 12VHPWR connectors, FSP has stated that this new power supply can power up to four RTX 4090 graphics card, two of which will be powered using 12VHPWR connectors and two of which would be powered using 12VHPWR to PCIe 8-pin power adaptors. Even with four 450W RTX 4090 graphics cards, FSP's 2500W Cannon Pro power supply will have 700 watts of power capacity remaining to power other components, which is a lot of power to work with. 

FSP are targeting their Cannon Pro power supply at Edge computing workloads, servers, and workstations. These environments can feature systems that have huge power demands, especially for systems that utilise multiple graphics cards or other accelerators for advanced AI or similar workloads.
Measuring in at 150mm x 200mm x 86mm, FSP's 2500W 80+ Platinum behemoth is around 60mm longer than a standard ATX power supply, which isn't that large given how many watts this unit can deliver. At this time we do not known when FSP plans to release this colossal power supply or how much it will cost. Hopefully we can confirm this information soon.
You can join the discussion on FSP's 2500W Cannon PRO power supply on the OC3D Forums.