AMD's FidelityFX Super Resolution 3 (FSR 3) tech has arrived within its first game, Forspoken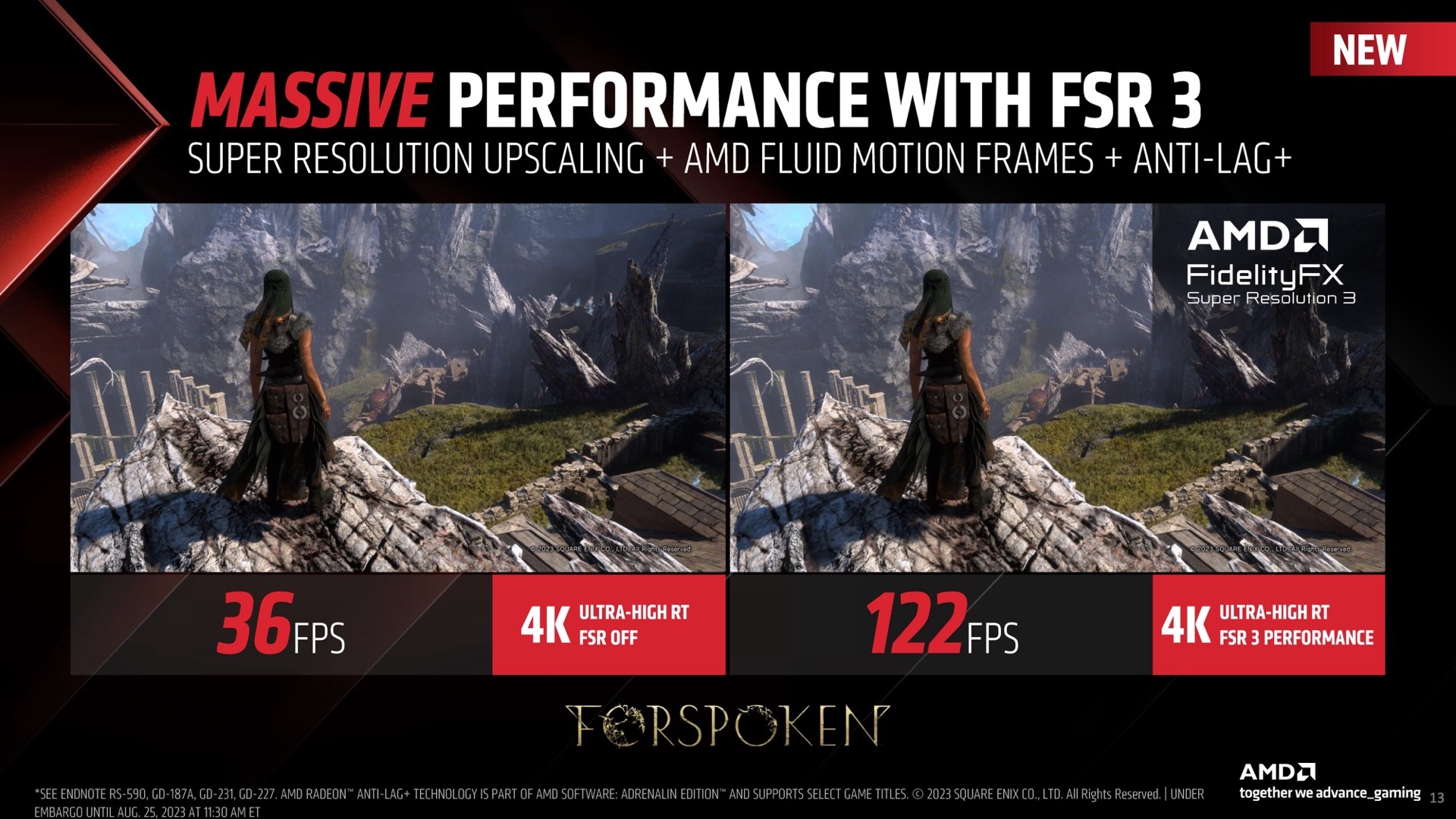 Forspoken becomes the first game to support AMD's FidelityFX Super Resolution 3 (FSR 3) technology
Today marks the official release of AMD's FidelityFX Super Resolution 3 (FSR 3) technology. AMD's FSR 3 tech is bringing frame generation to the masses with AMD "Fluid Motion Frames", a technique that is supported on all graphics cards. In contrast, Nvidia's Frame Generation technology is excusive to the company's RTX 40 series GPUs. This makes AMD's new FSR 3 technology appealing to users of AMD GPUs, Intel GPUs, and pre-RTX 40 series Nvidia GPUs. Now, FSR 3 is available in Forspoken on PC. This includes the game's PC demo version.
Alongside AMD's FidelityFX Super Resolution upscaling technology, AMD's FSR 3 Frame Generation technology can be used to deliver incredible framerates boosts in Forspoken. In the image above, AMD shows framerates get boosted from 36 FPS to 122 FPS with FSR 3 set to performance mode with Frame Generation enabled. That's a performance boost of almost 3.4x.
Below are the patch notes for Forspoken's new FSR 3.0 PC update.
Patch Notes

Graphic Updates:
・Implemented the needed updates required to have the game compatible to AMD's FidelityFX™ Super Resolution 3.
*FidelityFX™ Super Resolution 3 combines temporal upscaling and frame generation to deliver significantly higher performance.
*Frame generation is enabled separately from upscaling and is available when using AMD Radeon™ RX 5000 Series and higher, NVIDIA GeForce RTX™ 20 Series and higher, and Intel® Arc™ 7 Series and higher GPUs. (Upscaling is still available to use on GPUs lower that the products mentioned.)
・Added a new NativeAA quality mode option.
*Native AA mode does not apply upscaling but applies high-quality anti-aliasing and sharpening.

Miscellaneous:
・Added Frame Generation entry to the Graphics section of the menu.

Technical Issues:
・Fixed an issue where the main game save data appears in the DLC's save data slot and the DLC save data appears in the main game's save data slot. (Steam version)
*This fix only applies to newly created save data.

Known Issues:
・Low frame rates can be experienced on some 240Hz and higher refresh rate monitors, when FSR3 Frame Generation is set to ON and VSync is set to ON.
*To remediate this issue, make sure you are using the latest drivers from your video card manufacturer. You can also set VSync to OFF, or set your monitor refresh rate to less than 240Hz.
What are the GPU hardware requirements for FSR 3?
Like all previous version of FSR, FSR 3 will be open source. Unlike DLSS, AMD's FSR technology runs on non-Radeon GPU hardware. This differentiates AMD's technology from Nvidia's as Nvidia has made DLSS 3 exclusive to GeForce RTX 40 series GPU owners, a small subset of GeForce users.

According to Forspoken's patch notes, AMD's FSR 3 frame generation technology said to work the following GPU architectures. Intel ARC 7 series GPUs, Nvidia GeForce RTX 20 series GPUs, AMD's RX 5000 series and newer GPUs.
Planned game and partner support
AMD has confirmed that FSR 3 is coming to a lot of upcoming games. This includes Warhammer 40K: Space Marine 2, Avatar: Frontiers of Pandora, Like a Dragon: Infinite Wealth, Wukong, and more. FSR 3 support is also coming to already launched games like Cyberpunk 2077, Forspoken, and Immortals of Aveum.
Alongside game support, AMD has also revealed strong partner support for FSR 3. Square Enix, Ubisoft, Saber Interactive, and many developers/publishers have pledged to support AMD's FSR 3 technology.
You can join the discussion on AMD's FidelityFX Super Resolution 3 tech coming to Forspoken on the OC3D Forums.