Dying light 2: Stay Human has been delayed until 2022
Dying Light 2 no longer releasing in 2021
Techland has announced today that Dying Light 2: Stay Human will not be ready for the game's planned December 7th launch date. Now, Dying Light 2 has a new release date, February 4th 2022.Â
While Dying Light 2 is "complete", Techland has admitted that the game will require more polish and optimisation before launch. This delay is designed to give Techland's developers the time needed to complete the project to the level the studio envisions it. Techland doesn't want Dying Light 2's launch to repeat what happened with CD Projekt Red's Cyberpunk 2077, which was released in a buggy state on all platforms and with abysmal performance levels on last-generation consoles.Â
Dying Light 2's new February 4th release date also moves the game away from Halo Infinite's launch window, a factor that may have taken attention away from Dying Light 2.
Techland has stated that they plan to share some "exciting news" on Dying Light 2 later this month and that the game will be available to the press and content creators through a series of preview events next month. After these events, gamers can expect to hear what their favourite streamers, YouTubers and websites think of Dying Light 2's preview build. Â
Â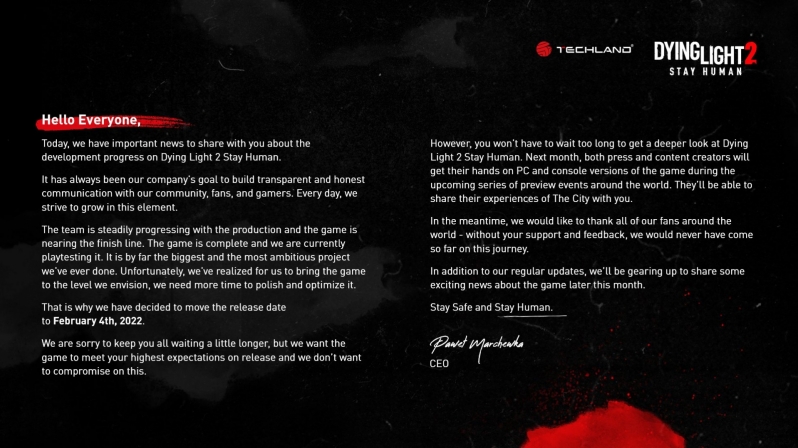 Â
Dying Light 2 is based 20 years after the events of the first game. The world has been ravaged by a mutated version of the original game's virus, and 98% of the world's population has now been lost. Now, humanity's last vestiges live in Villedor, a place known as "The City", where communities attempt to survive Dying Light's vicious day/night cycle. The last vestiges of humanity will fight for the city's remaining resources by day, but by night, the infected rule.
In Dying Light 2, 2-4 player co-op will be available throughout the game, much like the game's predecessor. Players will control protagonist Aiden Caldwell, who has travelled in the city to search for his family. Once again, Parkour will be a vital element of Dying Light, as will weapon customisation and skill development.
In Dying Light 2, player decisions will define how the city is developed, as players can choose to support certain factions by assisting them in missions and giving them access to resources. These decisions will turn some factions into allies and others into enemies, giving players access to some tools while denying them access to others. These discussions should affect Dying Light 2's overall story and its ending, presumably.Â

   Over twenty years ago in Harran, we fought the virus—and lost. Now, we're losing again. The City, one of the last large human settlements, is torn by conflict. Civilization has fallen back into the Dark Ages. And yet, we still have hope.

You are a wanderer with the power to change the fate of The City. But your exceptional abilities come at a price. Haunted by memories you cannot decipher, you set out to learn the truth… and find yourself in a combat zone. Hone your skills, as to defeat your enemies and make allies, you'll need both fists and wits. Unravel the dark secrets behind the wielders of power, choose sides and decide your destiny. But wherever your actions take you, there's one thing you can never forget—stay human.
Â
When developing Dying Light 2 for PC, Techland has decided to use ray tracing extensively, partnering with Nvidia to make the most effective use of their RTX technologies on compatible hardware.
Dying Light 2 will feature support for ray-traced reflections, global illumination and shadows to enhance the detail of the game's post-apocalyptic world. Beyond that, Dying Light 2 will support Nvidia's DLSS (Deep Learning Super Sampling) technology to provide "a massive performance boost without sacrificing image quality".
Techland has also confirmed that Dying Light 2: Stay Human will be playable on day-1 through Nvidia's Geforce Now service with ray tracing and DLSS enabled. This will work for both the Steam and Epic Games Store versions of Dying Light 2.
As a cross-generation game, Dying Light 2 should be a highly scalable title on PC. If the game needs to be playable on older hardware like Xbox One and PlayStation 4 at playable framerates, the game's PC version should scale down to fairly low-end hardware configurations on the platform. That said, given this game's support heavy support for ray tracing, Dying Light 2 should require a high-end gaming PC to run at its highest settings.
You can join the discussion on Dying Light 2: Stay Human getting delayed on the OC3D Forums.Â