Fujitsu Chooses CyberLink's Digital Home Solution
Fujitsu Chooses CyberLink's Digital Home Solution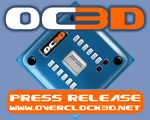 CyberLink Corp. (5203.TW), innovative solution provider for the connected digital lifestyle, announced today its partnership with Fujitsu to bundle
CyberLink's Digital Home Solution
with Fujitsu's fall line desktop and laptop computers. The bundle is now available in Japan market.
Fujitsu NetworkPlayer is developed and customized based on CyberLink's SoftDMA , a software solution for remote media access from a UPnP digital media server.
With NetworkPlayer, users can access, playback and stream video, photo and music content stored in media servers.
NetworkPlayer automatically locates media servers connected across a home network.
NetworkPlayer also supports HD video playback.
"We are very happy to partner with Fujitsu to demonstrate how easy it is for users to enjoy their digital media content from anywhere at home with Fujitsu NetworkPlayer," said Alice H. Chang, CEO of CyberLink.
"CyberLink continues to work with industry leaders to shape the digital home ecosystem and strive towards our vision, the connected digital lifestyle."
"Fujitsu is very pleased to partner with CyberLink to begin the shipping of our fall line of PCs with pre-installed NetworkPlayer," said Takeshi Yamaguchi, General Manager, Platform&Software. "The PC plays a central role in the digital home. Our partnership allows users to expand their Digital Home experience to the fullest without being bound to one location."
Product Availability
Fujitsu's latest fall line PCs pre-installed with NetworkPlayer is already available in Japan. For more information, please visit http://www.fmworld.net/
For more information about CyberLink SoftDMA and a complete lineup of digital multimedia solutions, please visit our website: www.cyberlink.com
Discuss in our forums