Opera 10 Goes into Beta Mode
Opera 10 Goes into Beta Mode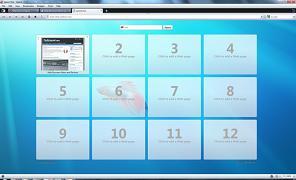 Opera released the beta 1 of their next generation Opera 10 browser, an event that is expected to heat up the war between Microsoft, Mozilla and Opera for the fastest and best browser. In addition to a host of innovative, user-friendly features, Opera 10 is reportedly much faster than earlier versions.
Microsoft, Mozilla and Opera have all been working on developing their new browsers, with Microsoft taking the lead with the release of Internet Explorer 8 earlier in the year. Mozilla too is working on Firefox 3.5, with the beta 4 currently available for download. Opera's entry into the race could lead to some interesting equations.
Opera 10 beta 1 features expandable tabs, which can be turned into thumbnails just by dragging a bar beneath the tabs. Though only a cosmetic feature, it gives the browser a classy feel. With its built-in turbo compression technology, the browser opens websites with stunning speeds even on low bandwidth connections. The technology also makes it possibly the fastest browser currently available.
Opera has also added a Speed Dial feature on the browser, which allows users to directly load one of their favourite websites in a new tab. The next generation browser also carries Opera Mail, the light weight email client from Opera that can serve as a replacement to Microsoft Outlook and Mozilla Thunderbird.
With the Opera Presto 2.2 engine at its core, Opera 10 boasts of a perfect score on the Acid3 compatibility test, which means it meets the highest web standards currently in practice. The Presto 2.2 engine makes the browser compatible with Web Fonts, RGBA/HSLA colour, and SVG improvements among others.
While Opera has created a highly feature-packed browser, it seems to have overlooked one major short-coming that bugged its earlier versions too. Opera 10 continues to disappoint in its security/ad-blocking ability. Unlike IE 8 and Firefox 3.0.10, Opera 10 does not seem to allow selective blocking of JavaScript and Flash. So if you have JavaScript turned off and are visiting a site that has JavaScript, you might miss out on content that you need.
Opera is yet to confirm the official release date for its next generation browser, but the beta 1 suggests IE and Firefox could be in for some serious competition from this superfast offering. The beta 1 already has enough features and innovations to pull-in lots of IE or Firefox fans; the effects of the final version only remain to be seen.
See something impressive? Talk about it in our
Forums