Overlord II Series Launch Tomorrow
Codemasters are set to release Overlord II trio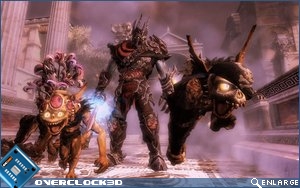 The game will shortly be available for PC, Playstation 3 and the Xbox 360 according to information released earlier today. Accompanying the launch are exclusive game play videos and additional wallpapers available over at
www.overlordgame.com
Promising smarter,  funnier minions along with larger scale battles all at the power of the Overlord who commands them.
Heres what Codemasters say about the game:
 "Thursday, 25th June 2009 (2pm UK) – Don't delay, be evil today and prepare to lead a horde of mischievous and destructive Minions through enchanted lands steeped in fairytale lore and loaded with sinister and satirical twists in Overlord® II™, Overlord® Dark Legend™ and Overlord® Minions™, available in UK stores tomorrow, Friday 26th June.†
Heralding the arrivals of the delightfully diabolical trio of Overlord titles are three exclusive new Overlord videos. The Overlord II "Developer Diary: Humour" video features Lennart Sas, Creative Director of Triumph Studios, discussing how humour permeates throughout the game and plays a vital part in the Overlord universe. "Humour is key to the Overlord experience. Without humour and parody, the game would probably get banned." says Sas.
Overlord II is the sequel to the hit warped fantasy action adventure that had players being delightfully despotic. In Overlord II, a new Overlord and a more powerful army of Minions take on an entire empire in a truly epic adventure, inspired by the rise of the Roman Empire. As the Glorious Empire conquers kingdoms and destroys any sign of magic it finds, it's time to go Minion Maximus and send in the horde.
The Minions return smarter, deadlier (and funnier) and are ready to fight in large scale battles that will see their wild pack mentality squaring up to the organized legions of the Glorious Empire. As ever, they'll do anything and everything the Overlord commands of them, especially now that they can run ravage and wreck buildings and scenery. They've also learn to ride: In Overlord II Minions are able to mount up and ride wolves and other magical creatures around the landscape and take them into battle, making our band of merry fighters faster and fiercer than ever before.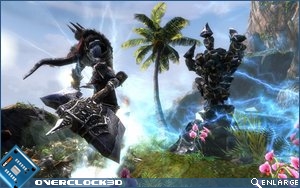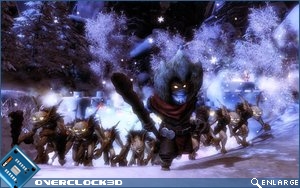 Will you be waiting out side of the shop tomorrow morning to buy this? Discuss in our forums.