PS3 Emulator Reaches Major Milestone by Making All Games Loadable
All Known PS3 games can now be loaded onto the RPCS3 emulator
PlayStation 3 emulation has reached a significant milestone, as the developers of the RPCS3 emulator have confirmed that all known PS3 games are now bootable using the emulator. That is an incredible achievement, given the PS3's library of over 3,000 titles.Â
Currently, 63.53% of the PS3's library is playable using the RPCS3 emulator, and many of these games exhibit low performance levels, even on today's most powerful gaming PCs. The RPCS3 team has a long way to go before every PlayStation 3 title will be playable using the emulator, but that doesn't make this weeks achievement any less impressive.Â
0.19% of the PlayStation 3's library is considered "Loadable", meaning the game loads onto the emulator and displays a black screen with a framerate counter. The RPCS3 team is working to allow these games to boot to the game menus, as the changes that will enable this will make the emulator more accurate. These changes will, in turn, make other games more playable and potentially allow the emulator to run faster.Â

Below is what the RPCS3 team Tweeted to confirm that all known PS3 games are now loadable using RPSC3.Â
  We're delighted to announce that RPCS3 now has a total of ZERO games in the Nothing status!

This means that all known games and applications at least boot on the emulator, with no on-going regressions that prevent games from booting. We look forward to emptying out Loadable too!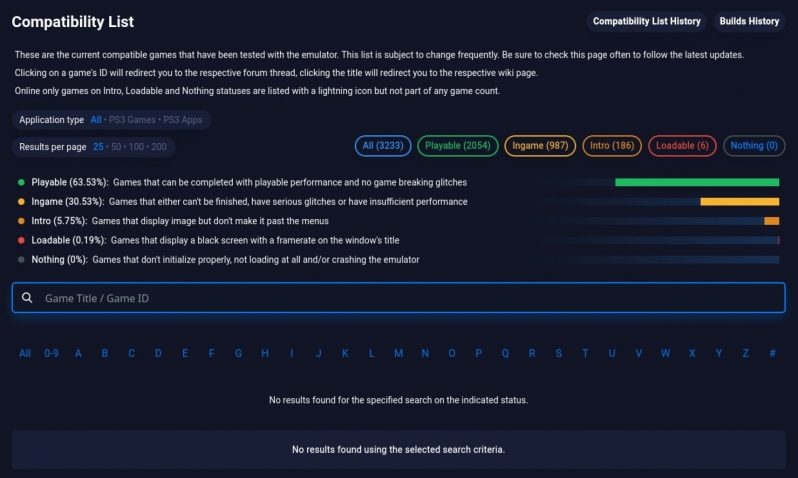 Â
PS3 emulation will only get better from here
In time, the RPCS3 emulator will only become more compatible with PlayStation 3 games. The emulator's list of playable games will grow, and the emulator's performance is also likely to improve as the PlayStation 3 is more accurately and efficiently replicated through RPCS3.Â
Many PS3 classics are already playable on RPCS3 with higher framerates and higher resolutions than on PlayStation 3 hardware, making PC the best place to replay many of the system's classics.Â
Sony's PlayStation 3 console is arguably the company's most complex console. The system's Cell architecture is difficult to understand and even harder to replicate on PCs through emulation. The team behind RPCS3 has done a great job getting this far with their emulator.
We look forward to seeing RPCS3's development reach even greater heights.Â
You can join the discussion on the RPCS3 emulator making all PlayStation 3 games loadable on the OC3D Forums.Â