Ubisoft showcases Assassin's Creed Nexus VR for the Meta Quest 2 and Meta Quest 3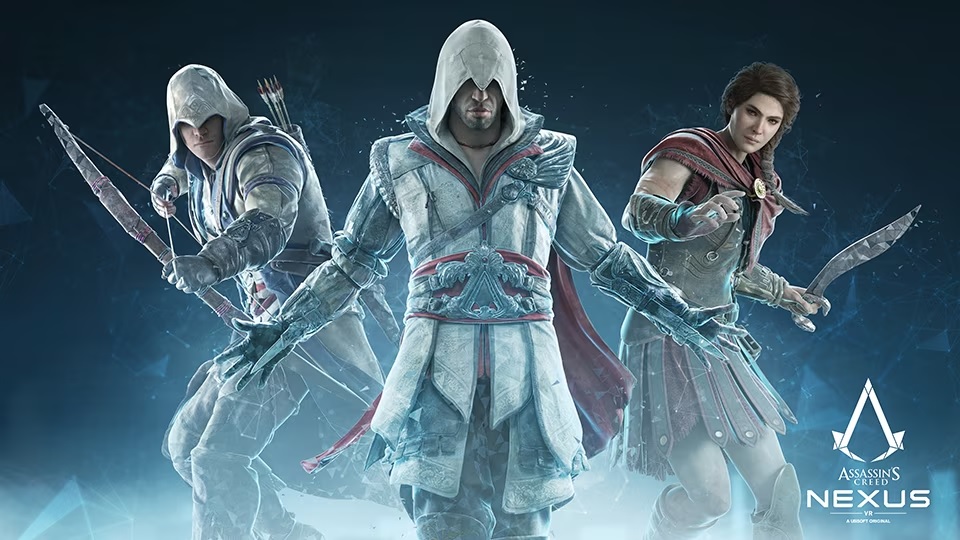 Assassin's Creed Nexus VR is launching on November 16th
Ubisoft has today showcased Assassin's Creed Nexus, a new full-length Assassin's Creed game for VR headsets. The game is launching for Meta's Quest 2, Quest 3, and Quest Pro VR headsets on November 16th, allowing gamers to take a leap of faith in first-person. This year, Ubisoft also plans to release Assassin's Creed Mirage for PC and consoles.
Assassin's Creed Nexus VR is Ubisoft's first first-person Assassin's Creed title. Within the game, players will be able to play as Ezio Auditore, Connor, and Kassandra. This game will explore new stories for each character across Ancient Greece, the Renaissance, and the American Revolution.
Each era within this new Assassin's Creed game will feel unique, with each character possessing different weapons while being present in a different historical era. The game's story fits into a modern day narrative where players attempt to foil an Abstergo plot, where the organisation aims to change people's beliefs using ancient technology.
Embody three legendary Assassins in this all-new full-length Assassin's Creed action-adventure game. Experience firsthand the thrill of parkour, the rush of combat, and the tension of stealth as you become the Assassin like never before. Uncover new memories from Ezio Auditore, Kassandra, and Connor as you work to stop Abstergo from gaining the power to manipulate people's beliefs.
Currently, Nexus has no confirmed pricing. The game is rated as "comfortable" on the Quest games store and supports Meta Quest 2 and newer VR headsets. Visually, the game is not as advanced as other modern Assassin's Creed titles. This makes sense given the strength of VR hardware, and the need for VR games to run at high framerates.

It is currently unknown what differences there will be between the Meta Quest 2 and Meta Quest 3 versions of Nexus. Gamers should expect better visuals on Quest 3. This will likely come in the form of higher resolution VR gameplay and potentially smoother framerates.
Assassin's Creed Nexus VR features all of the iconic gameplay from the series, including the dazzling Leap of Faith. You will become the Assassin, choosing how to achieve your missions as you sneak, traverse, and fight your way through open maps in an unforgettable campaign.
You can join the discussion on Assassin's Creed Nexus VR on the OC3D Forums.