Corsair's MP700 PCIe 5.0 SSD is now available in the UK through Scan
Corsair's fastest SSD is now available in the UK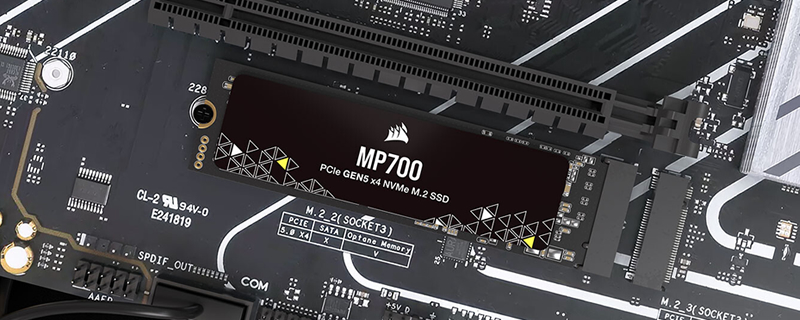 Corsair's new SSD flagship is now available in the UK through Scan Computers
Corsair has entered the PCIe 5.0 era, claiming performance levels that are up to 40% faster than their existing PCIe 4.0 solid state drives with their new MP700 SSD. Thanks to Scan Computers, Corsair's 1TB and 2TB MP700 PCIe 5.0 SSDs are now available to purchase in the UK, and both of them offer users incredible performance levels. 
Both of Corsair's new MP700 SSD models can offer users sequential read/write speeds of up to 10,000 MB/s, with the 2TB model offering users random read/write performance levels of up to 1500K Read and 1700K Write input/output operations per second (IOPS). These are incredible levels of performance for a modern SSD, easily surpassing what is possible on older PCIe 4.0 drives. 
One thing to note about Corsair's MP700 SSD is that it does not ship with an included heatsink. This is noteworthy because Corsair has recommended that users of their MP700 SSD either buy their own 3rd party SSD heatsink or simply utilise your motherboard's built-in M.2 SSD cooling solution. These heatsinks will allow the MP700 to deliver optimal performance levels under sustained loads. Corsair has shipped their MP700 SSD without a heatsink so that users can easily use the M.2 heatsinks that ship with their motherboards, or a 3rd party SSD heatsink of their choice. 
You can purchase one of Corsair's MP700 SSDs though Scan UK using one of the following links.
– Corsair MP700 1TB PCIe 5.0 (x4) NVMe SSD, TLC, 9.5K MB/s Read, 8.5K MB/s Write, 1300k/1600k IOPS – £169.98
– Corsair MP700 2TB PCIe 5.0 (x4) NVMe SSD, TLC, 10K MB/s Read, 10K MB/s Write, 1500k/1700k IOPS – £279.98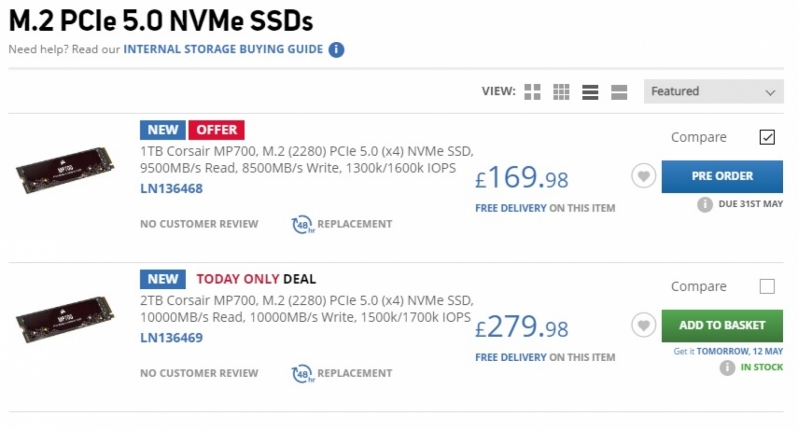 With Corsair's SSD Toolbox software, users of Corsair's MP700 SSD will be able to upgrade the firmware on their MP700 and utilise features like secure erase to ensure that their drives are up to date with the latest firmware revisions and that data is securely removed from the drive when necessary. Firmware updates for modern SSDs can enable increased performance levels in many workloads, making Corsair's SSD Toolbox a useful tool for PC builders who want to make sure that they get the best performance from their systems.
You can join the discussion on Corsair's MP700 PCIe 5.0 SSD becoming available in the UK through Scan on the OC3D Forums.