LG's Blu-ray, HD DVD Combo Drive
News Posted 15/03/07
Author: PV5150
Source: DailyTech
---

Following on with it's announcement at CES of an HD DVD and Blu-ray Disc combo player for home entertainment systems, LG has created an internal SATA combo drive variant for PC's.
The new GGW-H10N, coded for fashion as "Super Multi Blue", is a Blu-ray Disc reader and rewriter with HD DVD-ROM reading capabilities. The GGW-H10N can record up to 50GB of data on a dual layer Blu-ray Disc. A single layer disc can be burned at 4x speed, writing 25GB in about 24 minutes. Burning of dual layer media, however, will require the burner to back down to a slower 2x speed.

Burning large amounts of data on a single disc is convenient, but pricey endeavour….Furthermore, the majority of blank Blu-ray media on the market today are rated for 2x write speeds, which would hold the LG drive back from its 4x top Blu-ray writing speed.

In addition to supporting the latest high-definition formats, the drive also supports nearly the entire gamut of optical discs. The GGW-H10N will read and write DVD±R, DVD+RW/-RW and CD-R/RW.
You can find further specifications on the new drive at CDRinfo

The GGW-H10N is expected to be available sometime in May, and those with deep pockets need only apply – with an estimated street value of around $1200.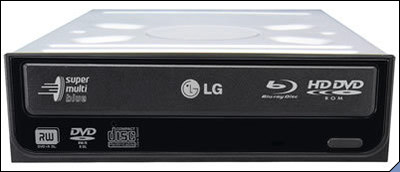 Discuss in our forum