Toshiba's 1.8-inch 100GB HDD
News Posted 06/12/2006
Author: PV5150
Source: Toshiba
---
Toshiba recently announced a 1.8-inch drive that offers a storage capacity of 100GB, claiming it is the largest capacity yet achieved in this class of hard disk drive (HDD).

The new drive, the MK1011GAH, employs perpendicular magnetic recording (PMR) technology and an improved error correction code to secure the highest areal density of any 1.8-inch HDD in the market, 240.8 megabits per square millimeter (155.3 gigabits per square inch), according to the company.

Toshiba will start mass production of the new drive from January 2007. Alongside capacity improvement, Toshiba said it has also improved power consumption to 0.003W/GB. The new drive complies with the EU's RoHS directive, which came into force in July 2006.

Toshiba will feature the new drive at the International Consumer Electronics Show (CES) 2007, in Las Vegas, Nevada from January 8-11, at booth 12832.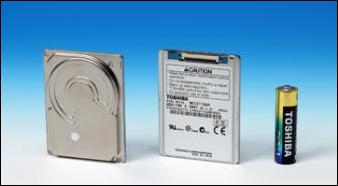 Feel free to discuss this article in our forum