Nvidia announce a new GTX 10 series of Battlebox systems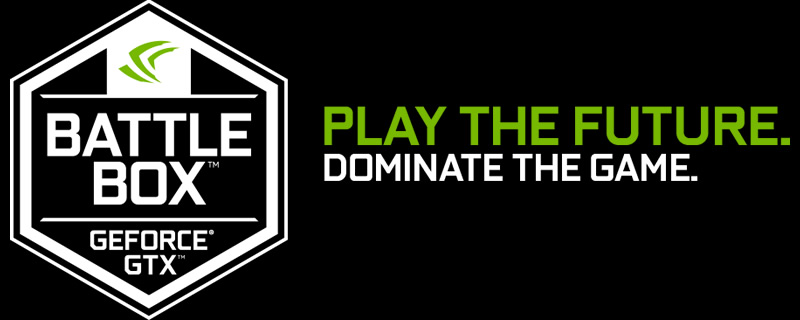 Nvidia announce a new GTX 10 series of Battlebox systems
Â
Selecting PC components can be difficult, especially for those who lack the time or patience to conduct in-depth research on modern hardware. It is very easy to fall behind in the world of technology, leaving many to turn to trusted retailer or brands to create their next gaming PC.Â
Â
Nvidia is now returning to the system building scene, bringing their "Battlebox" brand to a whole new range of GTX powered gaming systems, which acts as a badge of honour for system builders to add to their systems if they meet Nvidia's requirements.Â
Â
Nvidia has laid out guidelines for Battlebox systems, specifying component selection and minimum requirements for both their "Essential" and "Ultimate" grade gaming PCs. Below are Nvidia's descriptions for these new system builds, and an image of the minimum hardware requirements for these Battlebox systems.Â
Â
Â
GeForce GTX Battlebox UltimateÂ
Get battle-ready with the ultimate gaming machine, whether you're a first-person marksman or an eSports professional. Battlebox Ultimate combines the extreme power of a GeForce GTX graphics card with the latest high-performance hardware to bring you an incredible experience – every time. Gear up and play like the pros. Battlebox Ultimate is perfect for those looking for VR Ready rigs or wanting to enjoy games in stunning 4K.
Â
GeForce GTX Battlebox EssentialÂ

Step into the arena battle-ready with Battlebox Essential. The recommended rig for today's top games like Overwatch and League Of Legends. Next-gen GeForce GTX graphics card deliver 1080P at 60 frames per second.
Â
Â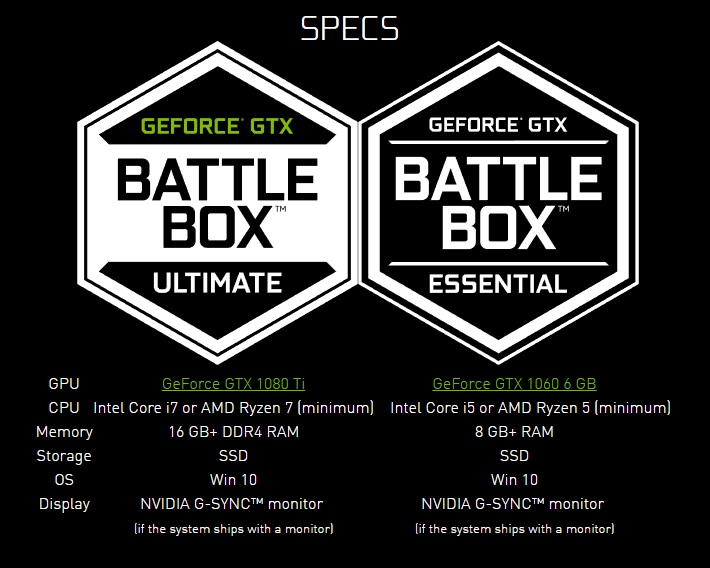 These new Battlebox systems can be powered by both Intel and AMD CPU hardware but must come with a G-Sync monitor if monitor bundles are available.Â
Nvidia will not build these systems themselves but will rely on local OEM system builders to do it for them, with box.co.uk, Chillblast, DINOPC, PC Specialist, Scan and Utopia Computers acting as Nvidia's Battlebox partners in the UK.Â
Â
You can join the discussion on Nvidia's new Battlebox systems on the OC3D Forums.
Â