Nvidia's Bluefield-3 DPU delivers next-generation network acceleration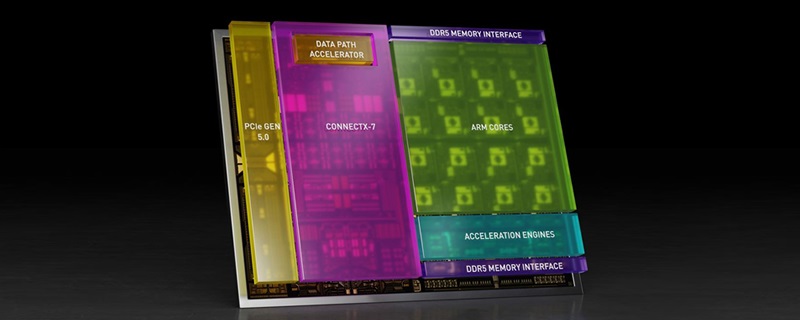 Nvidia's Bluefield-3 DPU delivers next-generation network acceleration
Nvidia has just revealed its next-generation Data Processing Unit (DPU), Bluefield 3, an accelerated networking solution that has the potential to transform data centers. 
Bluefield DPUs are designed to handle computationally intensive calculations onboard, offloading compute from datacenter processors to free up valuable CPU cycles for other applications. If your networking solution handles its own compute, you can utilise your CPU's resources for other applications. That's what Nvidia's Bluefield DPUs are all about. 
Bluefield 3 is due to arrive in 2022, offering users 16 ARM Cortex-A78 cores and optimised interconnections that are designed to accelerate network connections. Nvidia's Bluefield 3 DPU is designed to do the work of 300 traditional CPU cores and provide 400GBit/s networking through a single port. Bluefield 3 is also designed to be backwards compatible with Bluefield 2, which is now available to developers. 
Bluefield 3 will support PCIe 5.0 and will utilise DDR5 memory. Bluefield 3 will utilise the latest interconnectivity standards, which means that they are ready for the newest ARM-based and x86-based server processors. 
In 2024, Nvidia's also planning to launch Bluefield 4, offering users an 800Gbps networking connection and offer users performance increases of 1000x in some areas. This performance will come with a transistor count almost three times larger than Bluefield 3, but the performance increase offered by Bluefield 4 will be worth it. 
With Bluefield, Nvidia is pioneering a new type of processor for datacenters, offloading and accelerating networking workloads while providing users with tremendous throughput. This design can also be used to enhance security, and networking and business-side computing are separated.
   BlueField-3 and Morpheus Put Security Everywhere

BlueField-3 DPUs transform traditional infrastructure into "zero-trust" environments — in which every data center user is authenticated — by offloading and isolating data center infrastructure from business applications. This secures enterprises from cloud to core to edge while increasing efficiency and performance.

The industry's first 400GbE/NDR DPU, BlueField-3 delivers unmatched networking performance. It features 10x the accelerated compute power of the previous generation, with 16x Arm A78 cores and 4x the acceleration for cryptography. BlueField-3 is also the first DPU to support fifth-generation PCIe and offer time-synchronized data center acceleration.

BlueField-3 provides real-time network visibility, detection and response for cyber threats and acts as the monitoring, or telemetry, agent for NVIDIA Morpheus, a state-of-the-art, AI-enabled, cloud-native cybersecurity platform, also announced today.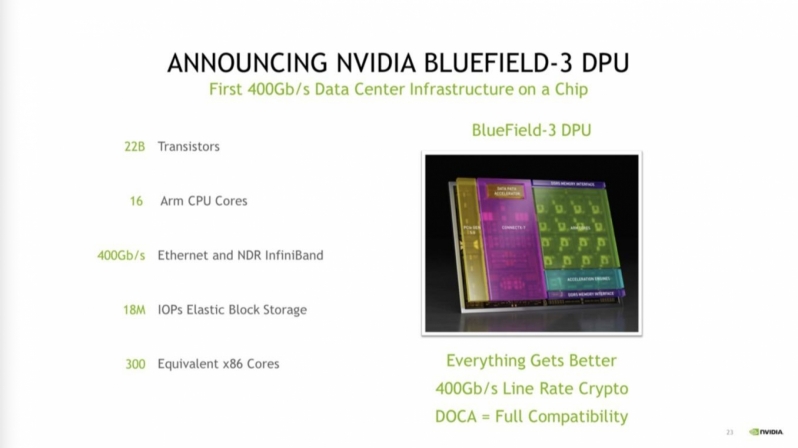 Nvidia has already announced partnerships with Dell, Inspur, Lenovo and SuperMicro, ensuring that cloud service providers will utilise Bluefield. With Bluefield, Nvidia has proved that their acquisition of Mallenox was worth it, and this technology will open a lot of door for Nvidia within the enterprise market. 
You can join the discussion on Nvidia's Bluefield 3 DPU on the OC3D Forums.