Zune HD Finally Sees Light of Day
Zune HD Finally Sees Light of Day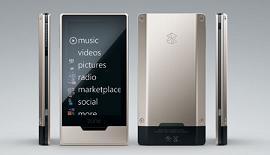 After denying them for months, Microsoft finally put rumours about Zune to rest by announcing the official launch of their new Zune Portable Media Player (PMP). According to the tech giant, the new device brings "a new level of listening and viewing experiences" to the PMP category.
As expected, the player has been dubbed Zune HD. It features a 480 x 272, 3.3in OLED screen with 16:9 aspect ratio and multi-touch capabilities. The integrated HD Radio receiver on the player makes it superior to traditional portable radio devices in terms of sound quality.
An integrated HDMI port on the device allows it to be connected directly to an HD-ready television, though the results are not expected to be great. The PMP is Wi-Fi compatible, allowing you to connect to the internet for browsing. The Zune HD reportedly also has a "fully featured web browser", though Microsoft has not released specifics on the same.
With tap-to-zoom functionality and a virtual Qwerty keyboard on the multi-touch screen, Microsoft is hoping to directly take on the iconic iPhone with the new device. Just like the Apple phone, the inbuilt accelerometer makes it easy to switch between landscape and horizontal screen display modes.
On the whole, the Zune HD sounds like a fully loaded fun device. But with all the good things, Microsoft has also lived up to its reputation for anti-climaxes; as of now the Zune HD will only be available in North America. So much for expectant fans!