MSI Introduces Syren Series Audio Products
MSI Introduces Syren Series Audio Products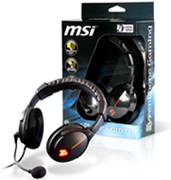 Today MSI introduced three new audio products under the name of "Syren" which they claim delivers "dreaming sound." The first product is the "SyrenSound X-Fi" – PCI-e sound card with X-Fi Xtreme Fidelity audio technology. Powered by the Creative Audio Processor CA0110, the X-Fi and EAX 4.0 capable sound card is designed to deliver environmental sound with higher quality and better gaming sound!
The "SyrenPhone Gaming" – USB digital gaming Headphones feature an adjustable head band and soft ear pads to ensure maximum comfort during use for extended periods. With a noise reducing, uni-directional microphone, the SyrenPhone can reduce background noise up to 100Hz, and provide clear crisp audio through the gold-plated USB interface. A built in volume control is included to allow quick adjustments without needing to change settings on the computer, allowing you to fully immerse yourself in the game.
The "SyrenSpeaker mini" – Mini-Q USB speakers are small, lightweight and compact. The speakers receive their power via USB, and contain a digital (class D) amplifier to further boost the signal from the computer. Designed for the fashion conscious notebook user the MSI SyrenSpeaker delivers higher Efficiency / Eco and better sound quality compared to that of standard speakers.