Cooler Master All Set for Computex
Cooler Master All Set for Computex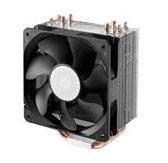 Computex is just around the corner and Cooler Master are ready for the expo with their line-up of products. The manufacturer today unveiled the line-up, which includes the HAF 992 mid-tower case, two new LGA 1156 series coolers, and the CM Storm gaming peripherals series, among other products.
The most eye-catching of these products are expected to be the all new Hyper TX3 and Hyper 212 Plus LGA1156 coolers. The first couple of products in Cooler Master's LGA 1156/1366 series of coolers, these coolers boast of twin fan cooling from all new PWM fans. Both coolers feature direct contact heatpipes which put these at the higher end of the cooling capacity spectrum.
Also expected to make heads turn is the all new, attractively designed CM Storm Sentinel gaming mouse. Targeted at high-end gamers and a part of the manufacturer's CM Storm Series, the mouse comes with internal memory that allows gamers to save their profiles, while its special weight system facilitates extremely comfortable gaming use.
The new Choiix series PC accessories will also be making their appearance at the show; these include a notebook cooler-cum-stand and the Choiix accu-mouse. The compact mouse has a sleek design that makes is immediately eye-catching and ideal for business users. Cooler Master will also be putting up their ethernet network with power supply solution Power LAN 700W and notebook power adapter SNA95.
Topping all of these products will be the highly anticipated HAF 922 mid-tower case, which Cooler Master announced some time back. With an impressive line-up of new products, Cooler Master is hoping to make a big enough splash to steal the show at Computex this year.