Corsair launches their Hydro X series of water cooling products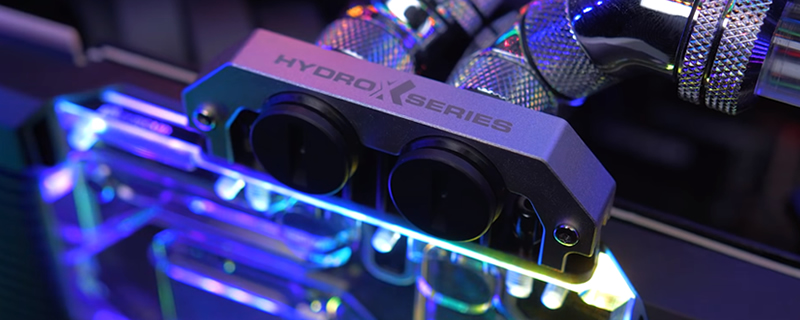 Corsair launches their Hydro X series of water cooling products
They have finally done it! Corsair has entered the liquid cooling market, with their Computex booth showcasing a wide range of liquid cooling products that range from blocks to pumps, reservoirs, radiators and even accessories such as custom fittings/adapters, premium hardline tubing and more.Â
Starting today, PC builders can use Corsair's water cooling configurator, which will allow users to spec out their planned custom water cooling builts, with users of Corsair cases gaining access to specific component recommendations for their existing PC enclosure.
Corsair's new components are designed to be utilised with existing Corsair hardware like the Commander Pro and software solutions such as iCUE, enabling Corsair's RGB enabled water cooling components to be easily integrated into existing Corsair lighting setups.Â
Sadly, we do not have full details on Corsair's entire water cooling lineup at this time, though we know that Corsair will offer their users two Hydro X series water clocks in the form of the XC7 and XC9 (all major sockets will be supported) and launch with GPU water blocks for Nvidia's GTX 1080 Ti FE, RTX 2070 FE, RTX 2080 FE and RTX 2080 Ti FE. A water block for AMD's Radeon RX Vega 56/64 will also be available. Each of Corsair's GPU water blocks will ship with a custom backplate.Â
Â
  Experience powerful cooling with minimal noise, easy setup, and automated control for efficient fan and pump speeds. Choose from a full range of water blocks for any current desktop CPU and the latest graphics cards, including NVIDIA GeForce RTX 2080 and 2080 Ti. Create mesmerizing visuals with dynamic RGB lighting throughout your loop, controlled by CORSAIR iCUE software. And with CORSAIR's convenient online custom cooling configurator to create a full list of parts tailored to your system, it's never been easier to step up your build with custom cooling.
In the UK, most of Corsair's new Hydro X series of water cooling components are already available to order. More information about Corsair's Hydro X series of liquid cooling components is available here. Corsair's water cooling configuration tool is available here.Â
You can join the discussion on Corsair's new Hydro X series of liquid cooling components on the OC3D Forums.Â