Hydro Series H5 SF Low-Profile Liquid ITX CPU Cooler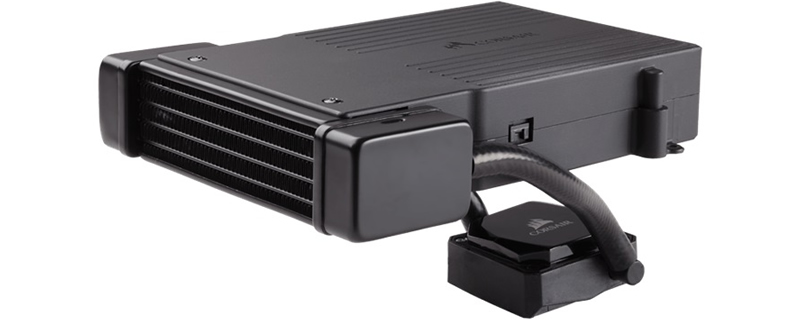 Hydro Series H5 SF Low-Profile Liquid ITX CPU Cooler
When building a small form factor PC cooling is usually something that is limited, fans have not much room to breathe and heats is not exhausted fast enough for high end CPUs to run low temperatures, especially when there are other hot components in your PC. 
When Corsair was designing their Small form factor Bulldog Living Room PC they needed to address this problem, so they developed a smaller CPU water cooler than they ever had before, offering liquid cooled temperatures in a form factor that is not much larger than an Intel CPU cooler. 
What is great about this design is that it is designed to directly output the heat from your CPU outside your case, directing it directly above your motherboards IO shield, which is typically where smaller cases have vents to the outside, preventing the build up of hot air inside the case.
While your temperatures will not be as cool as a larger liquid cooler, it will certainly perform much better than anything else that is the same size, offering great cooling performance for future ITX builders to utilize.  


The Hydro Series H5 SF is a low profile liquid CPU cooler that provides efficient cooling for small form factor Mini-ITX systems. Building a small form factor system shouldn't have to mean compromising on processor speed, and with the H5 SF you can provide reliable cooling for your system's high performance CPU.
Package contents:
Hydro Series H5 SF Low-Profile Liquid CPU Cooler
Cooler Mounting Hardware
CPU Mounting Hardware
Detailed installation guide
Warranty leaflet
Technical specifications:
Radiator dimensions: 167mm x 40mm x 57mm
Total cooler height: 84mm
Fan dimensions: 120mm x 32mm
Fan speed: 1000 – 1800 RPM
Fan airflow: 12 – 24 CFM
Fan pressure: 2.5 – 8.3 mmH2O
Fan noise level: 36 – 42 dB(A)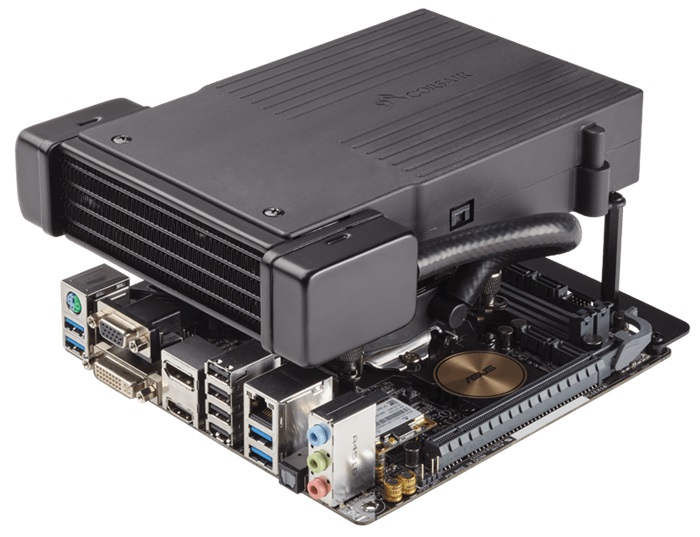 Right now Corsiar say that this unit will cost $79.99 in the US and is currently available for order on the Corsair Website for £79.99.
You can join the discussion on Corsair's H5 SF Low-Profile CPU cooler on the OC3D Forums. 
Have you ever wanted a ITX CPU AIO? Corair's H5 Liquid Cooler may be something to look at. https://t.co/vEw27AXw0n pic.twitter.com/j8amYGhS65

— OC3D (@OC3D) December 4, 2015