Noctua releases their high-performance NF-A12x25 PWM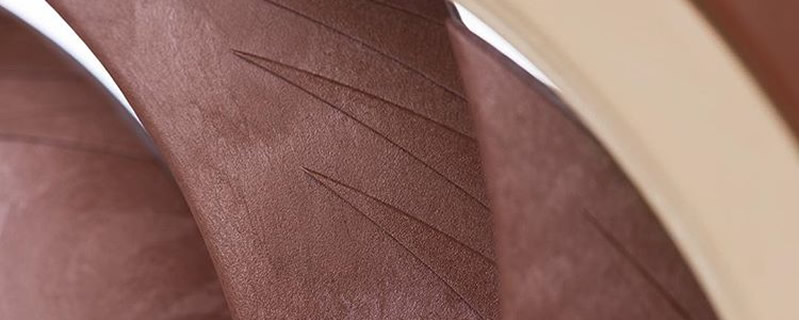 Noctua releases their high-performance NF-A12x25 PWM
Noctua has always stood at the forefront of fan technology, delivering consumers high-performance products with some of the lowest levels of noise production on the market, creating iconic products like the Noctua NH-D14 with striking, yet divisive beige and brown colour scheme. Â
For the past four years, Noctua has been planning to create the world's best general-purpose fan, delivering peak performance by seeling levels of engineering precision that is now sought by most fan manufacturers. Thanks to this effort, Noctua plans to move the industry forward with higher tolerances using a suite of new R&D tools, all of which have allowed the company to create their best performing all-purpose fans to date, the NF-A12x25.Â
While other major fan manufacturers focus on RGB lighting and visual flair, Noctua has gotten down and dirty with the world of material science and high accuracy CFD simulations, creating fans with tight tolerances, an optimised fin shape and acoustic-driven design changes. Noctua is so confident about their design that they are willing to provide their users with a 6-year warranty with their NF-A12x25 fans.Â
Noctua states that these fans are designed to offer "unprecedented quiet cooling performance" and an "ultra-tight tip clearance" ensuring high levels of static pressure as a standard case fan or as a pressure-oriented heatsink or radiator fan. This fan technically replaced both Noctua's water cooling oriented NF-F12 series fans and NF-S12A fans, though both of these fans will remain on the market. Â
Â
Â
Looking at the PQ chart below, you can see that at the middle-circle of the graph that the NF-A12x25 offers increased levels of airflow and static pressure on Noctua's water cooling radiator, air cooling heatsink and PC case impedance curves.Â
Sitting higher on this ideal pressure airflow curve gives Noctua's latest fans a distinct advantage over both the NF-F12 and NF-S12A on radiator, heatsink and case fan applications, making the NF-A12x25 the company's best fan to date in real-world conditions.Â
Part of this is achieved by Noctua's precision, lowering the distance between their fan blades and the fan frames from 1mm to 0.5mm, reducing the amount of space for backpressure, forcing more air into an attached radiator, PC case or heatsink. Below is a comment from Noctua's CEO, Lars Strömbäck, regarding the engineering effort.Â
   Noctua: Could you explain why it was necessary to take all these extra steps for the NF-A12x25?

Lars Strömbäck (Noctua CTO): Put in a nutshell, all this is necessary because we have chosen an extremely narrow tip clearance and the phenomenon called impeller creep: whereas the distance between the blade tips and the frame is above 1mm for most 120mm fans, we went for 0.5 with the NF-A12x25. Due to the centrifugal forces and tensions inside the plastics, fans will become slightly larger over years of usage. While this isn't a problem as long as the gap between the frame and the blades is big enough, it's highly critical when you go for such a small tip clearance and this is why we need much, much more precision when manufacturing the NF-A12x25. Any minute amount of creep, deformation or imbalance would be fatal.

   Noctua: What's the point of using such a small tip clearance? Is it really worth the extra effort?

Lars Strömbäck (Noctua CTO): *laughs* Well, it has taken us more than one year just to sort out the manufacturing issues, so there were times when we were wondering if it's actually worth the extra effort, but at Noctua, we always strive to push the boundaries and deliver the best solution that's technically possible. We're confident that our customers appreciate this and that's what's justifying the effort for us in the end. Technically speaking, the reason why you want to go for such a tight tip clearance is that when the fan operates against back pressure, such as on a heatsink or radiator, some air will flow back through the gap between the blades and the frame. The smaller the gap, the less of this type of leak flow you have, so narrowing down the gap helps a great deal in achieving superior performance on heatsinks and radiators.
Â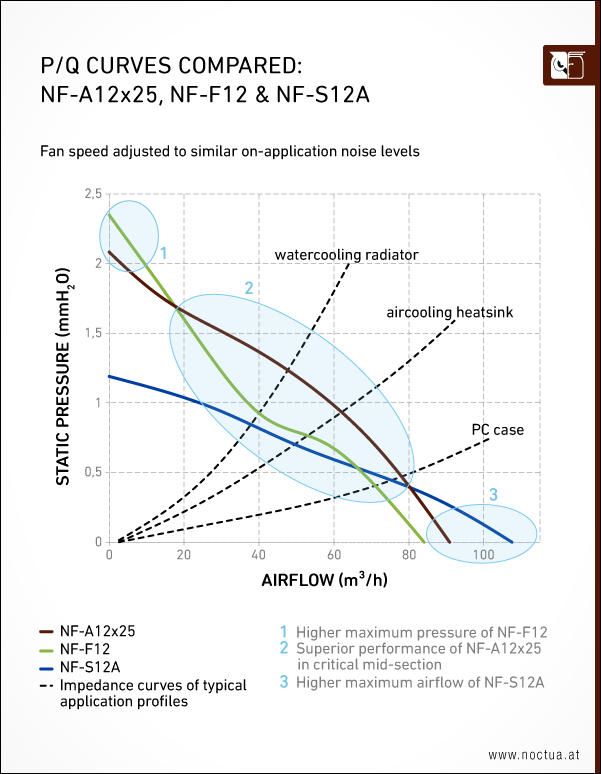 Â
Noctua's new NF-A12x25 fans are now available at retailers worldwide, with retail pricing of £26.49 per fan in the UK. The NF-A12x25 is £9 more expensive than Noctua's existing NF-F12 radiator fans, mostly thanks to the increase precision required for manufacturing and the company's use of a Sterrox material, which is four times more expensive than the reinforced PBT that the company used previously.Â
Alongside the release of their high-performance NF-A12x25 series of fans, Noctua has also launched new NF-P12 Redux series fans, with a greyish colour scheme and several available maximum speeds. These new fans are available for £12.99 in the UK. Â
You can join the discussion on Noctua's new high-performance NF-A12x25 fans on the OC3D Forums.Â