NZXT delivers increased airflow with their new H510 Flow chassis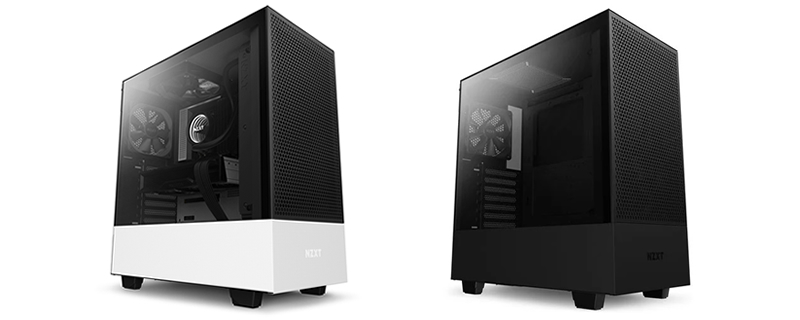 NZXT has redesigned its H510 chassis to deliver boosted cooling potential
NZXT has just refreshed its H510 chassis with a new variant, one which promises PC builders optimised airflow, and stronger cooling potential. The front-mounted plain panel of the original is gone, and in its place is a perforated mesh panel, giving the case's front-mounted fans greater access to air for cooling, 
The aim of this case is simple. The 510 Flow is designed to deliver increased airflow to all components inside, offering users the potential of lower CPU/GPU thermals. This, in turn, will allow PC builders to use quieter fan profiles, access increased thermal headroom for overclocking, and (hypothetically) increase the lifespan of their system's components. 
Aside from the case's front panel, nothing has changed. This is the same H510 that many PC builders have fallen in love with. It has the same cable channels, the same radiator support (front-mounted 280mm), the same USB 3.1 Gen 2 front-panel connector and the same tempered glass side panel. This new model will be available in Black and White and is currently available to pre-order in the UK for £89.98.  

Below is what NZXT had to say about their new H510 Flow gaming case in their press release. 
    H510 Flow

This case introduces a much-anticipated addition to NZXT's lineup of H510 series cases. The H510 Flow offers improved ventilation with the addition of the perforated front panel and observes NZXT's well-known design DNA.

With enhanced thermal performance, the perforated front panel allows more cold air to be drawn in from the front fans, creating overall lower system temperatures. Results of this include:

– Lower average CPU and GPU temperatures can prolong the lifespan of hardware
– Lower operating temperatures enable better overclocking
– Less rpm on fans required to maintain cool temperatures

What's new?

– An optimised perforated front panel delivers increased airflow for improved thermal performance and efficiency.

The same great features:

– Iconic cable bar and uninterrupted tempered-glass side panel
– USB 3.1 Gen2-compatible USB-C connector on the front panel
– Cable routing kit with pre-installed channels and straps
– Removable bracket designed for radiators up to 280mm
– ATX format

With CPU and GPU TDPs increasing, thermal management has become an increasingly important factor for modern PC builders. With this in mind, we believe that NZXT has made a solid move by launching their new H510 Flow chassis. It builds upon an already popular design and makes it better by giving users more internal airflow to cool the latest components. 
Currently, pre-orders for NZXT's H510 chassis are available through Scan for £89.98 (White Model, Black Model). NZXT has informed us that they expect UK availability for this case in around three weeks and US availability on October 18th. 
You can join the discussion on NZXT's new H510 Flow enclosure on the OC3D Forums.