Phanteks hopes to eat Noctua's lunch with their T30 fans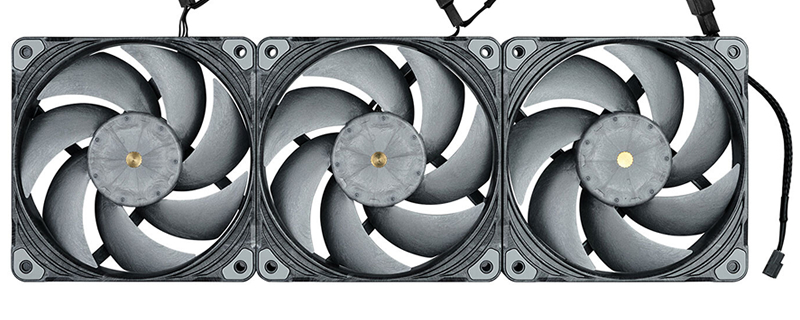 Phanteks hopes to eat Noctua's lunch with their T30 fans  
The name of Phanteks' new fans says it all. Meet the T30-120 Ultimate, the new fans that Phanteks plans to use to eat Noctua's market share within the premium fan market. 
Developed in collaboration with SUNON, Phanteks' new T30 fans offer users tight tolerances and blade thicknesses that are 25% higher than the competition. With a larger than average fan thickness of 30mm (25mm is standard for 120mm fans), Phanteks' design aims to move more air than their competitors and do with minimal turbulence and noise. 
Using a glass fibre reinforced LCP material for their fan bodies and blades, Phanteks' T30 fans offer users a tiny 0.5mm clearance between the blades and body of their units. Those are insanely tight tolerances, and these tight tolerances reduce air turbulence and fan noise while maximising airflow. 
With a price tag of £25.99/$29.99/€29.90 per fan, or £74.99/$84.99/€84.99 for three fans, Phanteks' new T30 series fans ship with premium prices when compared to many competing offerings. With that said, Phanteks believes that their pricing is justified given the performance they offer. 

Aside from pricing, one of the main downsides of the T30 series is its thickness, and it will force many users to utilise longer screws when mounting these fans to liquid cooling solutions. 30mm thick fans are rare, and not many retailers will stock screws that are long enough to support these fans. Then again, if you are willing to spend around £25 per fan, spending some money on screws shouldn't be a major concern. 
Glacier One 240 T30
Alongside Phanteks' new T30 fans comes a new version of Phanteks' Glacier One 240 liquid cooler, which ships with two T30 series fans. These new fans are designed to improve the performance of Phanteks' Glacier One cooler.  
Below is Phanteks' Press Release. 

Phanteks Introduces The New T30 Ultimate Fan and Glacier One 240 T30 AIO Liquid CPU Cooler
After years of development and rigorous testing, Phanteks today releases the ultimate T30-120 cooling fan alongside the new premium Glacier One 240T30 All-in-One Liquid CPU cooler. Developed in collaboration with SUNON, the Phanteks T30-120 fan brings unparalleled performance to PC cooling for any scenario. The new T30-120 fan incorporates the latest innovation in engineering with the premium LCP (Liquid Crystal Polymer) material to achieve unprecedented cooling performance and acoustics. With its built-in fan profiles and a wide RPM range, the T30-120 can be tuned for silent, balanced, or extreme performance operation via a simple switch.
The new Glacier One 240T30 includes the new T30-120 fans and thicker 38 mm radiator to deliver 360-sized performance in a 240 mm form factor. The pump unit features the highly reliable Gen 7 pump from Asetek with PWM control and an infinity mirror pump cap with tempered glass and aluminium panels.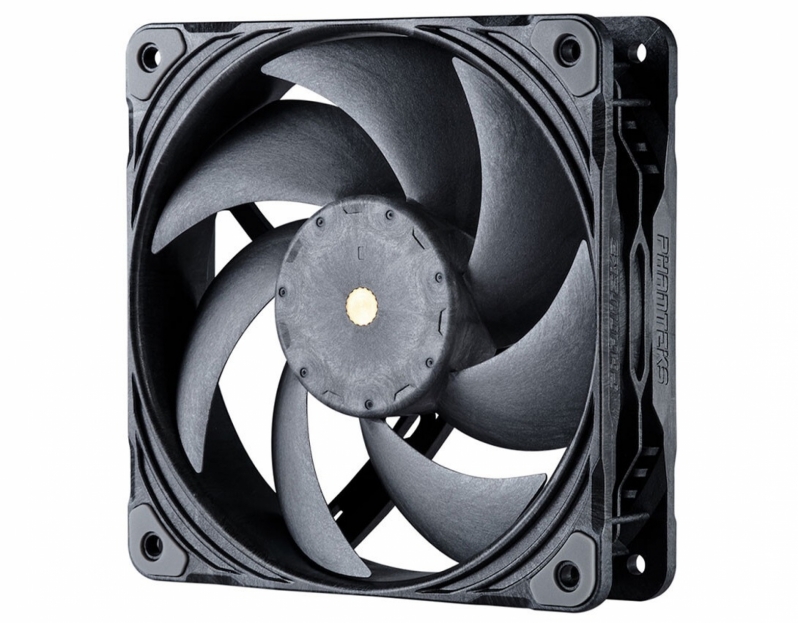 T30-120 Ultimate Fan
Constructed from the absolute best glass fiber reinforced LCP (Liquid Crystal Polymer), the fan blades and frame are immensely rigid and durable. The T30-120 fan is build to last using the very best glass fiber reinforced LCP material for both frame and blades, instead of the regular PBT material that is used for most fans.
Thanks to the excellent material properties of LCP (Liquid Crystal Polymer) and high precision manufacturing, the T30 is designed with exceptional aerodynamic features. The T30's fan blade tip has a continuous and small 0.5 mm clearance (distance of the blade tip to the inner frame) to reduce turbulence and deliver unparalleled noise-normalized performance.
The Phanteks T30-120 features a unique 30 mm fan frame that results in a 25% larger fan blade. By increasing the total height of the T30-120 fan from the standard 25 mm to 30 mm the actual fan blades are 25% higher. This results in significantly higher airflow performance and a better airflow vs noise ratio.
Glacier One 240T30 All-in-One Liquid CPU Cooler
The new Glacier One 240T30 is equipped with two T30-120 fans and a new 38 mm thick 240 mm radiator to bring performance to a whole new level. Installation is a breeze thanks to the pre-filled all in one solution, flexible braided tubing and Tube Clips that helps routing the tubing and fan cables.
The Glacier One 240T30 brings 360-sized performance in a 240 mm form factor with its premium build quality and components:
– High performance water cooling for Sockets LGA 115x, 1366, 2011, 2011-3, 2066, 1200 and AM4, sTRX4, TR4 (Threadripper bracket included with CPU).
– Support for the upcoming Intel LGA 1700 socket through Phanteks' customer service.
– D-RGB lighting is controlled and synchronized with Phanteks' D-RGB lighting products and/or D-RGB equipped cases and motherboards.
Keep your system cool with the Phanteks T30-120 ultimate fan and the Glacier One 240 T30.
Availability August 2021.
– T30-120 FAN SINGLE PACK: €29,90 / £25.99 / $29.99
– T30-120 FAN TRIPLE PACK: €84,90 / £74.99 / $84.99
– GLACIER ONE 240 T30: €169,90 / £149.99 / $169.99
You can join the discussion on Phanteks' new T30 Ultimate fans on the OC3D Forums.