X-series Refresh – Gigabyte's all-white AORUS Z790 PRO X has sold us on their Z790 revamp
This is how you do a white motherboard!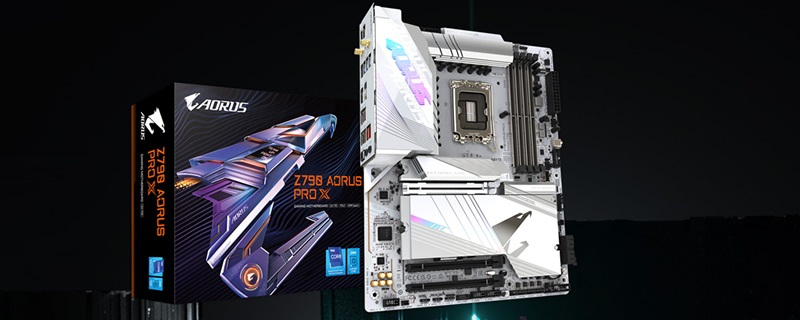 Gigabyte's all-white AORUS Z790 PRO X motherboard looks incredible and contains some big upgrades
Like most motherboard manufacturers, Gigabyte are revamping their Z790 motherboard lineups in anticipation of Intel's 14th generation CPU launch, creating new motherboard models that feature both hardware upgrades and ease of use advancements. Gigabyte are calling this new range of upgraded motherboards their Z790 X series, and their all-white AORUS Z790 PRO X has grabbed out attention. 
With a white PCB, white shrouds and white heatsinks, Gigabyte's Z790 PRO X motherboard appears to be an ideal motherboard option for all-white PC builds. While we could go on about how great we think this motherboard looks, it would be wrong for us to not talk about the hardware upgrades that Gigabyte has nestled into this new motherboard design. 

For starters, Gigabyte has worked to enable support for faster DDR5 memory modules with their new Z790 X series motherboards, stating that their new X-series boards now support XMP DDR5-8266 memory speeds. Additionally, new manufacturing techniques like their newly introduced "Back Drilling Technology" are helping to increase the signal integrity of their latest motherboards, with Gigabyte promising an "up to 56% loss reduction".
With their new Z790X designs, Gigabyte has also integrated a series of EZ-DIY technologies that make their motherboards easier to use. This includes "EZ-Latch" connections for M.2 SSDs, graphics cards, and the motherboard's M.2 heatsinks to enable tool-free installation and easy part removal. These add-ons are great for frequent upgraders, and will be music to the ears of anyone who has ever dropped (and likely lost) one of those tiny M.2 SSD screws.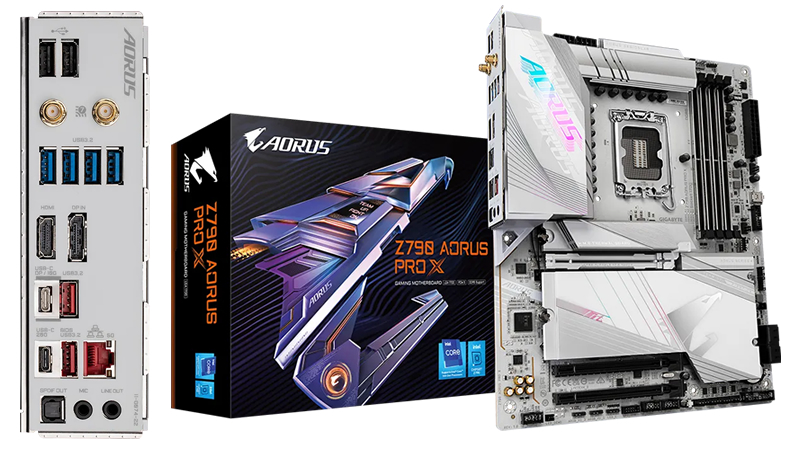 On the networking side, Gigabyte's AORUS Z7980 PRO X features 5GbE wired connectivity and WIFI 7 wireless connectivity. On the rear I/O or the motherboard, the Z790 PRO X features  two USB 2.0 ports, four USB 3.2 Gen 1 ports, two USB 3.2 Gen 2 ports, one USB Type-C 10Gbps port, and one USB Type-C 20 Gbps port.
In total, the AORUS Z7980 PRO X five M.2 SSD slots. One slot is PCIe 5.0 ready, while the other four are PCIe 4.0 slots. This allows users of this board to use one ultra-fast PCIe 5.0 SSD and four (still plenty fast) PCIe 4.0 drives. This motherboard also features four SATA connectors for additional storage connectivity.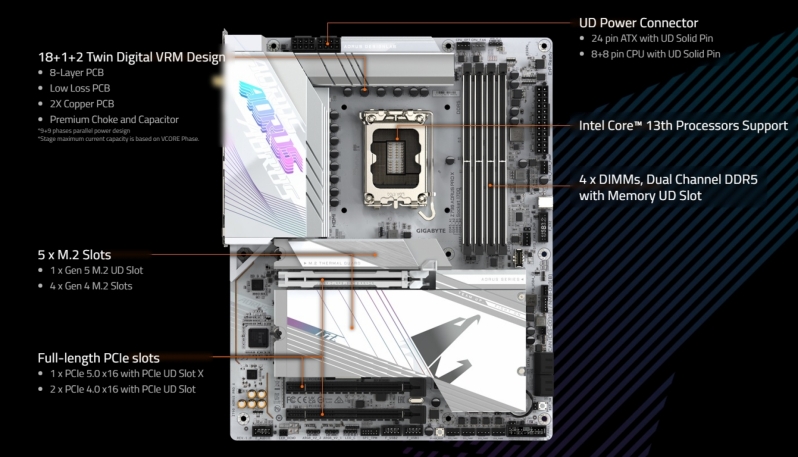 Overall, Gigabyte's AORUS Z790 PRO X looks like a solid motherboard, offering many hardware upgrades and ease of use enhancements over the company's older Z790 motherboard designs. This refreshed lineup of Z790 motherboards from Gigabyte is… well.. refreshing, as it is great to see a focus on boosted memory performance, and ease of use add-ons that make the PC building process more joyful. 
While these new motherboard designs use the same Z790 chipset as before, Gigabyte has clearly put a lot of effort into designing these new motherboards, and we especially like the all-white design of the AORUS Z790 PRO X. Let's hope that this motherboard performs well when it comes time to review it. 
You can join the discussion on Gigabyte's all-white AORUS Z790 PRO X motherboard on the OC3D Forums.