AMD Delivers! Radeon's newest RDNA 3 GPUs target Nvidia's weakspots
AMD latest RDNA 3 offerings deliver a lot of RAM and a tonne of performance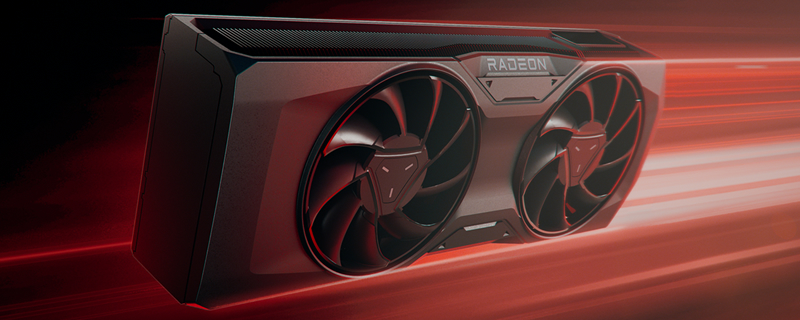 AMD has revealed their Radeon RX 7800 XT and Radeon RX 7700 XT – Two new members of AMD's RDNA 3 lineup
At Gamescom 2023, AMD has revealed two new Radeon graphics cards, mid-range RDNA 3 offerings that promise to give gamers more bang for their buck than their Nvidia counterparts. Meet the Radeon RX 7800 XT, and Radeon RX 7700 XT, new Navi 32 graphics cards from Nvidia that ship with plenty of VRAM, DisplayPort 2.1 support and more.
Like AMD's other RDNA 3 graphics cards, these new GPUs from AMD support both AV1 encoding and decoding, an addition that makes these GPUs ideal for video editing and video streaming. With both GPUs offering more VRAM than their Nvidia rivals, AMD are also hoping that these graphics cards will grab the attention of the creator market, as AMD are offering a lot of VRAM capacity and bandwidth with these new GPUs.Â
AMD's Radeon RX 7700 XT ships with a 12GB frame buffer and the Radeon RX 7800 XT ships with a 16GB frame buffer, giving these GPUs plenty of VRAM to work with. AMD are targeting these GPUs at gamers using 1440p monitors, and at that high resolution, it is easy to utilise more than 10GB of VRAM in many modern AAA games. Â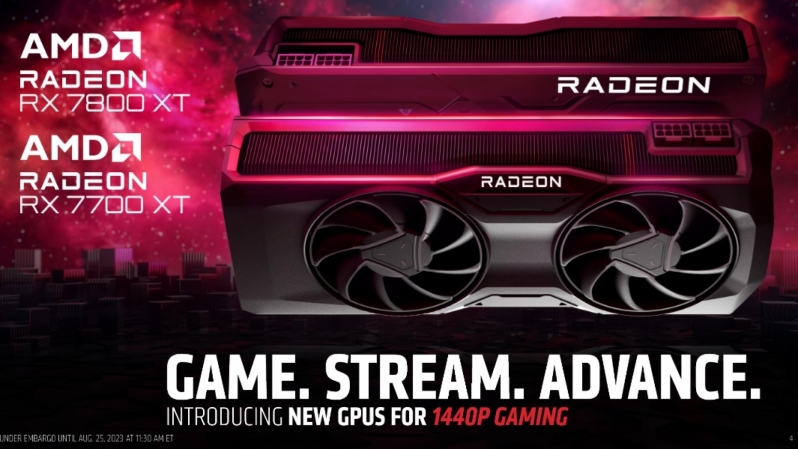 AMD's Radeon RX 7800 XT ships with 60 RDNA 3 compute units 60 2nd Generation AMD Ray Tracing Accelerators and 120 AI accelerators. For the RX 7700 XT, this number is decreased to 54 CUs, 54 RT accelerators, and 108 AI accelerators. Both GPUs also feature game clock speeds that are above 2.1 GHz and fast GDDR6 memory.Â
AMD's Radeon RX 7700 XT is a huge upgrade over AMD's RX 6700 XT, which only offered users 40 RDNA 2 compute units. These compute units were also clocked lower than AMD's RX 7700 XT, giving it another advantage. With 35% more compute units, higher clock speeds, and RDNA 3's architectural advancements, AMD's RX 7700 XT is going to be a great GPU for gamers. In contrast, the RX 7800 XT has fewer CUs than its RDNA 2 predecessor, though it does feature higher clock speeds and new RDNA 3 compute units.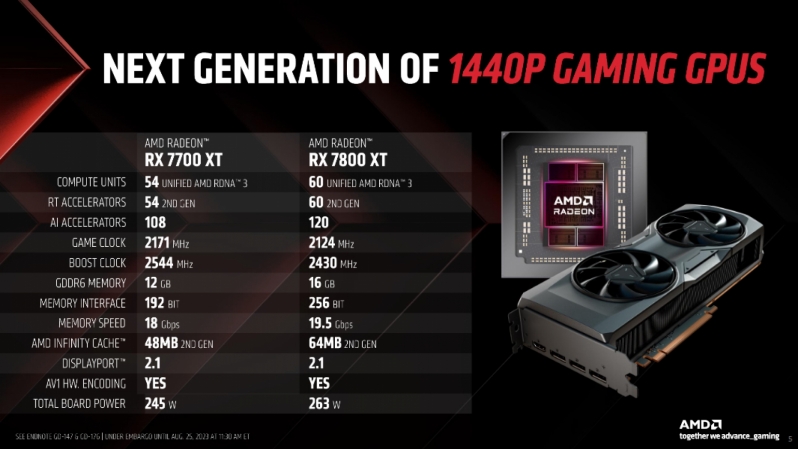 AMD are targeting these new GPUs at gamers who used graphics cards like the Radeon RX 5700 XT or Nvidia's RTX 2070 Super. At 1440p, AMD's new RX 7800 XT can deliver around two times as much GPU performance as these older graphics cards, with both the RX 7800 XT and RX 7700 XT achieving 60 FPS performance levels in a large number of recently release games at 1440p max settings.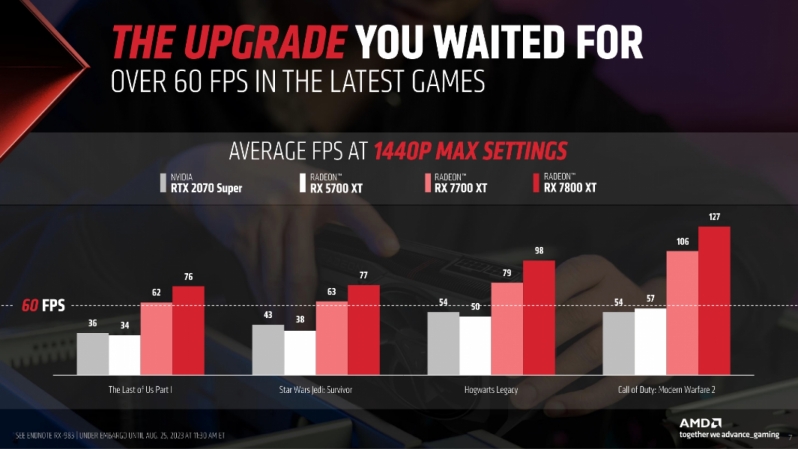 When compared with Nvidia's RTX 4070, AMD are promising up to 23% mere performance at 1440p at "Max Settings", though AMD admits that there are some areas where Nvidia comes out on top. With their RX 7800 XT, AMD offer gamers 16GB of VRAM, support for DisplayPort 2.1, and more raw memory bandwidth than what Nvidia delivers.
To combat Nvidia's DLSS 3 Frame Generation tech, AMD has also confirmed that FidelityFX Super Resolution 3 is coming soon, and that their "Fluid Motion Frame" technology delivers similar benefits. AMD has also delivered a native resolution FSR 2 mode to combat Nvidia's DLAA feature.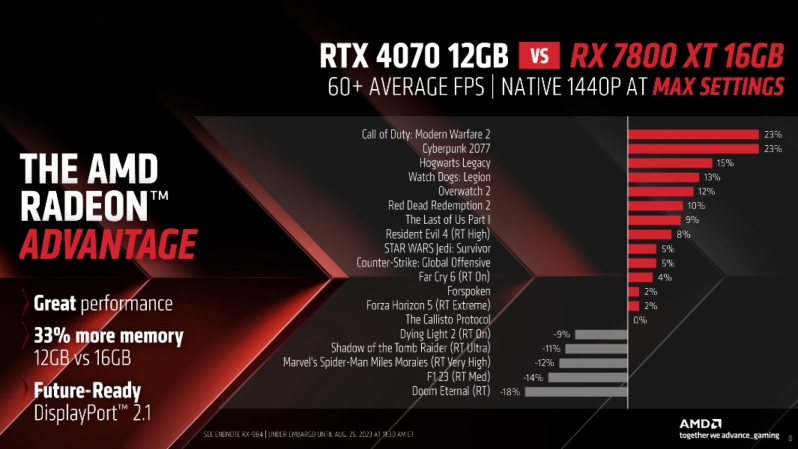 AMD are pitting their Radeon RX 7700 XT against Nvidia's RTX 4060 Ti, choosing to benchmark Nvidia's 16GB graphics card to prevent VRAM from becoming an issue. Most RTX 4060 Ti GPUs are 8GB graphics cards, which can lead to performance issues in some games. In a sense, AMD is giving Nvidia an advantage in these benchmarks, and highlighting that AMD thinks that 8GB is not enough memory for a GPU in this product segment.Â
When compared to the RTX 4060 Ti 16GB, AMD claims to offer users up to a 31% performance advantage, though some games will favour Nvidia's GPU. That said, AMD wins in most instances with their Radeon RX 7700 XT.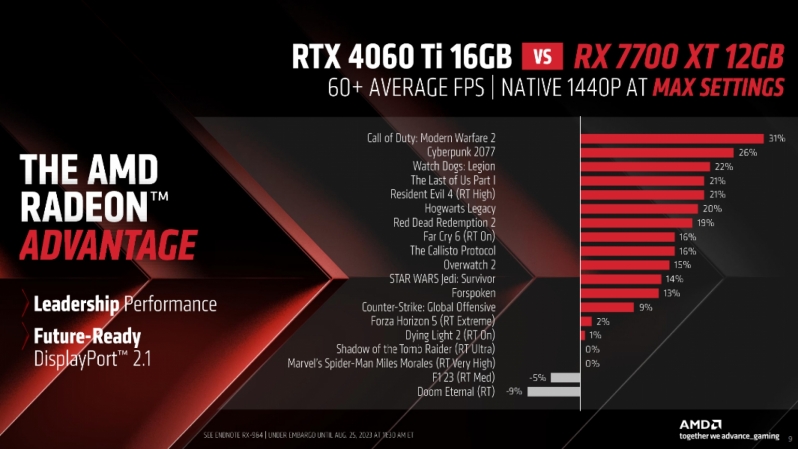 More VRAM, more bandwidth
When Nvidia launched their RTX 40 series of GPUs, they touted their increased L2 cache sizes as a major innovation, an innovation that gives their graphics cards more effective memory bandwidth. While this was a great addition to Nvidia's Ada architecture, caches are only effective until they are filled, and when working with a lot of data there is no replacement for graphics cards with a lot of VRAM and a lot of raw bandwidth.Â
With their RX 7800 XT and RX 7700 XT, AMD are offering graphics cards that offer gamers more memory and more raw memory bandwidth than their RTX 40 series counterparts. This is great news for gamers who want to run games with their highest detail settings, or want to play games with high resolution texture packs. Additionally, this VRAM is also very useful for streamers and content creators. Â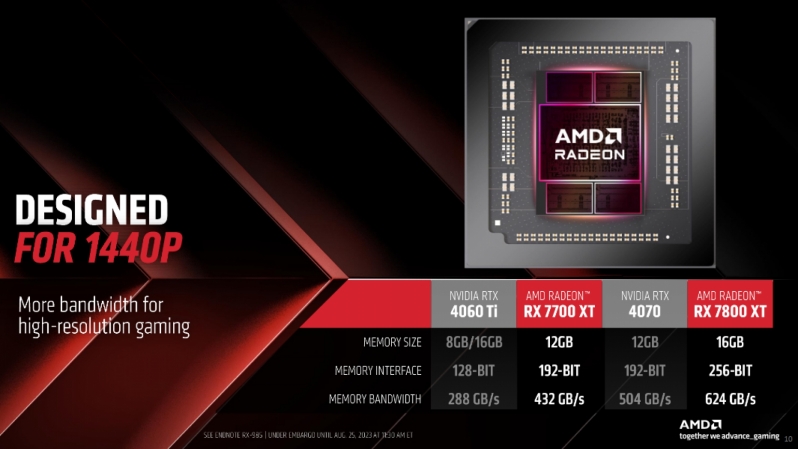 AMD's Radeon RX 7800 XT and Radeon RX 7700 XT will be available on September 6th for $499 and $449 respectively. For the RX 7800 XT, this is very aggressive pricing, especially given Nvidia's RTX 4070's $599 MSRP. That said, the RX 7700 XT's pricing is too close to their RX 7800 XT, as additional performance and an extra 4GB of VRAM for $50 is too good to pass up. You can read more about AMD's new FSR 3 announcements here.
You can join the discussion on AMD's Radeon RX 7700 XT and Radeon RX 7800 XT graphics cards on the OC3D Forums.Â
 Â