Bots Beware – Fake RTX 30 series GPU listings appear on eBay to fool scalpers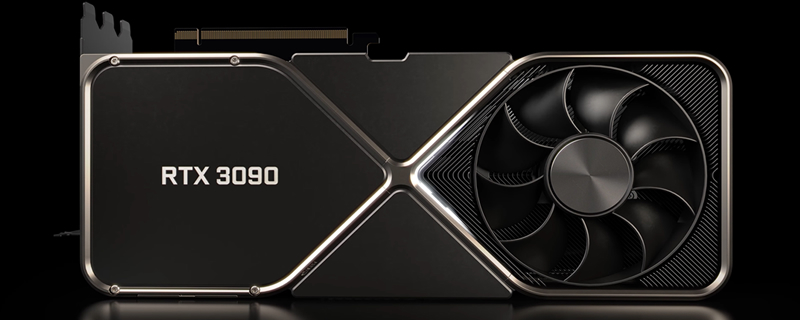 Bots Beware – Fake RTX 30 series GPU listings appear on eBay to fool scalpers
If you are trying to purchase an RTX 30 series graphics card on eBay, make sure it is a legitimate product. The RTX 30 series "jpg Edition" has returned, as consumers on eBay are attempting to combat the bots on the platform with fake listings and too-good-to-be-true (MSRP) prices.Â
Below we have found an example of these fake listings, highlighting an MSI RTX 3090 SUPRIM X 24GB graphics card with a "Buy It Now" price of £1,500. That's how much an RTX 3090 should cost outside of today's market conditions. Fake listing like these typically includes something like "Read Description" in the title, as the listing description is where the listing is revealed to be illegitimate.Â
Below is an example description for a fake RTX 3090 graphics card;Â
 Â
  MSI GeForce RTX 3090 SUPRIM X 24GB GDDR6X Graphics Card (READ DESCRIPTION). Condition is "New". Dispatched with Royal Mail 2nd Class.

– RTX 3090 SUPRIM X 24GB

– DO NOT BUY THIS IF YOU READ THIS!

– This is for illegal scammers and bots that buy and resell at stupid prices.

– RTX VISION OC GRAPHICS CARD ON SUPER QUALITY PRINTED A4 PAPER!

– AGAIN – THIS IS AN IMAGE, NOT A GRAPHICS CARD! IM SELLING AN IMAGE!

– If you're looking for an actual RTX 3090, do not buy this.

NO RETURNS ACCEPTED AT ALL.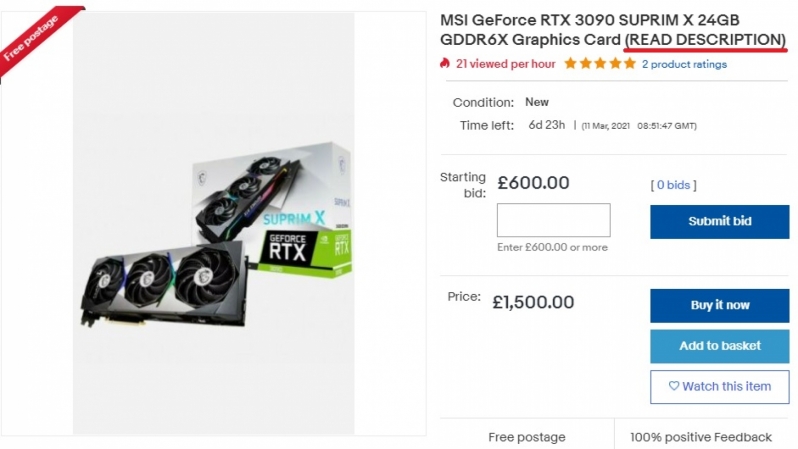 Â
How to avoid GPU scams on eBay
These scams are designed to trick people and their bots into bidding money on worthless items, but they are easy to avoid if you know what to look for. Listings like these will often list that they are fake somewhere in their descriptions, so make sure you read the listing thoroughly before placing a bid on any new graphics cards.Â
As always, beware of prices that are too good to be true. Yes, bargains are available on eBay, but today's GPU market has seen GPU prices inflate to ludicrous levels. Most sellers will know this and adjust their prices accordingly.Â

With today's GPU market being what it is, prices are inflated across the market, even for older graphics cards from the GTX 10 series or Radeon RX Vega series. Ultra high demand has pushed prices up, and that situation will not change until there are enough GPUs on the market to enforce reasonable prices. This is bad news for PC gamers, but console users are faring little better thanks to PS5 and Xbox Series X/S console shortages.Â
You can join the discussion on eBayers attempting to fool GU buying bots with fake listings on the OC3D Forums.Â