Foxconn Puts Out 8600 and 8500 Series Offerings
News Posted 17/04/07
Author: WC Annihilus
Source: Foxconn
---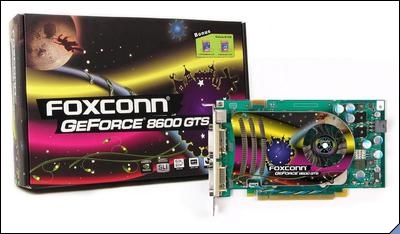 Computer hardware manufacturer Foxconn has just announced the release of their 8600 and 8500 series offerings.
Foxconn Announces Release of the Nvidia® GeForce 8600 and 8500 Series Graphics Cards
Factory Overclocked versions included in new DirectX 10 range
Foxconn, a global leading manufacturer of quality performance computing hardware, today announced the release of their NVIDIA® GeForce 8600GTS, 8600GT and 8500GT graphics cards. The Foxconn new GeForce 8600 graphics series feature NVIDIA® revolutionary new DX10 unified architecture which brings unparalleled levels of graphic realism and performance to gamers, in addition to Foxconn's unique cooling system, which is proven to increase overclocking capability by up to 15%.
Go Extreme with Foxconn 8600GTS and 8600GT Overclocked Versions
In addition to the standard GeForce 8600 and 8500 series cards, Foxconn is launching factory GeForce 8600GTS and 8600GT "Overclocked" graphics cards.
These excellent graphics platforms, in addition to Foxconn strict in-house testing and state-of-the-art manufacturing capability, will ensure top-notch quality, excellent performance and long-term reliability for the most demanding gamers worldwide.
Foxconn Value-Added Bundle:
Every Foxconn 8600 series graphics card come bundled with two great software (Restore IT 7.0 and Virtual Drive Pro 10.0), along with FOXCONN proprietary "Foxware Overclock Utility". These bundles retail more than $100.00 when acquired separately at local retail stores.
Warranty:
Foxconn offers a 2 year manufacturer warranty on all the video cards products. We make sure every customer's investment is well-protected.
Availability:
The 8600GTS – 256 is available to buy next week from main UK e-tailers, retailing at around £130 inc VAT. 8600GT and 8500 range will be available soon as well as the overclocked 8600GTS and 8600GT.
Discuss in our forum