Gigabyte releases high-end Aorus RTX 2080 Ti TURBO Blower-style GPU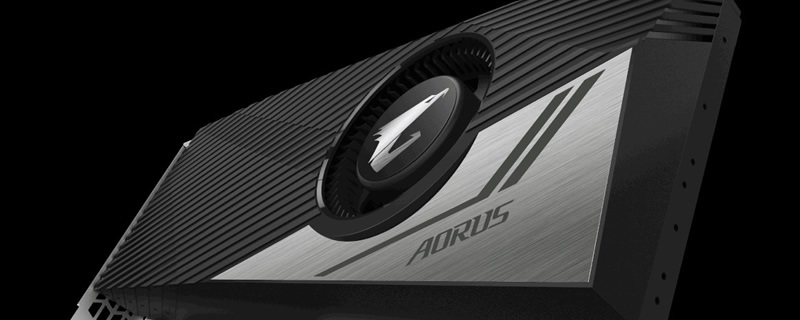 Gigabyte releases high-end Aorus RTX 2080 Ti TURBO Blower-style GPU
Gigabyte has officially revealed a new Aorus RTX 2080 Ti graphics card, attaching their premium brand name to a blower-style GPU design.
Thankfully, Gigabyte has opted to steer clear from Nvidia's reference specifications, opting to utilise a factory overclock that boosts this graphics card beyond Nvidia's Founders Edition, though at this time it is unknown how hot this GPU will be under load.Â
To push past normal reference blower coolers, Gigabyte has decided to use a direct touch vapour chamber and a full-copper heatsink to maximise heat conduction away from the RTX 2080 Ti's large 754 mm² TU102 core, making this graphic's cards cooler more potent than reference-style blower RTX 2080 Ti models. Even so, it is hard to imagine this card offering better thermal and acoustic performance than Nvidia's RTX Founders Edition series coolers.Â
 Â
As for rear I/O, this graphics card is the same as Nvidia's Reference/Founders Edition design, offering three DisplayPort 1.4 outputs, an HDMI 2.0 output, and a VirtualLink connection. The Gigabyte Aorus 2080 Ti Turbo will ship with a three-year warranty, which extends to four years after the product is registered online.
Â
Â
| | | | |
| --- | --- | --- | --- |
| Â | Gigabyte Aorus RTX 2080 To Turbo | Geforce RTX 2080 Ti (FE) | Geforce RTX 2080 Ti (Ref) |
| Architecture | Turing | Turing | Turing |
| CUDA Cores | 4,352 | 4,352 | 4,352 |
| Ray Tracing Performance | 10 Gigarays | 10 Gigarays | 10 Gigarays |
| Base Clock | ??? | 1350MHz | 1350MHz |
| Boost Clock | 1650MHz | 1635MHz | 1545MHz |
| Memory Type | GDDR6 | GDDR6 | GDDR6 |
| Memory Capacity | 11GB | 11GB | 11GB |
| Memory Speed | 14Gbps | 14Gbps | 14Gbps |
| Memory Bandwidth | 616GB/s | 616GB/s | 616GB/s |
| Memory Bus Size | 352-bit | 352-bit | 352-bit |
| SLI | Via NVLink | Via NVLink | Via NVLink |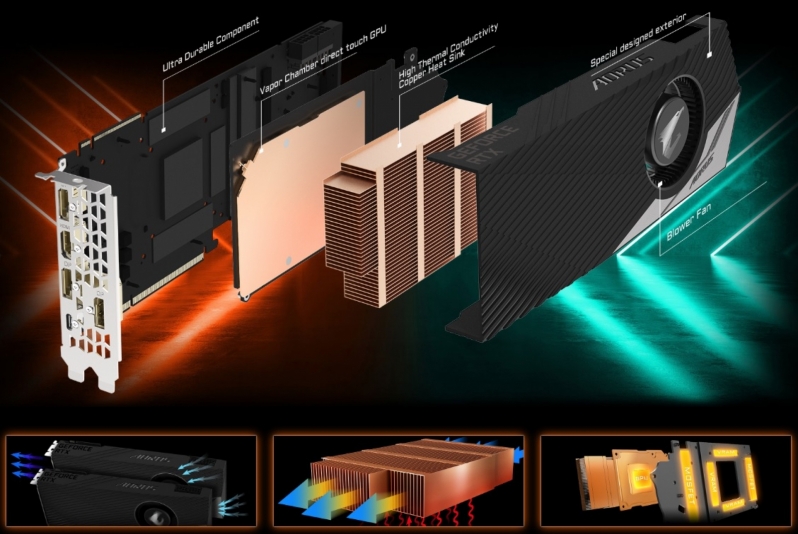 Â
While blower-style coolers are often considered the worst designs in the high-end GPU market, we must remember that they offer features that competing designs lack, such as the ability to directly exhaust GPU heat outside of a system, instead of blowing it around a PC to exit your PC elsewhere. Â
When it comes to the world of ITX systems blower-style coolers are often a must, allowing us to see why cards like the Aorus 2080 Ti Turbo exists, even so, we don't see a huge potential userbase for this graphics card, as not many consumers are likely to spend $1,000 on a blower-style graphics card. That said, Gigabyte may plan to use this GPU in in-house systems.Â
You can join the discussion on Gigabyte's Aorus 2080 Ti TURBO graphics card on the OC3D Forums.Â