HTC launches their VIVE Pro "Full Kit" with SteamVR 2.0 base stations and Pro controllers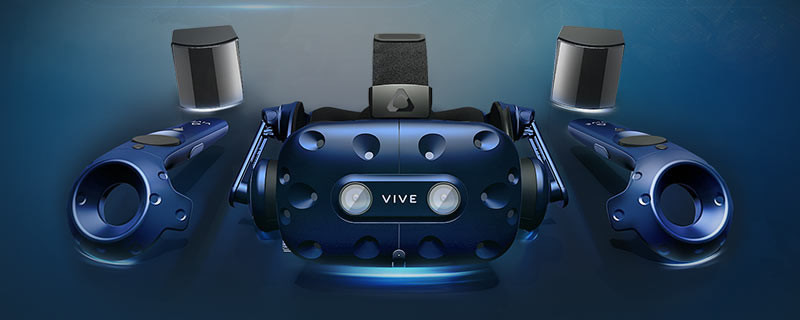 HTC launches their VIVE Pro "Full Kit" with SteamVR 2.0 base stations and Pro controllers
HTC has officially launched their VIVE Pro "Full kit", bundling their VIVE Pro headset with SteamVR 2.0 base stations, Vive Pro (2018) controllers and everything else high-end VR gamers need to get started.
Aside from the upgrade to the VIVE Pro VR headset, the VIVE Pro Full Kit's SteamVR 2.0 base stations offer increased accuracy, lower power consumption levels and can be scaled to provide playable areas of up to 10mx10m using four of these new base stations. This upgrade delivers a massive increase in potential playable area over SteamVR 1.0 base stations, which can only offer playable areas of around 4m x 3m and cannot be used additional base stations.Â
The HTC Vive Pro offers a combined display resolution of 2880×1600, which is a 78% increase in pixel count over the original HTC Vive, which was 2160×1200 over two screens. The Vive Pro headset also includes a "Hi-Res" audio solution and several comfort-oriented design tweaks that HTC's original Vive headsets lack.Â
This new bundle costs £1299 in the UK, with availability on HTC's Enterprise website. A cheaper package is available for £1050 which combined HTC's Vive Pro standalone headset with a Vive Accessory pack that includes SteamVR 1.0 base stations and controllers. Regardless of whatever package you go for, the HTC Vive Pro is an extremely expensive product.Â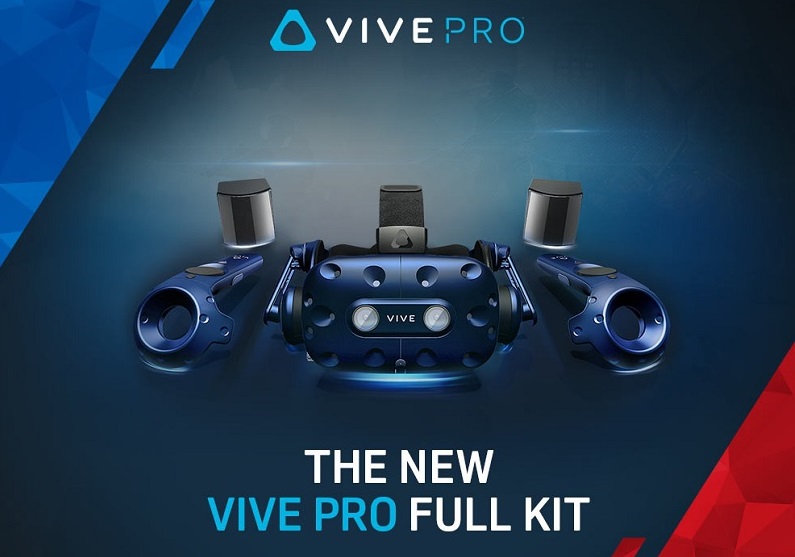 Â
The VIVE Pro Full Kit includes the following items:
– Vive Pro Headset (Hi-Res certified HMD and headphones )
– 2 x SteamVR Base Station 2.0
– 2 x HTC VIVE Controller (2018)
– Supports Steam VR 2.0 Room-scale tracking
VIVE PRO SPECS

– Unprecedented presence with Hi-Res and 3D spatial audio
– Stay immersed comfortably with higher display resolution, easy-to-use headset & cable design, and improved ergonomics
– Chaperone technology
– Free to move around wirelessly with VIVE Wireless Adapter*
*VIVE Wireless Adapter sold separately.
Headset Specs
– Screen: Dual AMOLED 3.5″ diagonal
– Resolution: 1440 x 1600 pixels per eye (2880 x 1600 pixels combined)
– Refresh rate: 90 Hz
– Field of view: 110 degrees
– Audio: Hi-Res certificate headset
– Hi-Res certificate headphone (removable)
– High impedance headphone support
– Input: Integrated microphones
– Connections: USB-C 3.0, DP 1.2, Bluetooth
– Sensors: SteamVR Tracking, G-sensor, gyroscope, proximity, IPD sensor
– Ergonomics: Eye relief with lens distance adjustment
– Adjustable IPD
– Adjustable headphone
– Adjustable head strap
 Â
While most of the system's hardware requirements remain the same, requiring 4GB of system memory, an i5 4590 or FX 8350 CPU or better and a minimum of a GTX 1060, an RX 480 or better. From here things change significantly, with the Vive Pro moving from a USB 2.0 to a USB 3.0 requirement and from HDMI 1.4 to DisplayPort 1.2, mostly due to the headset's increased display resolution.Â
HTC hasn't changed their minimum GPU requirements when moving from the Vive to the Vive Pro, though the company has added a "recommended" graphics listing, which says that users should have a GTX 1070 or an RX Vega 56 or better. Users of weaker graphics hardware can still use HTC's new headset, but it will likely require users to lower the resolution of their games, which kinda defeats the purpose of this new high-end VR offering.Â
On the OS side, HTC has not posted their VIVE Pro with Windows 7 support, though Windows 8.1 and 10 support are listed in the system's minimum requirements, though it is noted that users should "Upgrade to Windows 10 for the best results with the dual front-facing cameras".Â
You can join the discussion on HTC's VIVE Pro "Full Kit" on the OC3D Forums.Â