Huge 4-slot RTX 4090 Ti graphics card spotted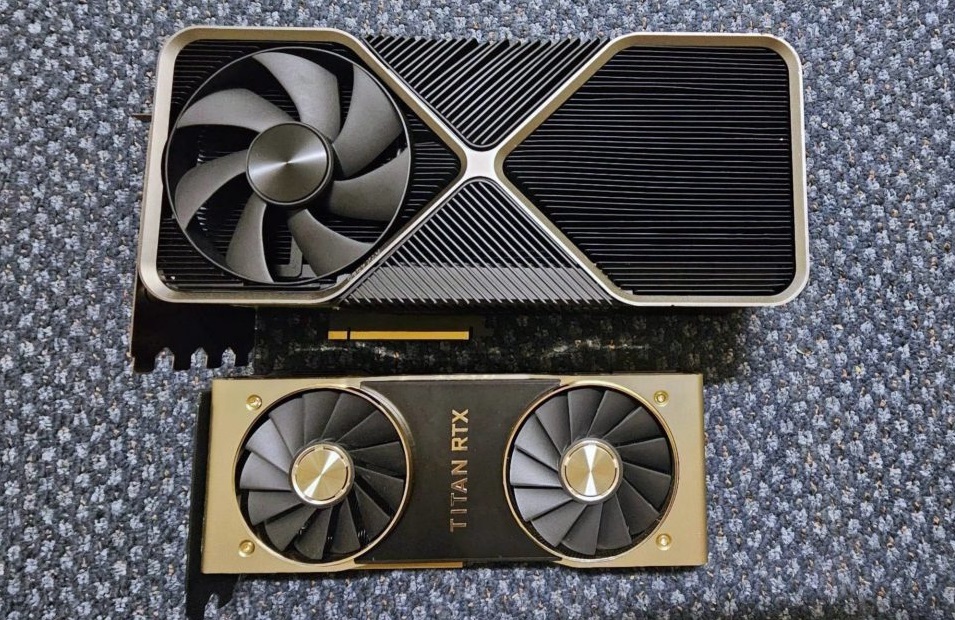 Beastly quad-slot RTX 4090 Ti graphics card prototype leaks
Over on Reddit, a user called gamer2live has posted images of an alleged RTX 409o Ti prototype. This optotype graphics card features a similar design to previously leaked RTX 4090 Ti/RTX Titan cooler designs, boasting a colossal quad-slot design.
The Redditor has since deleted their post, but Videocardz were quick to save and republish the information on the post. The Redditor claimed that the graphics card came from an Nvidia employee, though at this time it is unclear how this could have happened. Nvidia do not typically give away engineering samples or prototypes like this.
This is the first time that this Nvidia prototype has been pictured with visible PCIe slot. All prior leaks for this 4-slot cooler design were of the heatsink alone. This time, we can see what appears to be a fully functional prototype.
Rumour has it that Nvidia had plans to release an RTX 40 series graphics card that is more powerful than their RTX 4090. These plans were reportedly shelved as Nvidia's RTX 4090 already lacked true high-end competition from AMD or Intel. Nvidia could create an RTX 4090 Ti or RTX 4090 SUPER, but they don't currently need to.


At this time it is unknown if this RTX 4090 Ti prototype is fully functional. Even if it is, it may not work with currently available Nvidia GPU drivers. The hardware specifications of this GPU are also unknown. It may feature a higher TDP than Nvidia's RTX 4090 and/or may feature more active CUDA cores. It is also possible that this GPU is simply an RTX 4090 with a different PCB and heatsink design.
Since gamer2live has deleted their original Reddit post, it is probable that they will not discuss this graphics card again. While the Redditor did say that they would test the graphics card, those plans may have changed.
You can join the discussion on Nvidia's RTX 4090 Ti Prototype on the OC3D Forums.