Nvidia has officially announced their GTX 1070 Ti GPU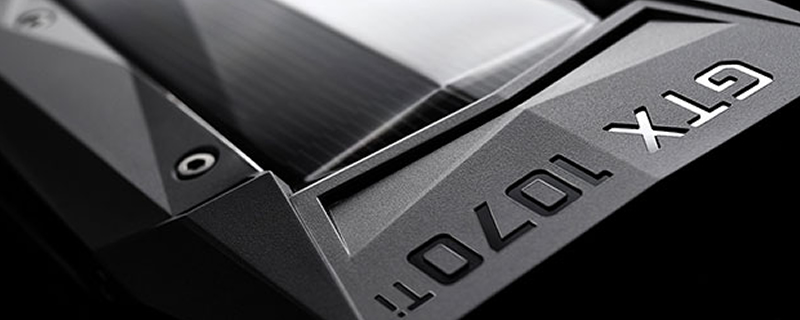 Nvidia has officially announced their GTX 1070 Ti GPU
It has finally happened, Nvidia has officially announced what may be the worst kept secret in the industry, the GTX 1070 Ti, a GPU that is designed to squeeze neatly in between the company's existing GTX 1070 and 1080 GPUs.Â
This new GPU will be based on Nvidia's Pascal GPU architecture and ship with 8GB of GDDR5 memory, giving this GPU the same levels of memory bandwidth as their GTX 1070, while offering a small boost in base clock speed and CUDA cores to give it levels of compute performance that are much more similar to their GTX 1080. Â
Sliding in between the much-lauded GeForce GTX 1080 and 1070 GPUs, the new GeForce GTX 1070 Ti will be available worldwide on November 2, with preorders starting today — just in time for the hottest games this holiday season — with a suggested retail price of $449/ £419.

Featuring our award-winning Pascal GPU architecture, the GeForce GTX 1070 Ti is packed with 2,432 cores and 8 GB of memory running at 8Gbps for a total bandwidth of 256 GB/s. It delivers double the performance of the legendary GeForce GTX 970.

We designed the GeForce GTX 1070 Ti to be an overclocking monster with plenty of headroom for gamers to crank up the clock speeds. And our partners have built cards with thermals and power supplies that allow gamers to push performance way past stock specifications.
Â
Â
GTX 1080Â
GTX 1070 Ti
GTX 1070
GTX 1060
GPU Architecture
Pascal
Pascal
Pascal
Pascal
Process node
16nm
16nm
16nm
16nm
SM Units
40
38
30
20
Cores per SM
64
64
64
64
CUDA Core Count
2560
2432
1920Â
1280
VRAM Type
GDDR5XÂ
GDDR5
GDDR5Â
GDDR5
VRAM Cappacity
8GBÂ
8GB
8GBÂ
6GB
Memory Bus Size
256-bitÂ
256-bit
256-bitÂ
192-bit
Memory Speed
10Gbps (11Gbps)
8Gbps
8Gbps
8Gbps (9Gbps)
Memory Bandwidth
320 GB/sÂ
(352 GB/s)
256 GB/s
256 GB/sÂ
192 GB/s
(216GB/s)
Base clock speed
1607MHzÂ
1607MHz
1506MhzÂ
1506MHz
Boost clock speed
1733MHzÂ
1683Mhz
1683MHzÂ
1708MHz
TDP
180WÂ
180W
150WÂ
120W
Power Connection
1x 8-pinÂ
1×8-pin
1×8-pinÂ
6-pin
PCI ExpressÂ
PCIe 3.0Â
PCIe 3.0
PCIe 3.0Â
PCIe 3.0
Â
Right now Nvidia plans to release this GPU on November 2nd, with reviews going live on the same day. GTX 1070 Ti Founders Edition GPUs are already available to Pre-order from Nvidia, with a cost of £419 in the UK (more pricing details below).Â

Â
 Â
At launch, Nvidia's AIB partners will be releasing custom versions of this new GPU, with reference edition being available directly from Nvidia at MSRP prices. Below is a list of regional prices for Nvidia's reference/Founders Edition GTX 1070 Ti models.Â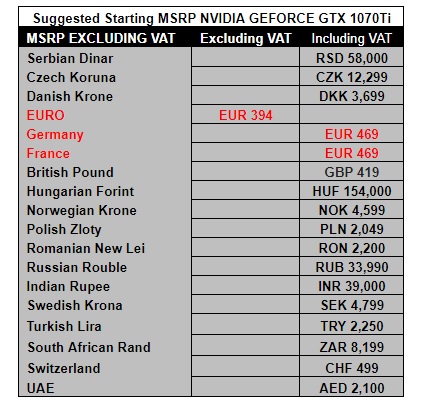 Â
The sad thing about this release is that Nvidia is still creating new SKUs with their existing Pascal GPU architecture, which means that the consumer release of Volta won't be anytime soon. Even so, this GPU offers a neat addition to Nvidia's high-end GPU lineup, especially with this price.Â
As we said earlier this GPU will be releasing on November 2nd, with reviews for the card going live on the same day. Please return to OC3D when this GPU launches for an in-depth review of the card.Â
 You can join the discussion on Nvidia's new GTX 1070 Ti GPU on the OC3D Forums.Â