Roccat reveals its Dual Condensor 24-bit Torch Microphone for Content Creators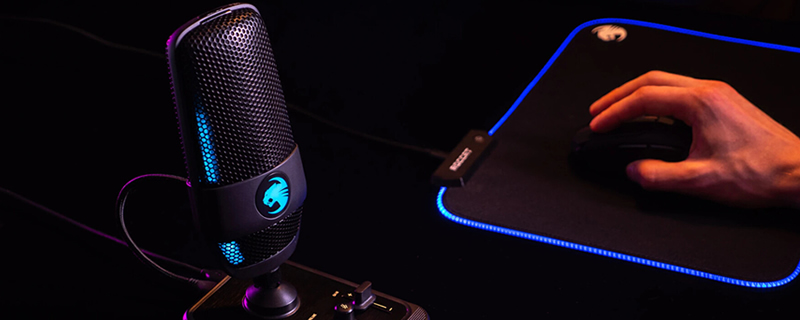 Roccat reveals its Dual Condensor 24-bit Torch Microphone for Content Creators
On August 15th, Roccat will release their new Torch microphone, promising users a "Studio-Grade" design that features a dual condenser setup, 24-bit audio and sample rates of up to 48kHz.Â
With a US MSRP of $99.99 and a UK MSRP of £89.99, Roccat's Torch is designed to give content creators a premium audio experience with mixer-style controls, a contact-free mute function, and boom arm compatibility. This microphone is designed to be easy to use with a driver-free setup, a built-in pop filter and latency-free mic-monitoring options (via a 3.5mm audio jack).
For those that need fancy lighting within their streaming setup, Roccat has integrated AIMO lighting support within their Torch microphone, allowing users to customise their microphone with unique lighting profiles. Users can also utilise this microphone in three separate modes, Cardioid for regular recording setups, Stereo mode for those who want to capture multiple sound sources or record vocals, and Roccat's unique whisper mode for those who want to speak quietly why still being heard by the mic.Â
Pre-orders for Roccat's Torch Microphone are currently available on the company's website.Â
What Follows is Roccat's Press Release
ROCCAT, Turtle Beach's award-winning, Hamburg, Germany-based PC peripheral brand, today revealed the Torch, its first studio-grade USB microphone. Designed for gamers, streamers, and aspiring content creators, the Torch is packed full of professional-grade features, including 24-bit audio quality, a dual condenser design, latency-free Mic Monitoring, and a built-in pop filter. ROCCAT's Torch will ensure creators always sound flawless, and its stylish and intelligent design is compatible with a wide range of shock mounts, boom arms, and other accessories. The Torch microphone features ROCCAT's intelligent AIMO RGB lighting, and special lighting zones change color depending on the mic's settings. Additionally, driver-free setup makes the Torch simple to use right out of the box. ROCCAT's Torch launches August 15, 2021 for a MSRP of $99.99, and is available for pre-order today.
"The Torch's distinct look, pro-level performance, and attractive price make it perfect to grow with you as you chase your streaming and content creation passions," said René Korte, ROCCAT Founder and General Manager for PC peripherals at Turtle Beach. "Gamers watch their favorite streamers and are inspired to create content themselves, and a studio-grade microphone is no longer a luxury, it's a must-have accessory. We're excited to enter a new PC peripheral category with the Torch, and to deliver another high-performance accessory that adds to our desktop ecosystem."

ROCCAT's Torch USB microphone features a dual condenser design, offering 24-bit audio with up to 48 kHz sampling, ensuring a wide range of voices can be captured and perfectly broadcast. From simple whispers to loud and heated in-game reactions, the Torch delivers broadcast-quality sound for any content creator. Designed for streamers and aspiring content creators, the Torch comes with three pre-selected pick-up patterns for an effortless out-of-the-box experience. Users will be able to choose between Cardioid pattern – perfect for gaming and streaming; Stereo – great for vocals and instruments; and the Torch's exclusive Whisper pattern – to capture the quietest voices and whispers.
The Torch also features a myriad of quick and easy controls to deliver the best experience. Gesture-activated mute functionality provides a convenient way to instantly mute without disturbing the quality of the recorded content. For on the fly adjustments, the Torch's mixer-style controls allow gamers to fine-tune settings, control volume, and cycle through the different patterns with ease without having to install a single driver. The Torch also includes a 3.5 mm headphone jack for latency-free Mic Monitoring.
Torch also includes ROCCAT's acclaimed AIMO RGB lighting, and distinct lighting zones that change color depending on the recording pattern selected or microphone mode. Fully compatible with a wide array of boom arms, the Torch can be reconfigured and adjusted while still allowing the mic module to sit on the arm – maintaining the full functionality of the mixer-style base.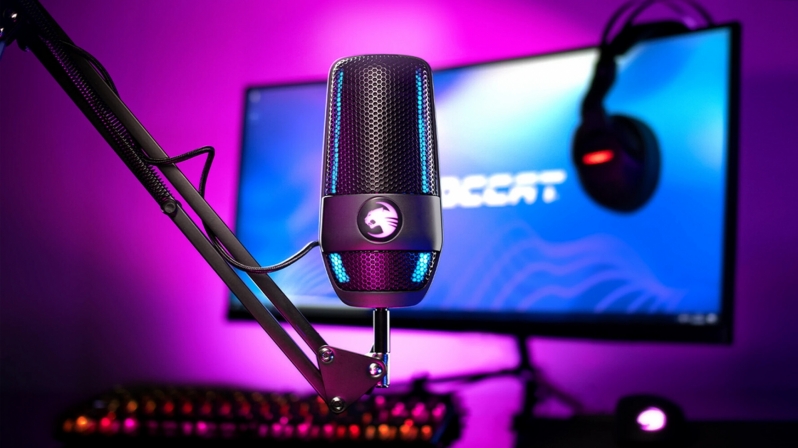 Â
You can join the discussion on Roccat's Dual Condenser 24-bit Torch Microphone on the OC3D Forums.Â