Apple Release The New Shuffle

According to an online source, Apple Computer will reportedly start selling the smallest version of its iPod Shuffle, and the world's smallest digital music player, from tomorrow onwards. The company says this new iPod Shuffle, which is 1.62-inches long – about the size of a matchbox, holds up to 240 songs, and like the original, does not have a display to show what it is playing.
At around half the size of the original that was introduced in January 2005, the small Shuffle is all of 14 grams, includes 1-gigabyte of storage, has a built-in clip for portability, with the battery being able to last for around 12 hours. According to Apple's online store the price is only US$79.
You can view an image gallery of the new Shuffle here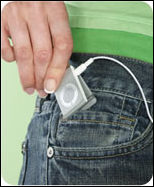 Feel free to discuss this product in our forum