CableMod updates their 12VHPWR angled adaptors with new CEM 5.1 versions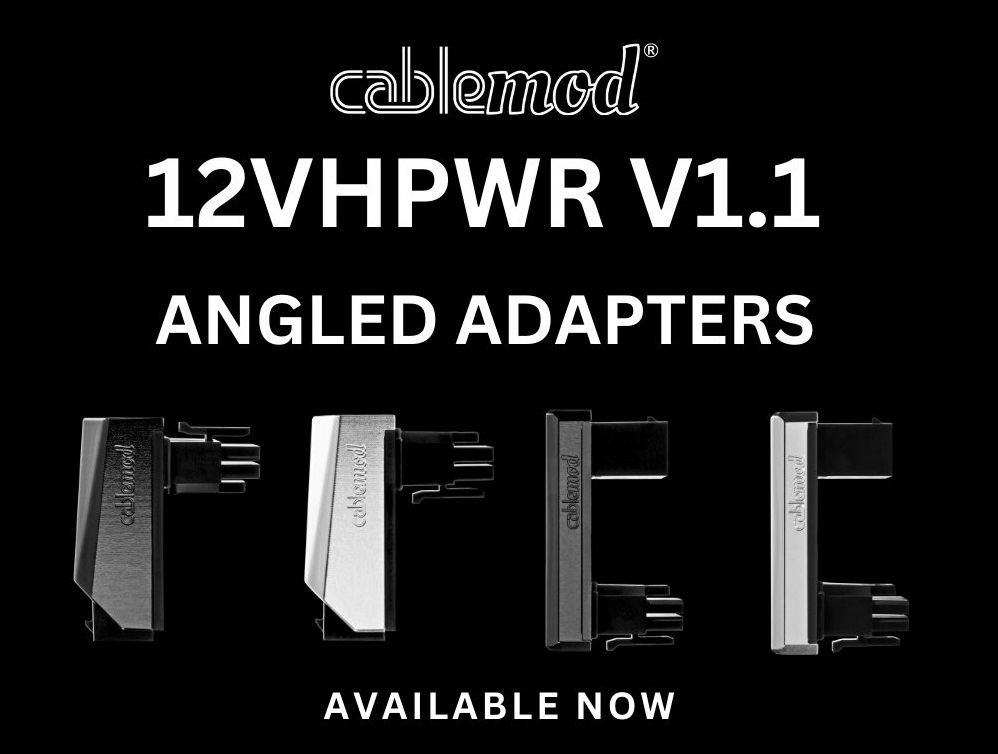 CableMod launches new and improved 12VHPWR angled cable adaptors
Earlier this year we looked at the angled 12VHPWR cable adaptors from CableMod. We think they are a great solution for PC builders who want to up their cable management game, but it has become clear that CableMod could improve their adaptor's design.
Now, CableMod has released a revised design for their 12VHPWR angled cable adaptors. This new revision increases the tightness of the cable's male connector and better connects this terminal to the adaptor's PCB. Another change that CableMod has implemented is updating the product's 12VHPWR terminal to a newer, safer, 12V-2×6/CEM 5.1 connector.
The first of CableMod's changes to their 12VHPWR connector addresses some of the negative feedback that their adaptors have received from users. The latter upgrade addresses an issue with the 12VHPWR standard itself, which has been addressed with the new CEM 5.1 female connector.
CableMod's new 12VHPWR angled adaptors are now available though the company's Global and EU web stores.

New revised angled adapters available now!

What does the v1.1 bring to the table?
– CEM 5.1 standard female connector;
– Improved tightness on the male connector;
– Removed wiggle between PCB and male connector.

Global: https://t.co/vpn6NaP44z
EU: https://t.co/jrbCxsvSn1 pic.twitter.com/pdDolt25nd

— CableMod (@CableMod) September 26, 2023
What is CEM 5.1/12V-2×6?
The 12V-2×6/CEM 5.1 power connector is PCI-SIG's replacement for their existing 12VHPWR connector. This new design fits within the 12VHPWR form factor and is cross-compatible with 12VHPWR cables, but its design has been improved to make the connector less prone to failure.
For consumers, most future products will simply transition to the new CEM 5.1 connector type from 12VHPWR. In time, the problems associated with 12VHPWR will be forgotten about. For the most part, both cables look identical. Expect 12VHPWR, CEM 5.1, and 12V-2×6 to be used interchangeably by most people for years to come.
12V-2×6 Connector Updates to PCIe Base 6.0

This ECN defines Connector Type encodings for the new 12V-2×6 connector. This connector, defined in CEM 5.1, replaces the 12VHPWR connector. Update 12VHPWR encoding to reflect published CEM 5.0 (the Base Spec and CEM 5.0 were inconsistent). Update default measurement methodology for Maximum and Sustained power to match existing Form Factor specifications, providing consistency between specifications.
CableMod's new 12VHPWR v1.1 adaptors are now available to purchase. These new adaptors are available in the same colours and orientations as their older v1.0 counterparts. CableMod has already removed their older v1.0 adaptors from sale on their webstore.
You can join the discussion on Cablemod's new 12VHPWR angled adaptors on the OC3D Forums.