From Software's Armored Core 6 receives full PC system requirements
On PC, Armored Core 6 will support framerates of up to 120 FPS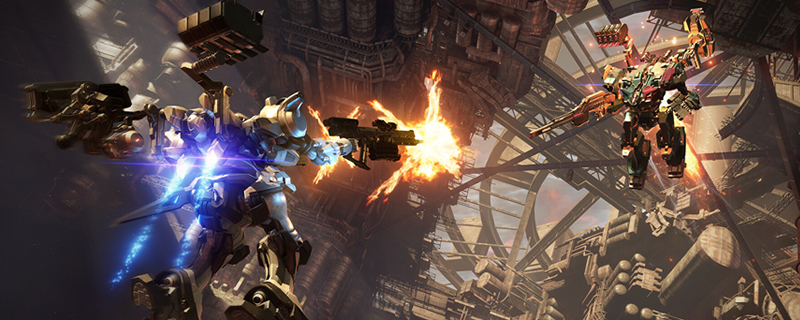 Armored Core 6: Fires of Rubicon's ray tracing support is limited to one area of the game
From  Software and Bandai Namco have revealed their full PC system requirements for Armored Core 6: Fires of Rubicon, which is releasing on PC through Steam on August 24th. These system requirements confirm that the game will support ray tracing at launch, but that ray tracing is limited to the game's "garage area" which means that ray tracing will not be available during gameplay.
Previously, we have gotten a look at Armored Core 6's graphical options menu, which confirmed that game will support framerates of up to 120 FPS on PC, a first for a From Software title. This is great news for PC gamers, as Armored Core 6 is a fast-paced game, making it well suited for higher framerates. 

At a minimum, PC gamers are expected to have a 4GB graphics card that is on par with, or better than an Nvidia GeForce GTX 1650 or an AMD Radeon RX 480, at least 12GB of system memory, and a CPU that is on par with, or better than, an Intel Core i7-4790K, an Intel i5-8400, an AMD Ryzen 7 1800X, or an AMD Ryzen 5 2600. The game's recommended hardware includes Nvidia's GTX 1060 6GB, AMD's Radeon RX 590 8GB, and Intel's ARC A750 8GB graphics cards and Intel's Core i7-7700, Core i5-10400, AMD's Ryzen 7 2700X, and Ryzen 5 3600. 
With ray tracing enabled, Armored Core 6's GPU requirements increase significantly, bumping the game's minimum GPUs to an Nvidia GeForce RTX 2060, and AMD's Radeon RX 6600. These are not high-end ray tracing compatible graphics cards, which suggests that Armored Core 6's ray tracing graphical options are not that graphically intensive.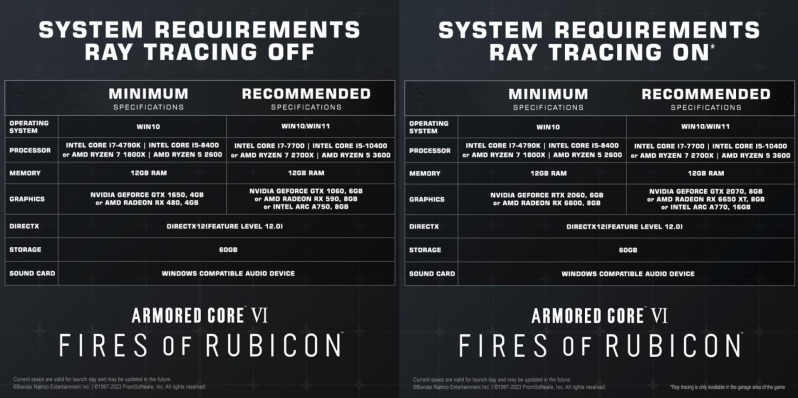 On PC, Armored Core 6 will also have a wide range of graphical options on PC, which will include ray tracing effects, HDR support, SSAO, and more. Sadly, the game appears to lack support for upscaling technologies like DLSS, FSR, and XeSS, features that are in high demand from PC gamers.
Unfortunately, Armored Core 6's graphical options on PC lack detail, with the game's lighting options simply saying "configures the quality of light effects". These descriptions are useless for PC gamers who want to optimise this game's graphical settings, and will require gamers to test each setting individually to judge their performance impact.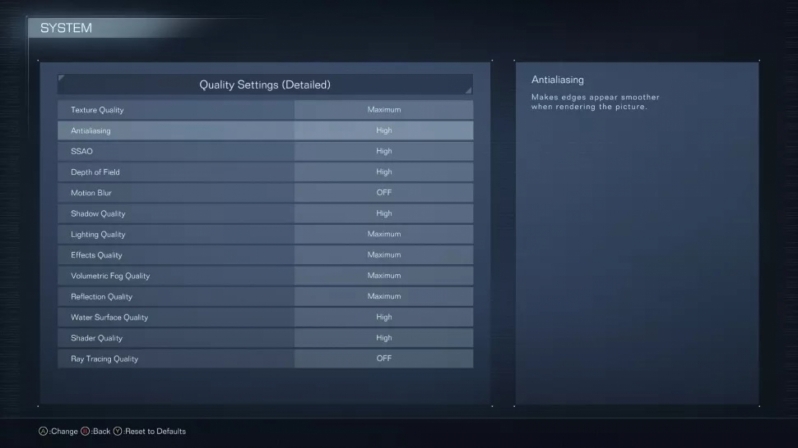 Armored Core IV: Fires of Rubicon is releasing on PC on August 24th through Steam. While the PC version of the game will support 120 FPS framerates, it is unknown if the game will support 120Hz gameplay on current generation consoles as part of a potential "high performance" mode. 
You can join the discussion on Armored Core 6: Fires of Rubicon's PC system requirements on the OC3D Forums.