Middle-earth: Shadow of War "Forthog Orc Slayer" trailer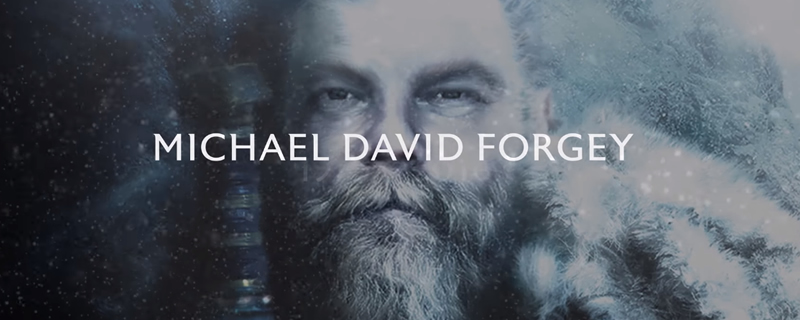 Middle-earth: Shadow of War "Forthog Orc Slayer" trailer
Middle Earth: Shadow of War will release with a DLC called "Forthog Orc Slayer", a legendary character who can save the player in times of need.   
This DLC pack is dedicated to the late Michael "Forthog" Forgey, who was Monolith's Executive Producer until his untimely passing in 2016. As a memorial to "Forthog", Monolith decided to showcase parts of his character in Shadow of War, acting as a potential saviour for the player in times of great need, emulating what he did for the studio while he worked there. 
Even small details for "Forthog Orc Slayer" showcases the man behind the legend, with his mighty axe acting as his chosen instrument both inside and outside of battle. In life, "Forthog" was known to be a talented musician. 

A legend among the Orcs of Mordor, Forthog Orc Slayer is an unstoppable warrior who saves Mordor's mightiest heroes at their moment of greatest need.

Mike "Forthog" Forgey was our Executive Producer and great friend here at Monolith. He was always ready to leap into the fray and save the game whenever and wherever he was most needed. We lost Mike to cancer during the development of Shadow of War, and we want to remember and honor him with a little bit of immortality in Mordor. The legendary Forthog Orc Slayer is our way to continue having Mike leap into battle and save us when we're down.

We hope that you will share in the experience of being saved by the legendary Forthog Orc Slayer as you enter the land of shadow.
"Forthog Orc Slayer" will be a paid for DLC for Middle-Earth: Shadow of War, with $3.50 from every purchase in the US (except for select prohibited states) will be donated to the family of the fallen developer until December 21st, 2019. 

At this time WB Games has not specified what will happen with funds raised outside of the United States. This DLC will cost $4.99 in the US and £3.99 in the UK. 
We will update this article once we find out what happens to money raised from foreign purchases. 

WB Games will donate to the Forgey family $3.50 from every purchase of the Forthog Orcslayer made from any 1 of the 50 United States or D.C. (but, excluding purchases made from AL, HI, IL, MA, MS and SC) through December 31, 2019. Void where prohibited by law. Your purchase is not tax deductible.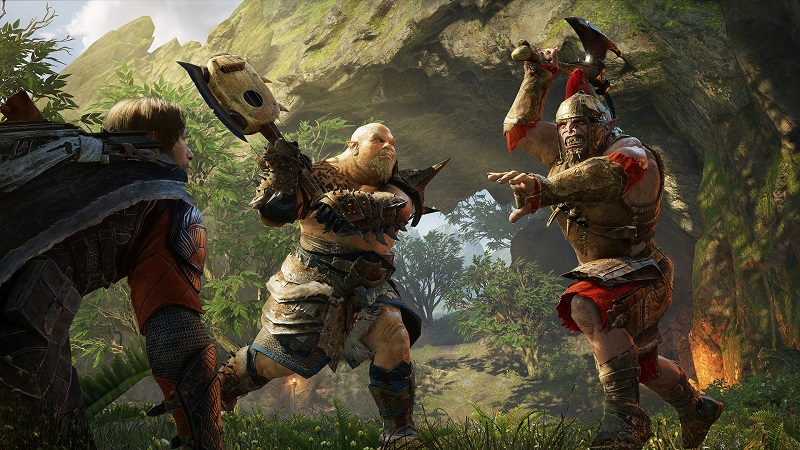 Middle-Earth: Shadow of War will release on PC, Xbox One and PS4 on October 10th. 
Update – 
It has been confirmed that donations made outside of the US will not be going to the Forgey family, because of this we advise those outside of the United States to simply avoid this DLC. 
Below is a tweet from the official Shadow of War Twitter account which confirms this. 
Warner Brothers need to address this situation, as it stands the publisher is profiting from what has been marketed to be a charitable DLC. We hope that Shadow of War's publisher comes to their senses and sets up some other form of charitable donation for foreign DLC purchases, perhaps to a charity for cancer patients or a research foundation.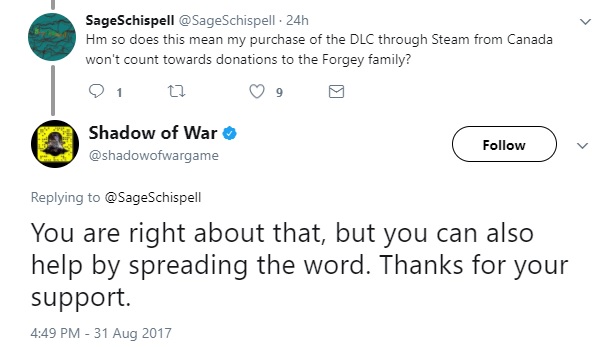 You can join the discussion on Middle-Earth: Shadow of War's "Forthog Orc Slayer" DLC on the OC3D Forums.