Outriders final PC system requirements have been revealed, revealing higher GPU recommendations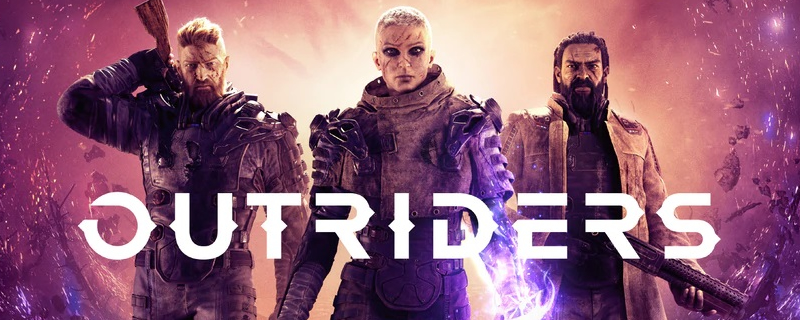 Outriders final PC system requirements have been revealed, revealing higher GPU recommendations
People Can Fly have released updated PC system requirements for the PC version of Outriders, revealing that hardware that you will need to run the game at a "buttery smooth 60 FPS". 
These new system requirements for the Square Enix squad shooter highlight higher CPU/GPU recommendations and have revealed the required hardware for 4K 60 FPS gameplay at Ultra settings. PC gamers will need an RTX 3080 or a Radeon RX 6800 XT to achieves a 60 FPS framerate target at 4K Ultra settings. 
For the game's recommended 1080p hardware specifications, Square Enix has replaced AMD's Ryzen 5 1600 processor with their newer Ryzen 5 2600X, and their older Geforce GTX 1060 6GB and Radeon RX 480 8GB GPU recommendations with higher-end GPUs like Nvidia's GTX 1070 and AMD's RX Vega 56. These changes likely reflect feedback from the game's demo version. 
Yes, unlike other developers, People Can Fly are only offering system requirements listing that target 60 FPS framerates, ensuring that gamers will be able to play Outriders with minimal system latency and the smoothest animations. The game is also designed to run on older PC hardware, ensuring that the game will be able to run at high framerates on any gaming desktop "from the last six years". Now that's what I call accessibility. 
On PC, Outriders will support ultra-widescreen resolutions, adjustable field of view options, Nvidia's DLSS technology and dynamic resolution scaling. The game will also support crossplay across all of the game's versions. People Can Fly have also confirmed that they are continuing to optimise Outrider's Ultra settings and that system requirements for 4K 60 FPS at Ultra settings are coming. 

 

    – The People Can Fly team has worked hard to ensure a consistent frame rate experience, no matter what your PC capabilities are, and you may notice that our Hardware requirements are geared towards ensuring you'll always be playing in buttery smooth 60fps.
– We're still working on identifying and optimizing the CPU and GPU requirements for Ultra settings and will publish these when we have more information.

Outriders will at launch additionally support:

– Key remapping & advanced graphics options as standard
– Support for most first party controllers
– Interface and subtitle support for 13 languages. Full audio support for nine. Details can be found here.
– A Customizable HUD – full details can be found here.
– Full Cross Play across all platforms.
– Cross Save will be supported within an eco-system, but not between different platforms.
– Ultrawide screen support: 3440 x 1440
– Adjustable Field of View (FOV), which allows you to see more or less of the game at the edges of your monitor.
– Dynamic Resolution Scaling (DRS) – This system will adjust your resolution on the fly in order to increase performance and prevent system slowdowns or bottlenecks. Theoretically, you shouldn't even notice it's happening, but it will result in significant performance improvements across all systems.
– NVIDIA DLSS – DLSS utilizes the power of AI to boost performance for NVIDIA GeForce RTX gamers so you can enjoy higher fidelity gameplay at higher frame rates.
– NVIDIA Ansel – Enables NVIDIA GeForce gamers to capture unique screenshots from custom angles, with filters and other tweaks applied. Simply take a snap, upload to ShotWithGeForce, and share with just a few clicks.
– Razer Chroma RBG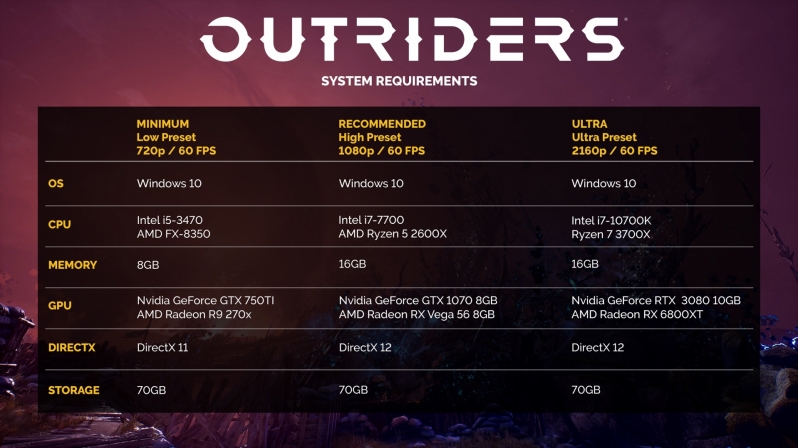 Below are Outrider's full PC system requirements. A PC demo for Outriders will be released on April 1st at 6 PM BST, which will help give PC gamers an idea of what to expect from their hardware. 
Minimum (Low preset 720p, 60 fps)

OS: Windows 10
CPU: Intel i5-3470 or AMD FX-8350
RAM: 8GB
GPU: Nvidia GeForce GTX 750 Ti or AMD Radeon R9 270x
Storage: 70GB
DirectX: 11
Recommended (High preset, 1080p, 60 fps)
OS: Windows 10
CPU: Intel i7-7700 or AMD Ryzen 5 2600X
RAM: 16GB
GPU: Nvidia GeForce GTX 1070 8GB or AMD Radeon RX Vega 56 8GB
Storage: 70GB
DirectX: 12
Recommended (Ultra preset, 4K, 60 fps)
OS: Windows 10
CPU: Intel i7-10700K or Ryzen 3700X
RAM: 16GB
GPU: Geforce RTX 3080 10GB or AMD Radeon RX 6800 XT
Storage: 70GB
DirectX: 12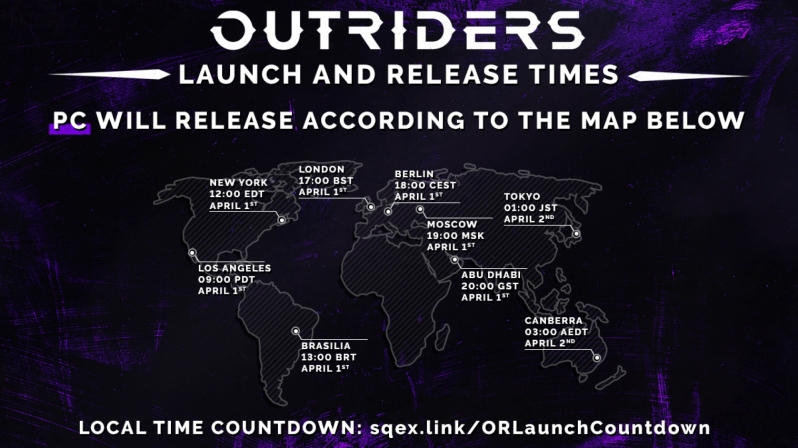 You can join the discussion on Outriders' updated PC system requirements on the OC3D Forums.