OCZ Technology Introduces the High Performance Vertex Series SSD
Delivering on the Promise of Ultimate Performance and affordability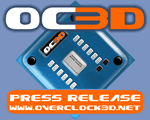 OCZ Technology Group, Inc. (LSE: OCZ), a worldwide leader in innovative, ultra-high performance and high reliability memory and computer components, today unveiled the OCZ Vertex SATA II 2.5" Solid State Drive (SSD) Series, a premium offering for enthusiasts demanding the latest technology in this fast-developing sector of the storage market. The latest high-performance and cost-efficient SSD, OCZ has gained momentum in pioneering flash storage technology while maintaining a price point that is truly within the reach of a wide range of consumers.
"The new Vertex Series of SSD drives are a premium MLC based SSD solution that are designed for consumers that require fast, rugged, and reliable solid state storage," commented Eugene Chang, Director of Product Management for the OCZ Technology Group. "The Vertex makes use of our newest architecture and controller design complete with 64MB of cache to offer faster transfers and superior overall system response times in a broad range of applications and games."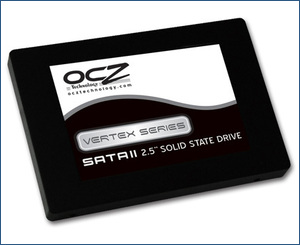 Offering your system the incredible performance of flash-based technology, The OCZ Vertex Series delivers the performance and reliability of SSDs at less price per gigabyte than other high speed offerings currently on the market. The OCZ Vertex Series is the result of all the latest breakthroughs in SSD technology, including new architecture and controller design, blazing 200MB/sec read and 160MB/sec write speeds, and featuring up to 64MB onboard cache. Like its predecessors the Core and Solid Series, OCZ continues to place solid state technology within reach of the average consumer, and delivers on the promise of SSDs as an alternative to traditional hard drives in consumer targeted mobile applications. The Vertex Series will not replace any of the existing series of SSD's but will complement them at the higher end of the performance spectrum.
Perfect for notebooks and desktops alike, the Vertex Series is ideal for energy-efficient mobile computing to extend battery life, increase access time, and provide a durable alternative to conventional hard disc drives with superior shock resistance. High capacities and low power consuming NAND flash technology provide the necessary performance and battery life boosts generated by the proliferation of mobile gaming and new ultra-thin laptops. With fast access and seek times combined with excellent reliability, the OCZ Vertex Series SSDs are the answer for consumers demanding this latest storage technology.

The OCZ Vertex drives feature a durable yet lightweight alloy housing, and because OCZ SSDs have no moving parts, the drives are more rugged than traditional hard drives. Designed for ultimate reliability, Vertex Series SSDs have an excellent 1.5 million hour mean time before failure (MTBF) ensuring peace of mind over the long term. All Vertex Series SSD drives come backed a two year warranty and OCZ's legendary service and support. Vertex series SSD drives are available in ample storage capacities of 30GB, 60GB, 120GB, and 250GB.
Find out more about OCZ's Vertex Series SSD's on their product page
High performance SSD's that promise to be easier on the hip pocket has got to be a good thing.
Discuss this product in our forum