Seagate Unleashes NAS-Grade IronWolf SSDs and FireCUDA NVMe Drives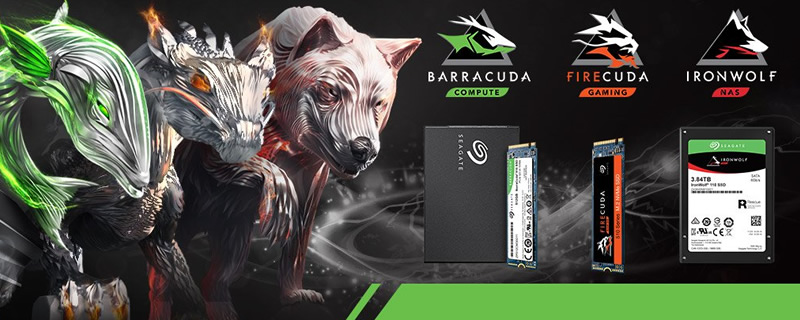 Seagate Unleashes NAS-Grade IronWolf SSDs and FireCUDA NVMe Drives
Relying exclusively on HDD technology is not a viable strategy moving forward. Yes, technology like
HAMR
and
MACH.2
will inject some extra life into the HDD market, but that will do little to withstand the onslaught of solid state storage in the long term. There is a reason why Sandisk was purchased by Western Digital and a reason why Seagate has invested in solid-state storage and hybrid HDD/SSD technology in recent years. 
Seagate has announced several new SSD products at CES 2019, moving the brand deep into the SSD market with both high-performance models and NAS-grade high capacity offerings. Yes, you read that right, Seagate has created a NAS-grade SSD. 
We'll start by talking about Seagate's 510 series of SSDs, which range in capacity from 256GB to 2TB over BarraCuda and FireCuda lines. Both lines will use TLC NAND with a Phison E12 controller, with each drive using varying amounts of SLC cache, with BarraCuda drives offering 24GB of SLC cache while the FireCuda offers 28GB of SLC cache. 
The BarraCuda line will come in 256GB and 512GB flavours and ship in the form of a single-sided M.2 2280 card, which uses four PCIe 3.0 lanes to offer maximum read/write speeds of 3,400MB/s and 2,100MB/s. The FireCuda will ship in larger capacities of 1TB and 2TB and deliver higher sequential read/write speeds of 3,450MB/s and 3,200MB/s. At this time the pricing of both drives is unknown.  


And now for the interesting bit. Seagate has revealed a NAS-grade SSD; an IronWolf branded drive that offers DuraWrite support and contains integrated capacitors that enable power loss data protection. 
Seagate's IronWolf 110 SSDs are built using the same 3D TLC NAND as the BarraCuda and FireCuda M.2 drives, with Seagate citing the power savings offered by SSD storage as a major benefit for 24/7 NAS systems, aside from the performance benefits that solid-state storage already provides. 
Alongside Seagate's 5-year limited warranty, IronWolf SSDs also ship with a two-year plan of Seagate's Data Recovery Services. 
 
BarraCuda SSD
BarraCuda 510 SSD
FireCuda 510 SSD
IronWolf 110 SSD
Form Factor
2.5-inch
M.2 2280 Single-Sided
M.2 2280 Double-Sided
2.5-inch
Interface
SATA 6Gb/s
NVMe 1.3
NVMe 1.3
SATA 6Gb/s
Max Seq Read Speed
560MB/s
3,400MB/s
3,450MB/s
560 MB/s
Max Seq Write Speed
540MB/s
2,100MB/s
3,200MB/s
535 MB/s
Capacity
250GB, 500GB, 1TB, 2TB
256GB, 512GB
1TB, 2TB
240GB, 480GB,
960GB, 1.92TB, 3.84TB 
Warranty
5-year limited
5-year limited
5-year limited
5-year limited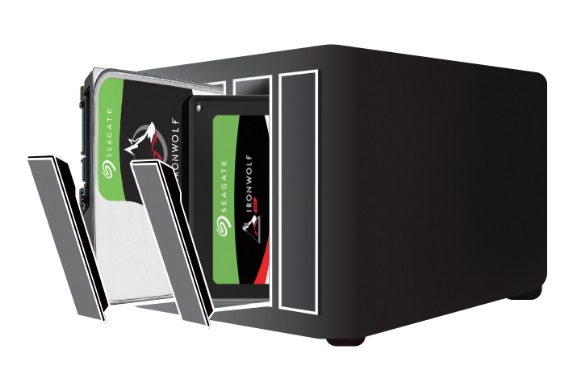 You can join the discussion on Seagate's IronWolf NAS-Grade SSDs and FireCuda NVMe drives on the OC3D Forums.