PCSpecialist Black Friday offers make many of their systems more affordable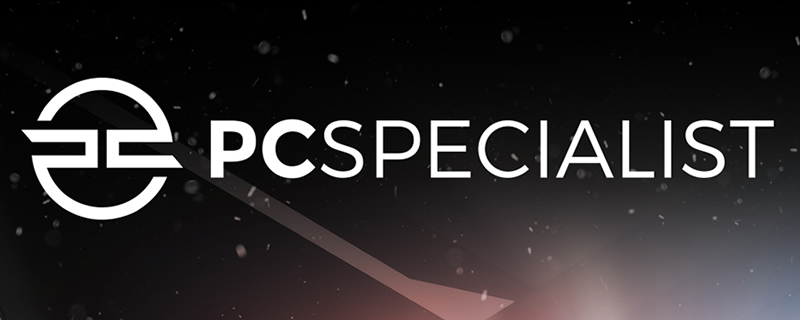 PCSpecialist Black Friday offers make many of their systems more affordable
PCSpecialist's Black Friday offers are now available, allowing their customers to get up to £200 off pre-built systems and laptops. These systems are based on Microsoft's new Windows 10 operating system, all of these systems use M.2 PCIe storage devices, and all of these systems contain a discrete GPU. What's not to love?
Beyond that, all of these systems also ship with a free month of Xbox Game Pass Ultimate, which includes a large variety of PC games, including Halo Infinite (when it launches) and Forza Horizon 5. 
The PCSpecialist Fusion Gaming PC – £200 Off

Usually, the PC Specialist Fusion would cost £1299, but for Black Friday, this system will cost £1099. For that money, buyers will get a Ryzen 5 5600X processor, an 8GB AMD RX 6600 graphics card, a 1TB M.2 NVMe SSD and 16GB of Corsair 3200MHz DDR4 memory. 
For this price bracket, and within this GPU market, this is a good deal. It has everything that a PC gamers needs and few compromises. It has SSD storage; it has a case with RGB lighting; it has 16GB of system memory and a powerful processor for gaming workloads. The included memory is the fastest memory that the processor officially supports, and the system uses a B550 motherboard. This descision ensures an upgrade path to PCIe 4.0 storage and an upgrade path to future AM4 processors from AMD. 
Have a look at PCSpecialist's Fusion Gaming PC – £1,099.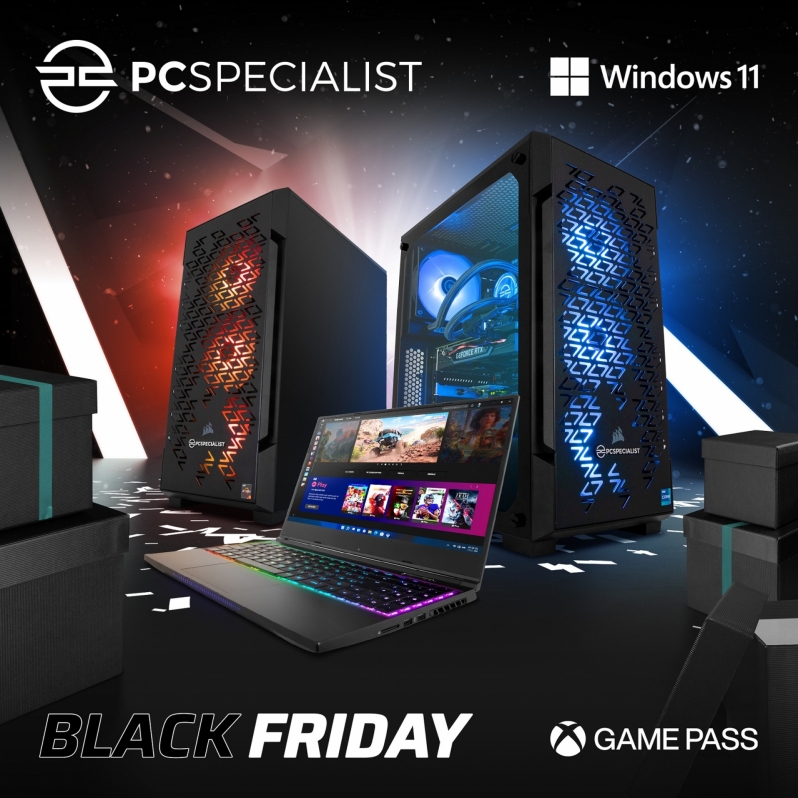 PC Specialist Vortex – £200 Off
With a £1,199 price tag, PCSpecialist's Vortex system packs a punch, offering users an 8-core Intel i7-11700 processor, 16GB of memory, 1TB of M.2 NVMe storage, and an RTX 2060 Super graphics card. Like their Fusion system, PCSpecialist's Vortex system has few compromises. 
With an RTX 2060 Super, Vortex buyers will get 8GB of system memory, making this graphics card a great choice for many modern games. PCSpecialist could have saved money with an RTX 2060 6GB, but they know that 6GB of memory is not enough for some modern games, and that the extra processing power of the RTX 2060 Super also has its benefits. While it is a last-generation product, the RTX 2060 Super is still a great graphics card. Beyond that, this GPU supports DLSS, one of Nvidia's flagship GPU technologies. 
With a B560 motherboard and 3200MHz memory, PC Specialist's Vortex system supports PCIe 4.0 connectivity, fast memory, and ships with a free month of Xbox Game Pass for PC. For the price, this system is a solid choice. 
Have a look at PCSpecialist's Vortex Gaming PC – £1,199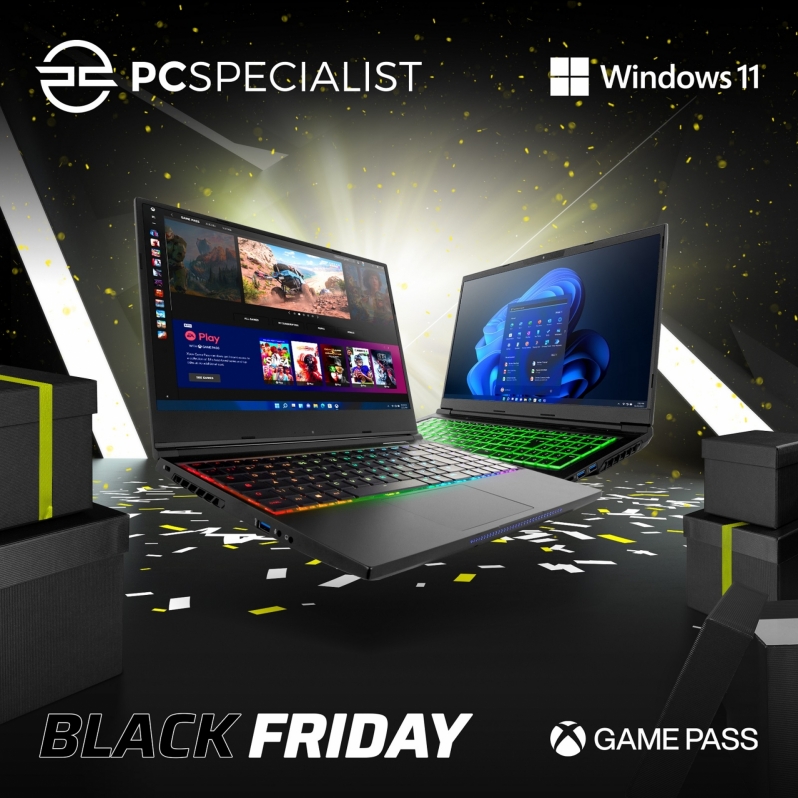 On the laptop side of things, PCSpecialist is offering buyers £100 and £180 discounts on their 17.3-inch Elimina Pro and 15.6-inch Recoil Pro laptops respectively. 
With the Elimina Pro, users get a 17-inch 144Hz Full HD display, an eight-core i7-11800H processor, 16GB of Corsair 3200MHz SODIMM memory and 512GB of SSD storage. This system also contains an Nvidia GTX 1650 graphics card. For £999, this system is a great choice for those who want a lot of CPU power on the go, and a strong memory configuration to back it up. 
Have a look at the Elimina Pro – £1,199
With the 15.6-inch Recoil, PCSpecialist is delivering PC gamers a high-end product, offering users the same i7-11800H processor, 32GB of 3000MHz Corsair DDR4 memory, a 1TB Samsung 970 EVO SSD, and an Nvidia Geforce RTX 3080 graphics card. On top of that, this laptop's monitor is a Matte 165Hz QHD (2560×1440) screen. As a Black Friday offer, this high-spec gaming laptop is available at a sub-£2000 price. Not bad for such a powerful gaming notebook. 
Read more about PCSpecialist's Recoil Pro – £1,949
You can join the discussion on PCSpecialist's Black Friday deals on the OC3D Forums.