Roccat Kave 5.1 XTD Digital Headset Review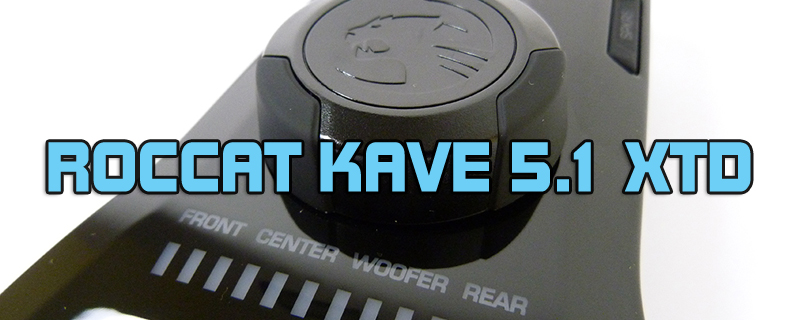 Introduction
It's been a long time since we've seen a new product from Roccat come across the desk here at OC3D. When they first appeared on the market they came out of the blocks with some tremendous products, and the relative lack of updates only emphasises how good they were to begin with. Whilst other companies are chucking out new models that fix the flaws, Roccat sit back knowing that they've already broken barriers. Indeed, the fact they are mentioned in the same breath as some very famous companies, and yet are so new, says all that you need to know.
If new Roccat products are rare, then surround headphones are even rarer. When PCs moved from their placement as a beige box running dBase IV to something designed around gamers, so the 'more is more' mantra took hold and audio quickly went from plastic stereo speakers to 2.1, 5.1 and eventually 7.1 offerings. The recent trend has been away from sheer number of speakers towards 2 excellent ones, witness the Microlab Solo series, and headphones have gone the same way too. We've lost count of the number of stereo headsets we've witnessed, with the large majority of them aimed at the middle ground between smart device suitability and desktop PC designs.
As you can imagine a new Roccat headset, and one that is a genuine surround design too, is akin to finding a pound note in your change (other rarity similes available upon request). Without further ado let's see what is on offer from this updated Kave headset, and if it continues our love of the original.

Technical Specifications
As is so often the case with headsets, the numbers aren't really the meat of the affair. Nearly every headset has 40mm drivers with 20-20 response. However, the Roccat Kave XTD is even further removed from the plain specifications thanks to an inbuilt soundcard, audio pass through and Bluetooth tethering. Picture time..
Driver Units

| | |
| --- | --- |
| Frequency response: | 20~20.000Hz |
| Max. SPL at 1kHz: | 115±3dB |
| Max. input power: | 50mW |
| Drive diameter front: | 40mm |
| Drive diameter rear: | 40mm |
Microphone
| | |
| --- | --- |
| Frequency response: | 10~10.000Hz |
| Sensitivity at 1kHz: | -32±2dB |
| Directivity: | omni-directional |
| Diameter: | 4×1.5mm |
| Impedance: | 2.2 kOhm + 15% |
System
| | |
| --- | --- |
| Connection: | USB |
| Impedance: | 32 Ohm |
| Cable length: | 3.6m |
| Weight (Headset only): | 335gr |