Patriot PC3-16000 Viper Series 4GB DDR3 kit
Test Setup
Â
The setup used for this review is such that it allows the Patriot DDR3 kit to be fully utilised and given the freedom to show us how far it can go. There is little point in testing a kit on a motherboard that is not best suited and hence we decided to use the exact same motherboard recommended by Patriot – the EVGA 790i Ultra.
Â
Here's a breakdown of the rest of the components:
Â
Â
For testing the memory we used a number of synthetic benchmarks and games:
Â
Synthetic Benchmarks

Lavalys Everest 4.10
SuperPI mod_1.5
3D Benchmarks
3DMark Vantage
Unreal Tournament III
Â
Â
Overclocking
Â
Upon first booting the test rig without EPP enabled the ram defaults to 1.5v and 1066mhz with timings of 7-7-7-20 (1T).
Â
Â
Â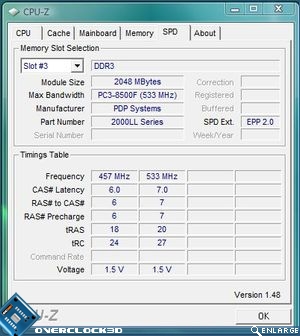 Â
For the benchmarking however, we shall be running the modules at their stock settings using the EPP feature of the Patriot ram. Here's how they look at stock speeds with EPPÂ enabled:
Â
Â
Straight off the bat, the Patriot kit booted first time and a quick memtest 86+ run confirmed the modules were running stable without any errors. We weren't willing to accept 'stock' though and began to see how far these modules could really go, first with the timings, which at 9-9-9-24 seemed pretty relaxed, here's what we achieved:
Â
Â
Any lower than the above resulted in a non-boot scenario and despite hours fiddling with the sub timings, the system still would not boot when any of the major timings were dropped lower than the above. Even a mild increase in Vdimm had no effect. Still, 8-8-8-21 for a 4GB kit running at 2000mhz is a great achievement in itself. Let's see if we can increase the bandwidth any.
Â
Â
2100mhz was the highest I could get the ram to go with voltage increases again, having no effect whatsoever. Even then I had to slacken the timings from stock by a notch to get it it to boot. Sadly, nothing but a quick 1MB Super pi was possible at this bandwidth and 4 corrupt Vista installs later I gave up trying to surpass 2000mhz with any kind of stability. It's strange as 2000mhz is rock solid stable.
Â
So then, it appears Patriot have pretty much maxed out the memory as is, with a stock 2000Mhz and 9-9-9-24 timings. Let's see how they perform in our suite of benchmarks at stock and with the timings lowered.