QNAP has launched a Dual-port 100GbE Network Card for Ethernet Junkies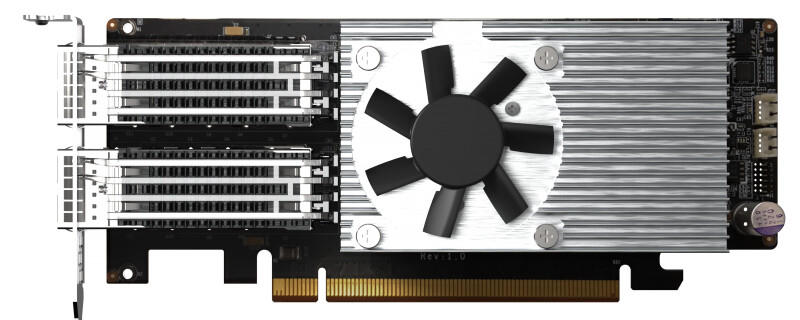 QNAP has launched a Dual-port 100GbE Network Card for Ethernet Junkies
QNAP has just released their
 first dual-port 100 GbE network expansion card – the QXG-100G2SF-E810, a PCIe 4.0 x16 networking adaptor that can handle 100 Gbps of internet connectivity. That's equivalent to 12.5 GB per second of networking performance. 
This product used Intel's E810 Ethernet controller and PCIe 4.0 connectivity to deliver these insane performance levels and supports Windows 10 and Linux, making this networking solution suitable for a wide range of networking applications 
QNAP aims for this network adapter to unleash the full potential of their new TS-h2490FU storage solution, an all-NVMe flash-based storage device that can deliver insane levels of storage performance. The TS-h2490FU supports up to 24 U.2 NVMe PCIe 3.0 Gen 3 x4 storage devices, justifying the existence of 100Gbps networking solutions due to the sheer amount of SSD performance that it can output. 
With a price tag of $927 US, the QNAP QXG-100G2SF-E810 is not cheap. That said, having a solution this fast should cost a lot of money. This beast is 100x faster than standard Gigabit Ethernet and 40x faster than the 2.5GbE solutions on many modern motherboards. 
Below is QNAP's Press Release.  
---
QNAP Systems, Inc., a leading computing, networking and storage solution innovator, launched its first dual-port 100 GbE network expansion card – the QXG-100G2SF-E810. Featuring an Intel Ethernet Controller E810 and PCIe 4.0, the QXG-100G2SF-E810 provides up to 100 Gbps bandwidth for QNAP NAS or Windows /Linux devices to attain optimal performance in a wide range of applications and services. It is a perfect match for unleashing the full potential of QNAP's TS-h2490FU NVMe all-flash storage that can be paired with high-speed switches for high-performance, low-latency data centers.
"The QXG-100G2SF-E810 redefines ultra-high-speed networking with 100 Gbps connectivity," said Stanley Huang, Product Manager of QNAP, adding "Users can also configure network redundancy to achieve network failover via the switch for continuous service and high availability." The QXG-100G2SF-E810 is ideal for I/O-intensive and latency-sensitive virtualization and data centers, and boosts network efficiency with the support of iWARP/RDMA and SR-IOV (coming soon). When used in a server or workstation, it supports Windows Server (2016 or 2019) and Linux platforms (Drivers required).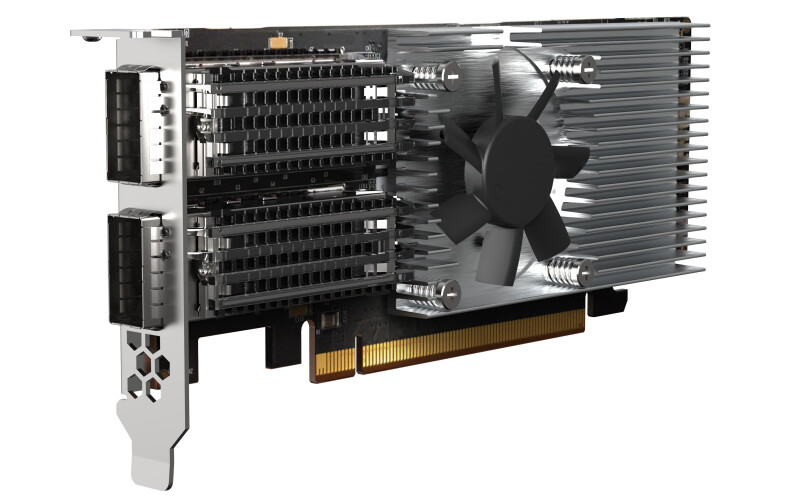 QNAP's flagship 24-bay TS-h2490FU NVMe all-flash storage features a PCIe Gen 4 x16 slot that allows the QXG-100G2SF-E810 to fully realize 100 Gbps performance, helping to overcome bottlenecks in modern data centers, virtualization, multimedia, and mission-critical backup/restore tasks.

The QXG-100G2SF-E810 is available from QNAP Accessories Store.
You can join the discussion on QNAP's Dual-port 100GbE Networking Card on the OC3D Forums.